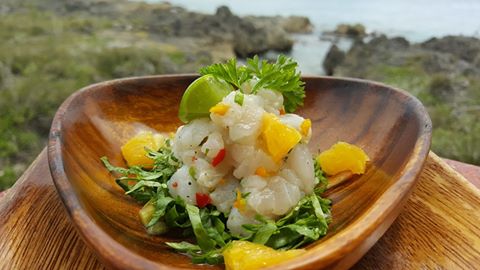 Lionfish Ceviche with Mango and Lime
St. Lucia does not only have beautiful beaches, they also have amazing meals such as this lovely recipe.
Ingredients:
1-pound lionfish (can be substituted for any fresh, mild, white fish)
1 tbsp kosher salt
1 ¼ cup freshly squeezed lime juice
1 cup white vinegar
2 medium jalapenos (minced)
1 large sweet red pepper (julienned)
1 large firm mango (finely julienned)
1 medium red onion (shaved)
1 tsp minced garlic; ½ tbsp freshly ground black pepper
¼ tsp crushed red chili flakes
¼ cup extra virgin olive oil
½ cup freshly picked cilantro leaves
Instructions: Cut lionfish into short, thin, julienned pieces.
Place in a stainless steel bowl and season with 2 teaspoons of salt.
Pour lemon and lime juice over fish, cover, and refrigerate for half an hour. Drain citrus juices using a colander.
Pour the vinegar over the fish while tossing lightly. Using a large bowl, add jalapenos, peppers, mango, onion, garlic, salt, pepper, and chili flakes.
Toss lightly and cover with olive oil. Cover and refrigerate to let set for at least half hour. Add cilantro and mix well before serving.