The year was 1908 – a period when black people were seldom sighted outside main cities in England and racist insolences were legal – but a Senegalese by name Princess Dinubolu was the least unperturbed.
She defied the prejudices and brazen racism of that time in her bid to participate in Southend's beauty contest.
According to historian Jeffrey Green, and cited by the BBC about one-third of those who entered the contest were from Southend and its environs. Another third was believed to be from London with the remainder coming from other parts of the UK, France, and America.
Barred from entering the contest, Princess Dinubolu confronted the manager of Southend's Kursaal Amusement park where the event was being held.
The manager was reportedly in his office when a telegram arrived from Great Yarmouth from Princess Dinubolu questioning efforts not to allow her to enter the contest.
"Was not allowed to compete for beauty show here on account of color," the telegram read reported the BBC. "Have you any rule barring me? Reply Post Office, Princess Dinubolu, of Senegal."
"Don't enter," the manager telegrammed back adding: "Local prejudice."
Determined to enter the contest, Princess Dinubolu wouldn't have none of that. She made a nuisance of the manager's reply and went ahead to enter the competition.
And it was reported that she entered three categories – brunette, best hair, and blonde.
News of her entry despite the warning was said to have spread like wildfire with many scandalized by the failure of the organizing committee to find any reason in the rules to bar her from the contest.
London newspapers were said to have commissioned reporters to the event house following the news of Princess Dinubolu's entry. The story quickly went viral as far as New Zealand.
Speaking to reporters when she was leaving for Southend to enter the contest, Princess Dinubolu said through an interpreter, according to reports: "I wish to show my people that you are fair to all comers, even if they are chocolate-colored.
"People have told me that only cream-and-pink little English misses can win and that your judges have no eye for any other sort.
"I wish to prove them wrong. I have heard that a black baby won a prize in Southend, and I feel sure that they will be kind to us all alike."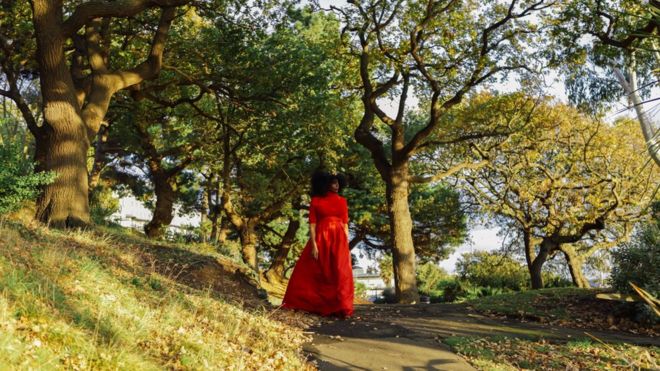 One incident was said to have stood out during Princess Dinubolu's show of defiance to the racism that existed in Britain in the early 20th century—her response about her beauty tips.
"Ah, you will laugh, for my beauty bath is very different from that of the English girl.
"For months I have been staying at Yarmouth, as there is such beautiful sand there, and every morning I am buried to my neck in sand.
"Nothing makes the skin so velvety; the belles of my own country believe very much in sand baths," she said.
A tale that was not questioned.
A 16-year-old girl who went by the name Miss Lessing was said to be among the rivals Princess Dinubolu contested against. Miss Lessing who had nearly won every beauty contest in the United States traveled from Philadelphia to join.
The Marlborough Express in New Zealand told how "when the Princess arrived in some state a flutter ran through the ranks of her fair rivals".
Winning the contest depends on the response of the crowd. The volume and length of applause would decide the participant's fate.
Princess Dinubolu was reportedly cheered through to the second round. But her success further into the competition plunged.
"When she came forward to the footlights attired in flowing robes there was no howl of derision. On the other hand, there was no enthusiastic applause," reported the Marlborough Express.
The audience, according to the Southend Telegraph, was "too patriotic" while the Evening Standard declared the princess was "well-received, but she by no means proved a formidable opponent".
Defeated, the princess departed the stage and disappeared from the fabric of history as the only evidence for her existence is newspaper reports while no drawing or photograph of her has been unearthed.
Elsa James, an artist in Southend, featured the princess in her recent Forgotten Black Essex exhibition.
"I'm blown away by the fact this one black woman in 1908 just took over the newspapers and she was covered throughout the whole of Britain, just her entering this competition," she said.
"For me, she was just so bold and brave to just take on this white world. Actually, sometimes, with a bit of wit, such as talking about burying herself in sand. I mean that was obviously not true but it was taken as true.
"When I thought about who has that sort of attitude and sass, I thought about women like Beyoncé.
"Why would you enter the blonde section? She wanted a platform, something more than she had, and she got it."