For almost 10 years, Freweini Mebrahtu has been working to take off the veil of secrecy shrouding menstruation in many parts of the world, particularly, her home country, Ethiopia.
In many cultures, perceptions of menstruation affect how girls are seen. In Ethiopia, starting to menstruate is usually seen as a sign of maturity, meaning the girl is ready for marriage. However, early marriage comes with its consequences, including child pregnancy and complications such as obstetric fistula.
So, when Mebrahtu got her first period at the age of 13, she was terrified. Growing up in a small town in the Tigray region of Ethiopia, most girls would hide the fact that they had seen their first periods, and would suffer in silence due to the shame and fear associated with menstruation.
With no access to sanitary products, they would use old pieces of clothing as pads and used large scarves to cover themselves if their clothes became stained, according to a St. Louis Today report.
Mebrahtu was forced to do same, having used rags for her period and not telling her mother and sisters about it, despite the need to understand situations like cramps and irregular periods.
"One time I had an accident in class and I was so scared and ashamed," Mebrahtu, now 54 told CNN. "Even today I remember how I felt."
Mebrahtu had the opportunity to go to the U.S. and study at Prairie View A&M University in Texas. During her first visit to an American drug store in 1983, she saw overwhelming choices of sanitary pads, and this would make her wonder immediately about the girls back home in Ethiopia who had no access to sanitary materials.
After earning her chemical engineering degree, she worked in the U.S. for ten years before returning to Ethiopia when the communist regime fell. In Ethiopia, Mebrahtu was shocked to learn that everything remained the same for many adolescent girls since she left for the U.S.
"The stories I heard were shocking – digging a hole and squatting over it for three to five days, or wrapping themselves in strips of cloth," Mebrahtu said.
In Ethiopia where menstruation subject is largely not taught in schools, disposable sanitary products are very expensive and often unavailable, so nearly 75% of Ethiopian women and girls don't have access to the menstrual supplies they need.
This, coupled with the belief that menstruating girls are impure, causes many victims to miss school days. This means such girls are likely to fall behind in studies and even drop out eventually, ruining their career.
Returning to Ethiopia, Freweini Mebrahtu, who believes that girls shouldn't miss school because of their periods, figured out a solution. In 2005, she designed and patented a reusable menstrual pad. Three years later, she built the Mariam Seba Sanitary Products Factory, named for her daughter.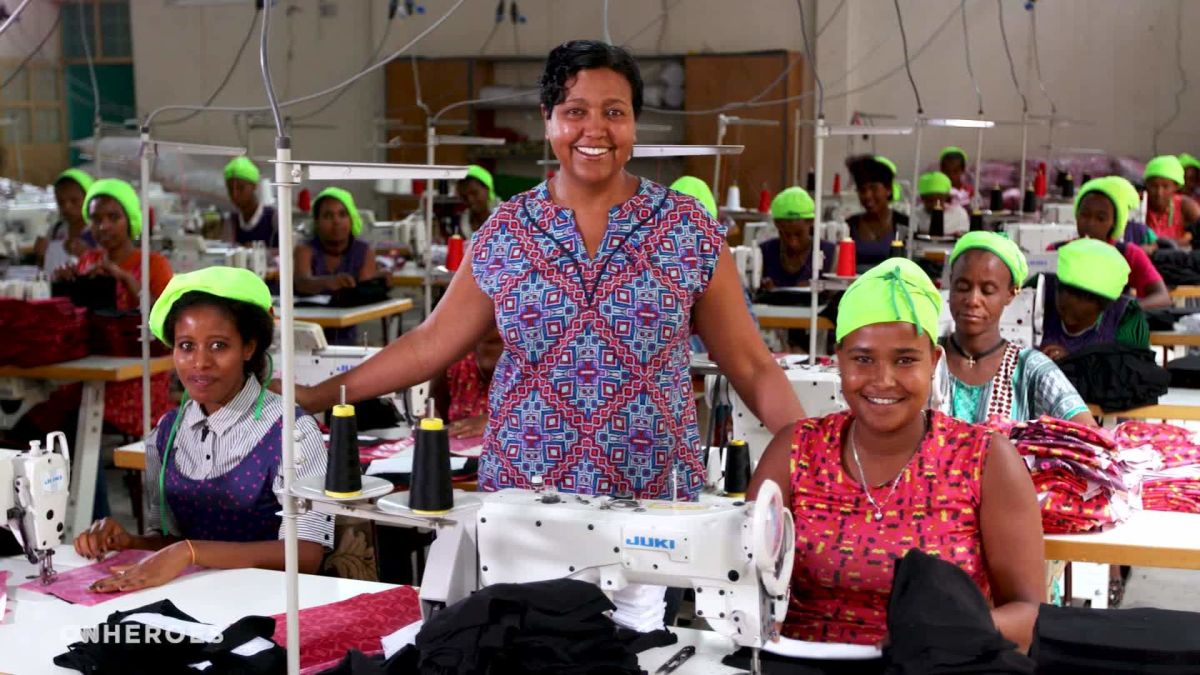 The factory employs 43 women today who produce about 750,000 pads a year. Since 2009, nearly 800,000 girls and have benefited from her work.
According to the CNN, "Mebrahtu's pads are fully washable, with an absorbent cotton lining and waterproof backing. They are secured to the underwear with a button.
"The design allows it to fold up into a small, discreet package. The pads cost 90% less than a year's worth of disposable pads and can last up to two years with proper care, making them environmentally friendly."
At the moment, Freweini Mebrahtu sells over 80 per cent of the pads she makes to non-governmental organizations which distribute them for free. Her other goal has been to attack the stigma surrounding menstruation by holding talks with students at schools.
Doing this on her own came with challenges, including not being able to reach many girls from poor areas who need the pads but are not able to afford.
Freweini Mebrahtu would later meet Dr Lewis Wall, a professor of obstetrics and gynaecology from the U.S. who would be touched by her work. In 2014, the professor, alongside his wife, established a nonprofit, Dignity Period, to support her work.
The organization, in partnership with Mekelle University, has since organised educational workshops for more than 300,000 students, teaching girls and boys that menstruation is natural.
Freweini Mebrahtu, who usually speaks at these events believes that "By teaching not just girls, (but) boys … we're really transforming the thinking of the society."
More than 150,000 free menstrual hygiene kits bought from Mebrahtu's factory have also been distributed so far by the organisation.
Freweini Mebrahtu, whose factory also makes underwear, said for just under $5, each girl can get a kit that consists of four pads that last 12 to 18 months, two pairs of underwear and two bars of soap.
"I want to see girls in Ethiopia and beyond to have access to sanitary pads and not to worry about being ashamed or scared," said Mebrahtu. "Giving pads to these girls means giving them freedom so that they can achieve whatever they want to achieve."
For her work and efforts towards period equity in Ethiopia, the chemical engineer has been named a 2019 CNN Hero.