The second day of the Derek Chauvin trial in Minneapolis was particularly filled with emotional and tearful testimonies from witnesses who recounted the jarring May 25 incident that resulted in the death of George Floyd.
Floyd passed away after Chauvin knelt on his neck for over nine minutes despite repeatedly telling him he couldn't breathe. The incident also happened in the full glare of bystanders who could be heard pleading with Chauvin to remove his knee from Floyd's neck and also offer him some medical assistance. Chauvin and his other colleague officers did not budge.
The events leading to the death of the 46-year-old African American in the hands of the former White police officer shook the world and reinvigorated the conversation around police brutality and racial discrimination like never before. The incident also sparked unprecedented protests in the United States as well as several other countries in what was a year of racial reckoning.
Chauvin, who is facing murder and manslaughter charges for Floyd's death, has pleaded not guilty. And during the opening statements to commence the trial on Monday, Chauvin's defense attorney argued his client was not to blame for Floyd's death as he "did exactly what he had been trained to do."
On the second day of the trial, a host of witnesses took up the stand to share their accounts of what transpired that day. Join Face2Face Africa as we highlight Tuesday's key moments below:
Testimony from Darnella Frazier and her cousin
Darnella Frazier's video recording of the May 25 incident sent global shockwaves. Taking the stand as a state witness on Tuesday, Frazier, who is now 18, recollected what she saw that day and opened up about how she continues to be haunted by Floyd's pleas for help while Chauvin had his knee on his neck, The New York Times reported.
Crying at certain points, Frazier said she occasionally wakes up at night "apologizing to George Floyd for not doing more and not physically interacting and not saving his life."
"When I look at George Floyd, I look at my dad," she said. "I look at my brothers. I look at my cousins, my uncles because they are all Black. I have a Black father. I have a Black brother. I have Black friends. And I look at that, and I look at how that could have been one of them."
Frazier said she and her 9-year-old cousin were headed to a store to buy snacks when they chanced upon the incident. After leading her young cousin into the store, she said she came back outside and started recording Floyd's arrest as she felt "it wasn't right," The New York Times reported.
"It seemed like he knew it was over for him," she said about Floyd's reaction and pleas. "He was terrified. He was suffering. This was a cry for help, definitely."
Frazier's 9-year-old cousin, Judeah Reynolds, also testified: "I was sad and kind of mad. It felt like he was stopping his breathing and it was kind of like hurting him."
Off-duty firefighter offered to provide medical assistance but was turned away
Genevieve Hansen, a firefighter at the Minneapolis Fire Department, said she was off duty and taking a walk when she witnessed the fatal arrest. She also recorded the incident and called 911 to follow up, Fox 9 reported. The 27-year-old's video was played in the court and at a certain point, she was reportedly heard asking the officers if Floyd's pulse had been checked.
Narrating what happened before she got a clear view of Floyd's arrest, Hansen told the court she spoke with a woman who was "screaming they were killing him."
"That's when I was alerted the situation wasn't a basic medical call," she added.
Upon realizing Floyd's condition when she got closer, Hansen said she was "concerned to see a handcuffed man who was not moving, with officers with their body weight on his back and a crowd that was stressed out."
Hansen also told the court she got worried about the way Floyd was pinned to the ground by the officers. "He wasn't moving and he was cuffed… three grown men putting their weight on someone is too much," she said. "He had an alternate level of consciousness. My attention moved from Mr. Floyd to how can I gain access to this patient or direct officers. I was really concerned. I thought his face looked swollen, which would happen if you put a grown man's weight on someone's neck. I noticed fluid coming from his body, and in a lot of cases we see a patient release their bladder when they die. I can't tell you where fluid came from, but that's where my mind went."
Hansen said when she offered to help and told officer Tou Thao she was a firefighter, she said the former cop told her, "if you really are a Minneapolis firefighter, you would know better than to get involved."
"I thought he wouldn't believe me, and not let me help. Also, that's not right. I mean, that's exactly what I should have done. There was no medical assistance and I should have done that," she added, according to Fox 9.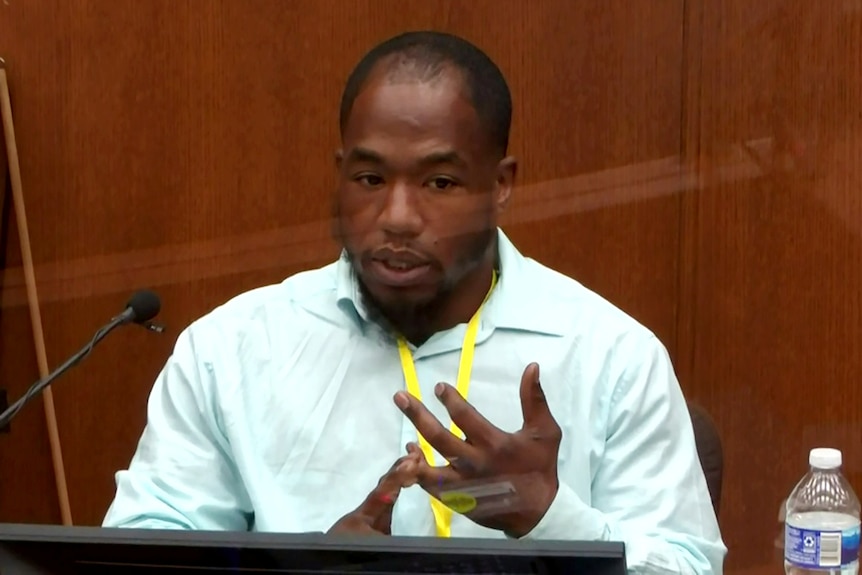 "I did call the police on the police"
Donald Williams, another witness who took the stand, told the court that he called 911 after emergency services transported Floyd from the scene of the arrest. In the recording of the call that was played in court, Williams shared Chauvin's badge details and informed the dispatcher the former cop continually kept his knee on Floyd's neck although he was warned about the African-American man's condition, ABC News reported.
Williams, who is also a former wrestler and a mixed martial artist, was heard shouting "Y'all is murderers, bro!" when the dispatcher transferred his call to a sergeant.
About the fatal arrest, Williams told the court that though he was "very lost in the moment", he was aware Floyd was "going through tremendous pain" and required assistance.
"You could see his eyes slowly rolling back in his head," Williams recalled. "I was very nervous and not knowing what to do … [but] I did call the police on the police."
Asked about how quickly MMA opponents are given medical attention once they go unconscious, Williams told the court "immediately, right away," ABC News reported. He also said the situation could have been handled without necessarily administering that level of physical aggression.
"Stay calm, being humane, trying to talk to the person, trying to talk them down," Williams said.