When Ananias Mathe died in 2016, many said that the serial rapist, robber, and murderer has taken to the grave the secret of how he managed to escape from the maximum-security prison in Pretoria, South Africa, in 2006.
Mathe, a Mozambican national, who had then been convicted of 64 charges, including rape, attempted rape, attempted murder, robbery and theft, became the only person to have ever escaped from the maximum high-security C-Max Penitentiary, a daring escape which gave him the name – "Houdini of C-Max".
In 2006, whilst being detained in the A6 ward of C-Max Penitentiary, Mathe sawed through the bars of his cell and escaped through a tiny window in the jail after he allegedly rubbed petroleum jelly all over his body, IOL then reported.
His escape came as a shock to prison officials and the whole of South Africa, but, after two weeks, he was re-arrested when he hijacked a car in the Johannesburg suburb of Craighall. Mathe did not know that the vehicle was fitted with a satellite tracking device, which eventually got him back into jail after a hot chase by the police.
Being his second successful break-out after an initial one from Johannesburg Central Police Station in 2005, Mathe was sent to the super-max Ebongweni Prison in Kokstad, where he would try twice to escape.
When the notorious criminal and serial escapee died in December 2016 in a hospital after a short illness, many described it as good riddance.
"It is considered impolite to speak ill of the dead. However, in the case of Mr Mathe, society is now free from a dangerous and malevolent individual," DA Correctional Services shadow minister James Selfe said at the time.
Throughout his criminal activities, Mathe killed 13 dogs with poison before entering the homes of his victims with a torch in one hand and a gun in the other, according to a report by The Mercury.
Mathe would then shine the torch in the faces of his victims before raping them and going away with their cash, jewellery and other valuables.
Between 1999 and 2002, Mathe began breaking into people's homes and disappearing with their belongings but did not rape his victims.
By 2003, he had started raping his victims. He was also the organiser for a gang of truck hijackers between Mozambique and South Africa. In 2005, while an awaiting-trial prisoner, he managed to escape from a police station.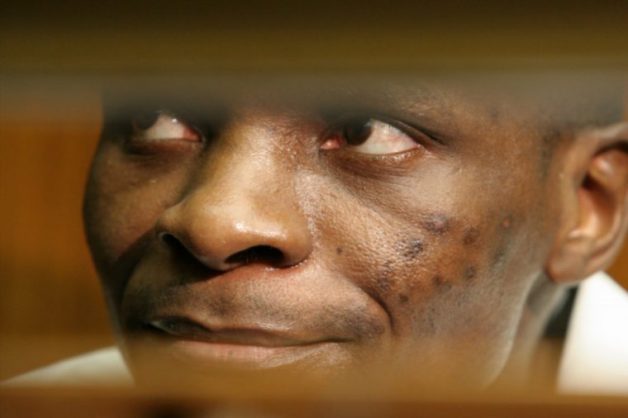 Then a year later, he achieved notoriety when he became the first person to have ever escaped from the C-Max Penitentiary in Pretoria which was later renamed the Kgosi Mampuru II Correctional Centre. This break-out was believed to be an inside job.
"During his escape, Mathe is believed to have stripped and covered his entire body with petroleum jelly to enable him to climb out of a bullet-proof window in his cell, which measured just 20cm by 60cm.
"He was able to break through the wall surrounding the window, something which seems impossible in a cell where prisoners are allowed only a toothbrush, mug and spoon, and are shackled at all times," a report by IOL noted.
After managing to remove the window, Mathe is believed to have broken off two steel bars from his bed, "which he wedged on either side of the window to help him slide his shoulders out of the window.
"Mathe apparently took another steel pipe from his bed and made a hook from it. He then tied his clothes and bed linen to it, and used it to slide out of the cell down the firewall.
"Halfway down the wall, Mathe was able to use some of the grime he had collected on his way down to write prison officials a message, which simply read "f**k you".
After he was captured a month later and was sent to Ebongweni Prison in Kokstad, he tried to get out in 2013 by chiselling away the wall and damaging the prison sink, but he was caught by a guard.
He tried again in 2016 by breaking a window in his cell.
An official at the time of his death in December that year indicated that Mathe appeared to have had high-level training. "He can use anything as a weapon. His hands are a weapon," said the official.
"These incidents (of escapes) point not to Mr Mathe's ingenuity or Houdini-like abilities, but rather to the depressing reality that offenders with large amounts of money made from the proceeds of crimes can bribe their way out of most situations," DA Correctional Services shadow minister James Selfe added.
Even though Mathe is alleged to have rubbed petroleum jelly all over his body to slip away from the high-security prison in Pretoria, other reports said at the time that he paid a bribe to warders who allowed him to walk out.
Mathe, who did not look well a month before his death, was admitted to King Edward VIII Hospital where he died on December 27, 2016, due to digestive problems, prison officials said.
"The death of the notorious criminal and escape artist, Mathe, brings to an end a chapter for our prison system," said Selfie.
The following are Mathe's crimes by numbers:
1999, the year he came to South Africa.
19, the number of houses he broke into.
3, the number of provinces in which he committed crimes.
24, the number of cellphones he stole during his attacks.
13, the number of dogs that died after Mathe poisoned them.
7, the number of women Mathe raped.
3, the number of women who emigrated after being attacked.
3, the number of people Mathe shot after breaking into their homes.
64, the number of charges for which Mathe was convicted.
2, the number of police officers who died while investigating Mathe's case.
2, the number of witnesses who were supposed to have testified against Mathe but who disappeared before they could.
146, the exhibits presented in court during Mathe's trial.
150, the number of people who testified against Mathe during the trial.
54, the number of years Mathe was set to serve behind bars.