It is within people's rights to protest over happenings they feel so aggrieved about. However, most protests, especially on the streets end up with a messy environment. Protesters care less about the filth they leave behind.
However, Antonio Gwynn Jr. has proven that even though the aftermath of protests can be cumbersome and sometimes worrying, it is rewarding. In the wake of George Floyd's death that has helped solidify the #BlackLivesMatter campaign, many people are protesting racism and injustice all over the world.
Gwynn Jr. had seen on the local news how Bailey Avenue in Buffalo was covered in glass and garbage. He could not withstand the damage from protests in his hometown of Buffalo, New York.
The 18-year-old high school senior told CNN that he knew people needed to use that street to get to work in the morning. So he bought some trash bags, took a broom and started cleaning the streets all by himself.
Gwynn started at 2 a.m. on Monday and went on to clean for the next 10 hours. He said he did so because it's something his late mum would have done. By the time an organized group of neighbours arrived at the scene to clean, they found that Gwynn had already done most of the work.
Gift Gugu Mona said: "Sometimes you will do good and never get an acknowledgement for it. Do not let that dishearten you; the world is a better place with your good deeds." Word soon spread of how Gwynn single-handedly took action, and fortunately for him, he was acknowledged for it.
Moved by Gwynn's story on the news, Matt Block decided to give him his prized 2004 red Mustang convertible. According to Block, he had seen Gwynn's post on Facebook asking for some car buying advice and he decided to offer up his sports car.
On seeing the car, Gwynn said what was going on "seemed like a movie". His mother, who passed away in 2018, also drove a red Mustang. Gwynn noted that he was so shocked he "didn't have any words," and Block said it gave him "goosebumps."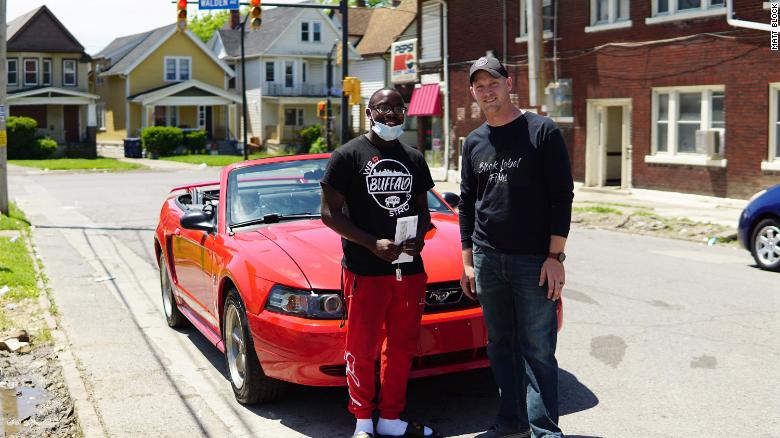 Also, a local businessman Bob Briceland has also given Gwynn a year of free auto insurance coverage through his insurance agency. "I just felt compelled to help him out. We just need to get together our whole city and show people how there's so many good people here," Briceland told WKBW.
After completing high school, Gwynn Jr. had planned to go to trade school while saving up to go to college, little did he know in the words of Ernest Agyemang Yeboah that "A good heart is a universal key that opens the door of the unthinkable gate of goodness".
His good heart attracted Medaille College in Buffalo. The college offered him a full scholarship where he will be studying business and mechanic as well. "I literally stopped, pulled over, and started crying. So did my great aunt. My little cousin did also," said Gwynn.
"I always wanted to be someone to help everyone with their car problems. This is a great opportunity I have right in front of me," Gwynn said. "I appreciate everything everyone is doing for me".
Gwynn Jr. is said to be a member of Kappa Phi where he enjoys doing community service, and he helps out at churches. He said one of his goals is to open a cleaning business.