A dreaded former Congolese rebel leader has been handed the longest sentence of the International Criminal Court (ICC) for war crimes and crimes against humanity.
The ICC on Thursday slapped Bosco Ntaganda with a 30-year sentence having found him guilty on 18 counts including murder, rape, sexual slavery and using child soldiers.
Popularly known as "Terminator", Ntaganda becomes the first person to be convicted of sexual slavery by the ICC and overall the fourth person the court has convicted since its creation in 2002.
The man with presence and charisma was a powerful rebel fighter during the Rwanda and DR Congo conflicts. He is known as someone who takes pride in killing for pleasure. Ironically, Ntaganda always wears a smile – an infectious one of course. But behind those fine-looking smiles is a dangerous and unassuming character. At a point he personally killed a Catholic priest.
"In November 2008, international journalists filmed him commanding and ordering his troops in the village of Kiwanja, 90km (55 miles) north of Goma, where 150 people were massacred in a single day.
"He also commanded troops accused of having killed, because of their ethnicity, at least 800 civilians in the town of Mongbwalu, in Ituri district, after his troops took control of the rich gold mines in the area in 2002," a report on his life said.
Born in 1973, "The Terminator" grew up in Rwanda but left to DR Congo as a teenager during the conflict. At 17, Ntaganda was already a rebel and a national soldier in both Rwanda and DR Congo. He recruited child soldiers to do his bidding with a rebel group he founded – M23. Between 2002 and 2003 he led troops to terrorize civilians in the mineral-rich north-eastern region of Ituri.
Ntaganda is a household name in Rwanda. He fought under the command of Rwanda's current president, Paul Kagame – then leader of the Rwanda Patriotic Front (RPF) fighting to end the 1994 genocide against his ethnic group, the Tutsi.
His men had pleasure in murdering and raping women on the orders of Ntaganda during the conflict in the east of DRC.
"Prosecutors had said Ntaganda was key in planning and running operations for the Union of Congolese Patriots (UCP) rebels and its military wing, the Patriotic Forces for the Liberation of Congo (FPLC). The armed group conducted attacks against people perceived not to belong to the Hema ethnic group, the ICC found.
"In one attack, fighters killed 49 captured people in a banana field behind a village using "sticks and batons as well as knives and machetes".
"Men, women and children and babies were found in the field. Some bodies were found naked, some had hands tied up, some had their heads crushed. Several bodies were disembowelled or otherwise mutilated," Judge Fremr said.
"Violence in the region has killed more than 60,000 people since 1999 as militias battle each other for control of scarce mineral resources, rights groups say," reported the BBC from the court.
Ntaganda is "just as dangerous as [Ugandan rebel leader] Joseph Kony", according to ICC chief prosecutor Fatou Bensouda. "Not arresting Bosco, allowing him to walk freely, like he's not committed any crimes, is unacceptable."
General Ntaganda, 46, denied all charges against him. "He is someone who will never face up to his crimes. He always denies and comes up with excuse after excuse to justify what he has done," stated Human Rights Watch researcher Anneke van Woudenberg who met "The Terminator" several times.
When the going got tough, "The Terminator", who loves to wear leather cowboy-style hats, surrendered at the US embassy in Rwanda in 2013 and was sent to the ICC for trial.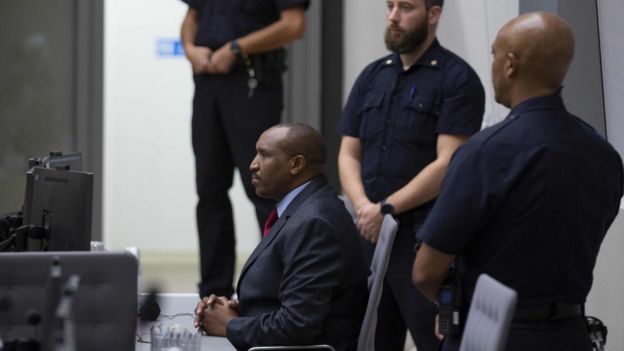 In July 2019, three judges of the ICC found Ntaganda – the key leader – guilty on all 18 counts of war crimes and crimes against humanity committed between 2002 and 2003.
And on Thursday, November 7, 2019 he started his 30-year jail term.