Alfred L. Cralle, an African American businessman, invented the ice cream scoop in 1897.
Thanks to Cralle, today the ice cream scoop is a common household utensil and its invention did much to make ice cream a popular dessert around the world.
While working at a hotel, Cralle observed the difficulty ice cream servers had scooping ice cream having to use two utensils to get it from sticking to the utensil.
Born on September 4, 1866, in Kenbridge, Lunenburg County, Virginia, Cralle worked for his father in the carpentry trade as a young man.
According to BlackPast, Cralle left for Washington D.C. where he attended Wayland Seminary, a branch of the National Theological Institute, founded by the American Baptist Home Mission Society immediately after the Civil War to help educate newly freed African Americans.
Cralle went on to Pittsburgh, Pennsylvania and worked as a porter at a drugstore and at a hotel. It was during his work at the hotel that he developed the idea of the ice cream scoop.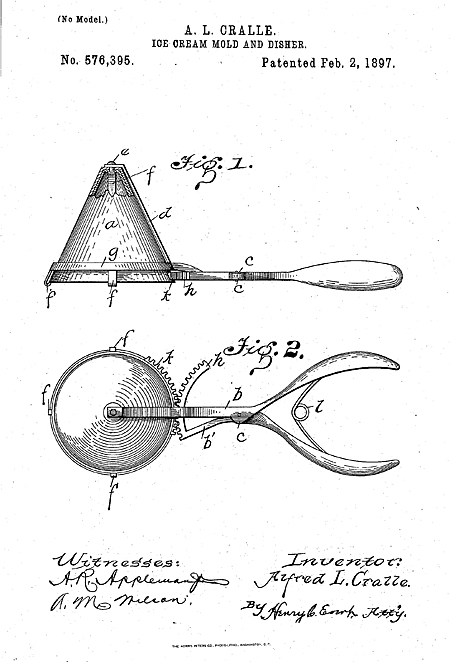 He had seen ice cream servers struggle to get the confection desired by the customer into the cone they were usually holding. He noticed that the ice cream sticks to spoons and ladles, usually requiring the server to use two hands and at least two separate implements to serve customers.
Meanwhile, Cralle had developed an interest in mechanics while working with his father so he created a mechanical device now known as the ice cream scoop. He applied for and received a patent on February 2, 1897, with Patent #576395.
Thirty-year-old Cralle made the "Ice Cream Molder and Disher" which he designed to keep ice cream and other foods from sticking and the invention spread all across the United States.
His invention could be operated with one hand. The Mold and Disher was strong, durable, effective, and inexpensive and it could be constructed in almost any desired shape, such as a cone or a mound, with no delicate parts that could break or malfunction.
Cralle became a successful Pittsburgh business promoter and worked as the assistant manager of the Afro-American Financial, Accumulating, Merchandise, and Business Association in Pittsburgh.
Even though he developed and patented the first ice cream scoop, Cralle profited little or nothing from his invention.
He later experienced some harrowing tragedies. His wife and one of his daughters died in 1918 of a communicable disease. In 1920, he lost his only son to another disease. Later in 1920, Cralle himself was killed in an automobile accident in Pittsburgh, Pennsylvania leaving behind his only surviving daughter Anna Cralle.