Famed for his baseball exploits, Jackie Robinson born on January 31, 1919, in Cairo, Georgia would go on to play in Major League Baseball for nine years.
With the departure of his father in 1920, the Robinson family would move to Pasadena, California.
In high school, Robinson played baseball, football, track and basketball. He continued with athletics at Pasadena Junior College. He would have his first brush with the law on January 25, 1938, when he challenged the police unlawfully holding of an African friend.
In 1939, Robinson transferred to UCLA and became the first student there to letter in four sports. He will drop out in 1941 due to financial struggles.
He had another brush with the law leading to his honorable discharge from the army.
"On July 6, 1944, Robinson—a 25-year army lieutenant—boarded a military bus at Fort Hood, Texas with the light-skinned wife of another black officer and sat down next to her in the middle of the vehicle. "Hey you, sittin' beside that woman," the driver yelled. "Get to the back of the bus." Robinson refused, knowing that buses had been officially desegregated on military bases. When the driver threatened to have him arrested, Robinson shook his finger in the driver's face and told him, "quit fucking with me." Two military policemen soon arrived and escorted Robinson away.
"He faced trumped-up charges of insubordination, disturbing the peace, drunkenness, conduct unbecoming an officer, insulting a civilian woman, and refusing to obey the lawful orders of a superior officer. Unlike the routine mistreatment of many black soldiers in the Jim Crow military, Robinson's court-martial trial, on August 2, 1944, triggered news stories in the Negro press and protests by the NAACP. Voting by secret ballot, the nine military judges found Robinson not guilty. By November, he was honorably discharged from the Army."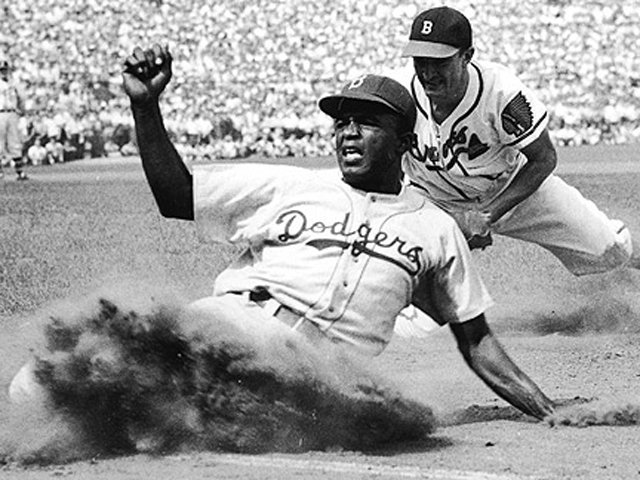 That honorable discharge strengthened the hand of Brooklyn Dodgers general manager Branch Rickey to pick him to break major league baseball's color line.
Robinson did not have to hear about racism from another person. He beheld it himself. In the Los Angeles suburb he grew in, black residents were treated as second-class citizens and when his older brother Mack returned from the 1936 Olympics in Berlin with a silver medal in track, he got no hero's welcome. The only job the college-educated Mack would find was as a street sweeper and ditch digger.
He would make a name for himself in the Negro Leagues, a racially segregated professional league. Then he was signed onto the Dodgers' affiliate, the Montreal Royals, in 1946. Though the team was turned away from several games due to several officials not wanting to see a black man playing baseball with white men, soon enough Robinson's games were incredibly well attended, filling the stands with both fans and protesters.
In 1947, Robinson was moved into the major leagues. Robinson endured racial attacks, both verbal and physical, without fighting back. Eventually, his team united against those who insulted Robinson for his race. After promising Branch Rickey that, for at least his rookie year, he would not respond to the verbal barbs and physical abuse he would face on a daily basis. Robinson unleashed his temper fighting constantly with umpires and opposing players. He was young, articulate, and well educated but there was that hot temper and strong political view which came with the package.
"Robinson spent his major league career (1947 to 1956) with the Brooklyn Dodgers. He was chosen Rookie of the Year in 1947 and Most Valuable Player in 1949. An outstanding base runner, with a .311 lifetime batting average, he led the Dodgers to six pennants and was elected to the Hall of Fame in 1962."
"Having shown the world that black men could play professional baseball on a par with whites, more black players joined Robinson in the major leagues in 1948. Robinson became quite famous, having songs written about him and even starring in a movie about his own life.
"Robinson continued playing for a few years, breaking records for hits, bases stolen, fielding, and others. By 1956, Robinson's struggle with diabetes forced him to retire from major league baseball."
He then became the first black vice president of a major American corporation, Chock full o'Nuts, a coffee company. Robinson also became the first black analyst for Major League Baseball on television.
Robinson, sick from heart complications and diabetes, died of a heart attack in 1972. Thousands of people came for the funeral procession. Major League Baseball now recognizes April 15 as Jackie Robinson Day, to celebrate the integration of sports.
Off the field, he was outspoken – in speeches, interviews, and his regular newspaper column – against racial injustice. Robinson was a constant presence on picket lines and at rallies on behalf of civil rights. He was one of the NAACP's best fundraisers, but he resigned from the organization in 1967, criticizing it for its failure to involve "younger, more progressive voices."
At his final public appearance, throwing the ceremonial first pitch before Game 2 of the 1972 World Series, shortly before he died, Robinson accepted a plaque honoring the 25th anniversary of his MLB debut, then observed: "I'm going to be tremendously more pleased and more proud when I look at that third base coaching line one day and see a black face managing in baseball."
Daughter, Sharon Robinson – author and vice-chair of the Jackie Foundation – holds that the civil rights legacy of her father is solid.
Three years after his death, his dream will be fulfilled when Frank Robinson (not related) was hired by the Cleveland Indians in 1975. The majors' first black general manager – the Atlanta Braves' Bill Lucas – wasn't hired until 1977. In 2009, 10 of MLB's 30 managers were black or Latino. Robinson married Rachel Isum, with whom he had three children.