Beyond eating, Nigerian-born visual artist and Hijarbie creator Haneefah Adam has a way of turning food into amazing art. Using food to make portraits and other works of art, Adam presents food in beautifully creative ways.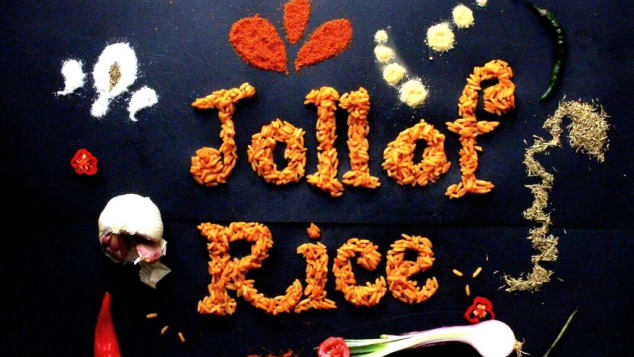 She has been sculpting portraits of mouthwatering Nigerian delicacies and sharing it on her Instagram but she became famous in 2016 after winning the #TechMeetsArtNG exhibition, a culinary exhibition that explores the artistic presentation of some of Nigeria's local meals.
Her winning entry, pictured below, represents an African woman adorned in vibrant colors. Adam said the art was inspired by "ogbono soup", a southern Nigerian delicacy made from the Ogbono seeds which come from wild African bush mango. Garnished with vegetables, meat or fish and okra, Adam said it was one of her favorite meals while growing up.
Adam sees everything around her as something that can be made into art. "I usually think of a story to tell. Then I take a portion of food that ties with the story and create the work".
"What inspired food art is that I want to celebrate Nigerian food. I want to celebrate the food I eat and I want to tell a story that people can like and learn a lesson from", she recently told the BBC.
In another interview with CNN, Adam said, "I have always been artistic. Growing up, my mother said I had a flair for art." "I do regular portraits, I sew and paint, but what excites me the most is food."
A pharmacologist by trade, Adam earlier made waves in the world of doll making. She created the "Hijabie", a hijab-wearing Muslim doll. A passionate advocate for the right of Muslim women, the 29-year-old recently explained that the idea for designing her own doll came from a lack of depiction of hijabis in mainstream media.
"I'm a self-taught designer, I love making dresses and started showing interest in them over 10 years ago. Hijarbie's outfits are inspired by normal everyday looks of a Muslim girl which are all handmade by me. I currently own and run a modest lifestyle brand, Hanie, where we will be selling modest outfits, accessories and expand to home accessories as well," Adam said.