"If I could go back in time, I'd cut off the finger I used to send a friend request to that woman in the autumn of 2015," Medhanie Tesfamariam Berhe said last August.
The 32-year-old Eritrean man had just been acquitted of a charge of human trafficking in Italy after being mistaken for an alleged trafficking kingpin, Medhanie Yehdego Mered, otherwise known as The General.
Berhe spent three years in jail insisting that he was not who prosecutors said he was. It was only last July that an Italian court confirmed he was a victim of mistaken identity.
And all this started with a friend request he had sent to the wife of the notorious smuggler whom he found attractive. That friendship would land him in jail.
On May 24, 2016, Berhe, a refugee from Eritrea, was arrested while drinking coffee in a bar in Khartoum, the Sudanese capital. He soon found himself on a flight to Rome. Italian and British investigators had worked together to secure the arrest of the man they identified as the notorious Eritrean smuggler.
Arriving in Italy, Berhe, who would years later be found out to be a dairy farmworker and a carpenter, still couldn't fathom what he had done wrong.
"I thought they wanted to extradite me to Eritrea because I had deserted the military," he said. "During my first interrogation in Rome they told me I was accused of being Mered, a human trafficker. I thought they were crazy."
Berhe was subsequently transferred to Palermo's Pagliarelli prison to await what would be a three-year trial. During proceedings, Italian prosecutors maintained that he was Mered despite indications that they had caught the wrong man.
According to reports, some of Mered's alleged victims testified that they did not recognize the arrested man while DNA tests also suggested that he was innocent.
Relatives of the alleged smuggler, including his wife Lidya Tesfu, even testified that it was a case of mistaken identity but the prosecutors insisted that they had the right man and demanded a 14-year prison sentence.
Meanwhile, during the controversial trial, it turned out that Berhe's arrest occurred at the same time Mered was in jail in the United Arab Emirates for using a forged passport.
Being in jail meant wiretaps that Italian investigators had on Mered's phone to follow his movements had gone quiet, so were his Facebook posts, reported The Guardian.
At that moment, investigators assumed that Mered has changed his number and social media accounts. Months earlier, they had found out that an Eritrean named Medhaine had become Facebook friends with Tesfu, the wife of Mered.
Investigators concluded that the Eritrean man's account could be Mered's since both accounts shared the same first name.
With the help of Britain's National Crime Agency, prosecutors in Sicily, Italy got the telephone number that came with the account and tracked it to Khartoum, where Berhe was arrested.
"How could I have known she was Mered's wife? She just looked nice. That Facebook contact landed me in this absurd situation.
"If Mered hadn't been arrested in the UAE, the Italians would have likely arrested the real trafficker in Khartoum. And if I hadn't friended Lidya, by this time I probably would have reached my family in Europe," Berhe told The Guardian.
While Berhe was locked up, it emerged that Mered had been released from jail and was having a good time in Kampala, Uganda's capital.
"…But I don't blame him. It's not his fault I was arrested in Khartoum, and he didn't keep me in jail for three years," Berhe later said of Mered.
Despite admitting its error and clearing Berhe of trafficking in July 2019, the court still found him guilty of a lesser charge – aiding illegal immigration for helping his cousin reach Libya.
Having already spent three years in jail, the judge ordered his immediate release.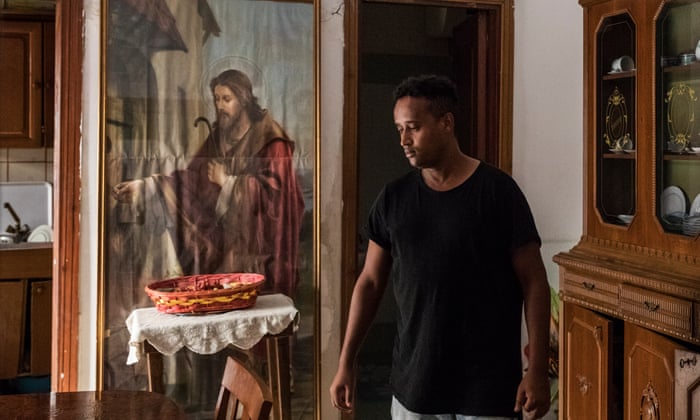 Berhe has since secured asylum in Italy, and lives in a small apartment in Palermo, as of 2019.
But he would never forget the ordeal he went through, and how he even contemplated taking his own life during that period.
"When you live through such an injustice and discover you're helpless to do anything about it, you lose the will to live. Try to see it my way: I wasn't arrested, I was kidnapped and my three years in jail were like an endless nightmare which all started with a friendship on Facebook," he said.