The story of Redoshi, although discovered and documented as far back as 1927 by celebrated African-American anthropologist Zora Neale Hurston and rewritten by several other historians up until the late 1980s, has been largely sidelined.
Perhaps this is because, unlike Cudjo Lewis, her story was not published by HarperCollins Publishers, one of the world's largest publishing companies or the rejection of Zora Neale Hurston after she was accused of molesting a 10-year-old boy. Perhaps also her story being sidelined for over 90 years is proof of the discrimination faced by women over the years.
Whatever the case, her story seems to be in the lime light again after
Hannah Durkin, an academic and lecturer of English Literature, Language and Linguistics with the New Castle University published an article in the March 26 edition of the Slavery and Abolition journal.
Now picked up by several media houses, Redoshi's interesting story about how she was taken from West Africa in an area in present-day Benin, given a new name and sold into slavery in the U.S. where she lived and died in 1937 at 110 years old.
Her story also rewrites history and makes her the last known survivor of the Clotilde ship, the last ship to leave Africa with slaves and arrive in the U.S. in 1860, instead of Kossola or Oluale Kossola popularly known as Cudjo Lewis who died on July 17, 1935.
There are more to Redoshi's story than what is making the rounds.
According to the book Selma: A Bicentennial History by Alston Fitts written in 1989, Redoshi was not just an ordinary girl picked up from her village in present-day Benin, she was the daughter of a chief in a small village very close to the Dahomey Kingdom that would eventually get raided by the Dahomey warriors.
According to the accounts in the book as told by Zora Neale Hurston in the October 1927 issue of the Journal of Negro History, Redoshi was captured from her father's palace after Dahomey warriors raided her village. After watching her father killed by the warriors, 12-year-old Redoshi together with youths from her village were taken captive by the warriors. They walked several days and were sold to Captain Billy Foster of the Clotilde.
According to the book, a few Dahomey warriors knowing who Redoshi was, mocked her until she was placed on board the ship and set off for Mobile Bay, U.S. From there, the captured Africans were taken to a plantation near Mount Vernon in Alabama and sent to Selma.
While in Selma, Redoshi was paired with an older enslaved African man called Yawith – but given the name Billy – to be man and wife. The couple were later purchased by Col. Washington Smith who was a banker and plantation owner and took his new slaves to work on his Bogue Chitto plantation.
Redoshi was re-named Sally and given the surname Smith to be identified as a slave of Col. Washington Smith. She was severely beaten and ill-treated for not learning the English language quickly. She and other newly enslaved Africans were all forced to accept Christianity as well.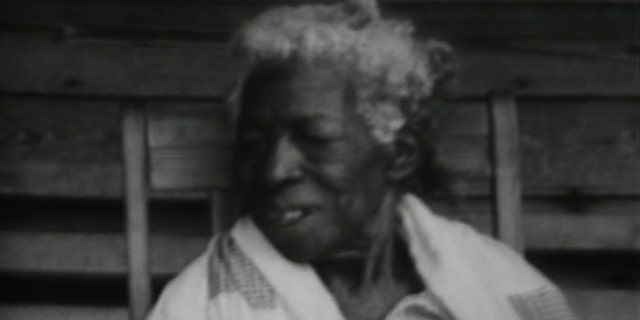 While findings by Hannah Durkin indicated that Redoshi died at age 110, the book explains that a descendant of Redoshi states that she died at the age of 115 on the Bogue Chitto plantation despite gaining her freedom after slavery was abolished. Redoshi was 17 when slavery was abolished in the U.S.
According to the New York Times, Redoshi also appeared in an instructional film released in 1938 by the Department of Agriculture titled: "The Negro Farmer: Extension Work for Better Farming and Better Living."
Last year, the story of 95-year-old Cudjo Lewis from a resurfaced 1931 interview conducted by African American writer Zora Neale Hurston, was published after 87 years by American publishers HarperCollins. He had then gained national fame as the last slave ship survivor after rounds of interviews and stories were written about him.
Barracoon, The Story of the Last "Black Cargo" is one of Hurston's unpublished non-fiction books which she wrote after she visited Plateau, Alabama, in 1927 to interview Cudjo Lewis.
He gave a firsthand account of the raid that led to his capture and enslavement, over 50 years after the transatlantic slave trade was outlawed in the United States. Hurston documented Lewis's story in his dialect, just as he told it.
Lewis was born as Kossola or Oluale Kossola in what is now known as Benin around the 1840s. His father was named Oluwale and his mother Fondlolu. He had five siblings and twelve half-siblings from his father's other two wives.
He was taken prisoner in 1860 by the Dahomey army as part of a slave raid and was sent to the slave port of Ouidah along with other captives. They were sold to Captain William Foster of the Clotilde, a ship based in Mobile, Alabama, and owned by businessman Timothy Meaher.
The owner is reported to have bet a friend that he could smuggle in a group of slaves from Africa aboard the ship.
About 120 of them were bundled onto the ship and brought to Alabama despite the outlaw of slave trade in 1807. To avoid detection, they snuck the slaves into Alabama at night and hid them in a swamp for several days.
"We very sorry to be parted from one 'nother. We seventy days cross de water from de Affica soil, and now dey part us from one 'nother. Derefore we cry. Our grief so heavy look lak we cain stand it. I think maybe I die in my sleep when I dream about my mama," Lewis told Hurston.
They burned the 86-foot sailboat on the banks of the Mobile-Tensaw Delta to hide their crime following a tip-off to the authorities of their activities. They were cleared of charges of illegal possession of captives as the slaves and evidence were not found.
The remains of the boat were reported to have been discovered by a journalist in January 2018.
The incident happened months before the 1861 civil war and Lewis, together with the other slaves, were dispersed and hidden by Meaher, his family and associates. Lewis was bought by James Meaher, brother of the businessman, and he worked as a deckhand on a steamer.
"We doan know why we be bring 'way from our country to work lak dis. Everybody lookee at us strange. We want to talk wid de udder colored folkses but dey doan know whut we say," he told Hurston.
Lewis chose to be called Cudjo, as Kossola was difficult for Meaher to mention. Cudjo is a West African name given to boys born on Monday. Historian Sylviane Diouf believes the surname Lewis was a corruption of his father's name Oluwale.
He worked at the Meaher shipyard with other slaves through to the end of the Civil War in 1865 when the confederate army surrendered. Lewis said they didn't know about the war and a few days after it was over, a group of Union soldiers stopped by where they were working and told them they were free.
He told Hurston about his frustration following his discovery that the promise of "forty acres and a mule" to enslaved Africans after the emancipation was not fulfilled by the government.
The group worked in lumber mills and sold produce to raise money to be able to return to Africa, yet they were unsuccessful. An attempt to get their former captor to offer them land also proved futile.
They continued to raise money and later in 1872, Lewis and a group of 31 other freed people bought a land near the state capital Mobile. Lewis bought about two acres of land for $100 in the Plateau area which they called Africatown.
The group developed Africatown into a community of people with a shared African background. They appointed leaders and built a church, a school, and a cemetery.
Historian Diouf wrote that: "Black towns were safe havens from racism, but African Town was a refuge from Americans."
Lewis converted to Christianity in 1869 and joined a Baptist church. He was married to another Clotilde survivor, Abile (Celia) in 1880 and they had six children. He outlived his family as his wife died in 1905.
He worked as a farmer and labourer until 1902 when he was injured in an accident. He then worked as a sexton in the Baptist Church. He died on July 17, 1935, and was buried at the Plateau Cemetery in Africatown.