Over 20 years before the rise of Martin Luther King Jr and other leading civil rights leaders, there was a prominent and controversial African-American religious leader who championed social justice and equal rights. known as Father Divine, and founder of the Peace Mission movement originally thought to be a cult, this religious figure fought segregation in the depression era right from his dining table.
To observers, he was an imposter or an insane person largely due to his eccentric beliefs and mysterious past, but to his followers, he was God-sent, or the God himself, who had to come to provide them with economic benefits during the Depression era.
He would later become a successful businessman with his network of stores, hotels, and farms that fed thousands of Americans (both whites and blacks) throughout the Great Depression.
The religious leader did not only use his feasts as a source of evangelism but to promote integration and to preach against lynching, as well as, various social injustices.
His cult was, however, never short of scandals, lawsuits, accusations and arrests, and these would later cause the downfall of his movement.
It's not known the exact place or date on which he was born, as Divine never gave those details. Historians guessed that he was born in poverty around 1879 in Rockville, Maryland, and was given the name George Baker.
Around 1899, Divine started his career as an assistant and disciple to Father Jehovia (real name Samuel Morris), an eccentric preacher and founder of an independent religious group who also proclaimed to be God.
Around 1912, Divine left Jehovia and started travelling and preaching in the South, gradually "refining his god-like persona", according to historical accounts.
He later emerged as the leader of what would become the Peace Mission movement and would experiment with various names such as "The Messenger," "Major J. Devine", and "Major Jealous Divine" before finally settling down on "Father Divine".
Divine first settled in the New York City borough of Brooklyn and then in Sayville, New York, an all-white community on Long Island, where he reportedly became the first African-American homeowner in the area.
His organization, Peace Mission, was not widely known until the start of the Great Depression in 1929. Then, New York had a lot of cult organisations that attracted urban black communities. These black folks wanted Afrocentric forms of worship because they believed Christianity had been passed on through slavery.
The Great Depression brought in its wake harsh economic conditions, and this made Divine's Peace Mission's generosity well received by many. Each Sunday at Divine's Sayville residence, there was an all-day banquet that was free of charge and open to anyone who would love to attend.
"Wherever the Peace Mission could be found, so could the Holy Communion Banquets. Hundreds — sometimes thousands — of members and curious visitors packed ballrooms and dining halls at Peace Mission locations to feast while listening to Divine's speeches, either live or via audio recording. When Divine was present, he'd make a grand entrance with his wife, Mother Divine, before taking his place at the head of the table…As dishes like candied sweet potatoes, buttered baby carrots, and seafood platters made their way down the table, he'd "bless" each one by shoving a serving spoon in it and passing the plates along to singing crowds. It was, by design, pure spectacle," writes Vince Dixon in an article on Eater.
The article adds that the banquets were also the "source of taboo-defying social gatherings and fellowship between races that prior to the civil rights movement could be considered nothing short of revolutionary."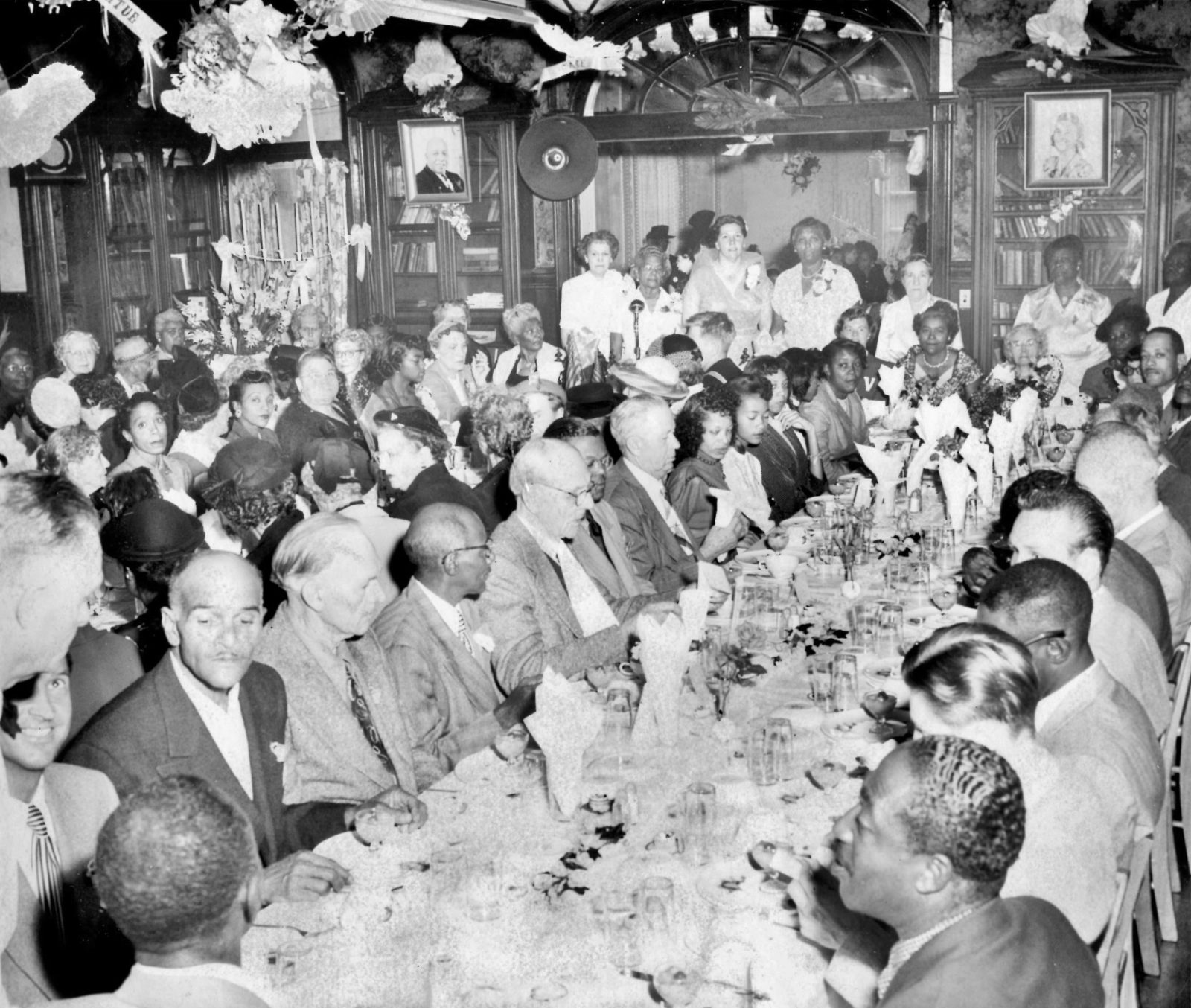 When news about Divine's "Holy Communion Banquets" spread, many people in the community, largely blacks, thronged to his house in Sayville for the Sunday dinners.
By the 1930s, these feasts grew and doubled as worship services, where attendees would shout and sing praises to Father Divine, seeing him as God. This angered neighbours and in November 1931, police arrested Father Divine along with 30 of his followers in his home on noise and nuisance charges.
A judge, Justice Lewis J. Smith, sentenced him to a year in prison, but four days after the sentencing, the judge died of a heart attack. When asked for a reaction, Father Divine attributed it to supernatural intervention. "I hated to do it," was his alleged response.
This response created more media headlines for the cult leader, and lots of people increasingly began to see him as a divine Christian being who has been wrongly accused and his prosecutor being paid back in full.
Divine was later set free on bail and his conviction was overturned. His Peace Mission attracted thousands of new followers. He later moved his headquarters to Harlem and opened many affiliated branches in other communities in New York, New Jersey and California.
In Harlem, he opened the first of his "Heavens", or the residential hotels "where his teachings were practised and where his followers could obtain food, shelter, and job opportunities, as well as spiritual and physical healing."
Accounts state that his movement was built on the principles of Christianity (even though they believed "heaven on earth"), Americanism, brotherhood, democracy, and Judaism.
Members are taught not to discriminate by race, religion, or colour, and till date, they live communally as brothers and sisters. Members – made of about 75 per cent female – must be celibate and should refrain from alcohol, tobacco, narcotics, and vulgar language. No one is also allowed to accumulate debt, or have credit and life insurance, according to accounts.
But Divine did help followers find jobs while supervising their earnings and investment. Teaching them the virtues of hard work, honesty, and service in their business operations, many of his followers became successful. His numerous hotels, farms, and groceries, also brought in lots of money as they attracted a large following.
His movement did not collect offerings, and Divine claimed to own nothing, yet he was criticized by many as he often wore expensive suits and travelled in limousines. Critics said these were paid for by his followers.
The year 1937 would not go down well for Divine and this hugely affected his movement. The scandals and accusations increased, and he was even forced to move his mission to suburban Philadelphia, as part of moves to avoid paying a financial judgement in a suit that was brought by a former member of the movement, Faithful Mary. The woman had argued with Divine over money and had claimed that his movement was a scam to support his lavish lifestyle.
The end of the depression also gradually retired Father Divine as people were no longer attracted to the "frugal collective living" since there was now an economic boom.
As membership dropped, the restaurants and most other properties were sold. Before his death in 1965, Divine, who preached celibacy, married his second wife, a 21-year-old white disciple named Edna Rose Ritchings.
Known by her cult name of 'Sweet Angel', Ritchings would later become de facto head of the Mission and would be called Mother Divine. Till date, the communion banquets continue in Woodmont mansion, a historic landmark in suburban Philadelphia where "roughly 20 members still live", as well as the Circle Mission in Philly, and a location in Sayville.
In those places, the few remaining followers still worship Father Divine during the Sunday meals, reserve a seat for him and serve him a meal with the belief that he is amongst them though dead, sources say.
Mother Divine attended the meals until her death in 2017.
Father Divine's Peace Mission does not have a huge membership like before, nevertheless it has been widely accepted as a trailblazer of the Civil Rights Movement.