August 28, 1963, was a great day for many. Remembered as the day when Rev. Martin Luther King Jr. delivered his "I Have a Dream" speech, it was the same day 11-month-old Sharon Langley made history, becoming the first African American to ride an amusement attraction in Baltimore.
That day, Langley's parents had made plans to go to the March on Washington for Jobs and Freedom, where King would deliver his iconic speech. They, however, couldn't find a babysitter and so they decided to go to Baltimore's Gwynn Oak Amusement Park with their child Langley.
"I knew about my mom's activism," Langley would later say of her mother who played a significant role in ending segregation in Kentucky.
"My thinking was that this is something we do. Even though I was very little, they could have chosen not to take me. They were making a statement. They were making a statement to me. We can make a difference. One family can."
Gwynn Oak Amusement Park had then been a whites-only park, until that summer day of August 28. The park's whites-only admission policy had ended after a series of protests for decades. When Langley and her parents arrived at the park at about 1:15 p.m., it had been opened to white and black children alike.
"The Langleys strolled through the midway, examining the different arcades until they reached the merry-go-round, where Sharon got her first ride, after an unsuccessful try on an out-of-commission coin-operated horse," The Sun reported.
Essentially, Langley became the first African-American child to take a spin on the park's carousel.
"Daddy said he marched me straight over to the carousel. He helped me onto a big, smiling horse. He put his arm around me and held my hand, so I wouldn't be afraid. Mama stood nearby, waving," wrote Langley in a recently published book "A Ride to Remember: A Civil Rights Story."
"Photographers jumped onto the ride with us. They took photos of Daddy and me because I was the first African-American child to go on a ride that day," she wrote.
Two white children climbed onto horses on either side of her that day amid smiling news reporters and photographers.
The following day, while news stories about the March on Washington were making headlines, there were also stories of Langley on her carousel ride.
"It seemed to provide an example of the harmony that Dr. King spoke about that very same day in which he said that he hoped that one day little black kids and little white kids would regard each other as brothers and sisters," said Amy Nathan, author of "Round & Round Together: Taking A Ride Into Civil Rights History."
Weeks before Langley made history at the park, some 400 civil rights protestors were arrested during two demonstrations at the park, the first on July 4 and another three days later. Those arrested included black and white priests, rabbis and ministers.
Baltimore officials soon started negotiations and within a week, it was agreed that the park should be integrated.
But the park lost many white customers and suffered financially as a result. Flooding from Hurricane Agnes in 1972 also damaged the park, forcing it to close. But the carousel remained and was bought by the Smithsonian's concessionaire. In 1981, it was moved to the National Mall in Washington, D.C. where it stands today.
Stan and Donna Hunter, who have been the owners of the carousel since 1988, were unaware of its history until they read Nathan's "Round & Round Together: Taking A Ride Into Civil Rights History" book.
Moved by the story of Langley and the merry-go-round, the Hunters identified the horse Langley rode in 1963 and engraved her name on a brass plate attached to the saddle.
That same horse is decorated with a "Freedom Riders" theme, alongside the names of civil rights heroes.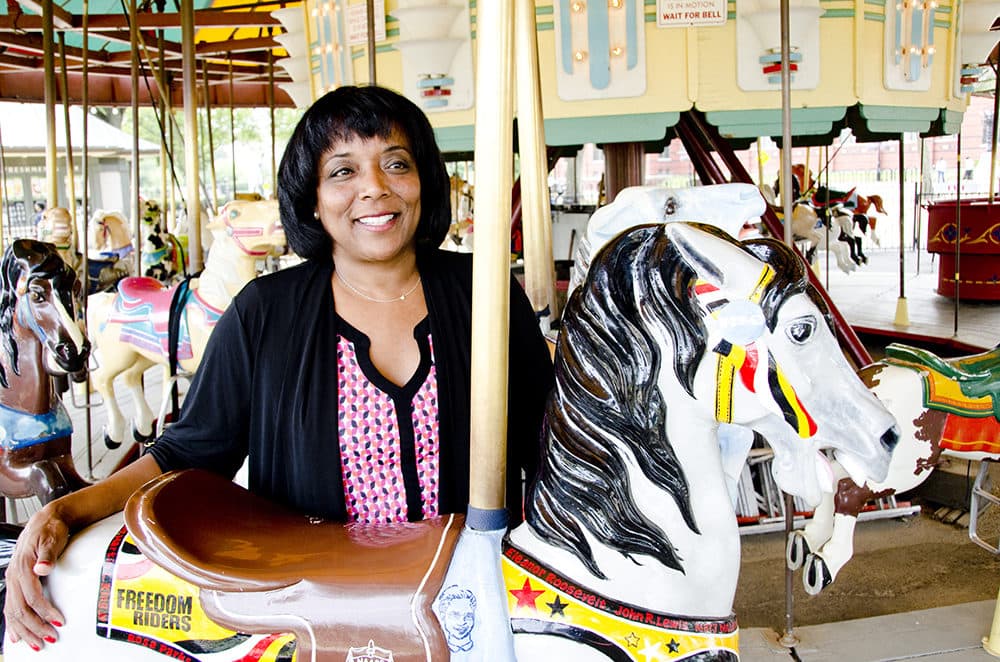 Langley, who is now in her late 50s and lives in Los Angeles, recently came back to take a spin on the carousel that became part of America's civil rights history.
"I hope for a new generation of freedom riders," she said. "Everyone has a contribution to make their community and society better. No act is too small."
For the Hunters, they believe it is by divine intervention that the carousel had been saved for all these years.
"We knew we had something special," said Stan. "It brings tears."