Plans are underway to build a mega city in the outskirts of the Kenyan capital, Nairobi, at an estimated cost of Sh200 billion (2 billion U.S. dollars), a Chinese real estate group has said.
The group, Beijing Damei Investment Company, said the city, dubbed the 'Friendship city' will be modelled along the mega Chinese parks that comprise homes, factories and amenities like schools, hospitals, and shopping malls all in one location, reports Business Daily.
The construction of the city will begin before the end of this year and will be sited on about 1,200 acres of land in Athi River area, said Bobby Kamani, managing director of Zuri Group Global, a Kenyan firm that is partnering the Chinese group for the project.
Kamani said the "Friendship city" could potentially create 150,000 jobs directly and 500,000 jobs indirectly.
"There exists the potential of direct employment of 150,000 people whilst indirectly employing close to 500,000 people, thus impacting over 2,000,000 lives," Jiannan Bao, the director of the Beijing-based Damei Investment Company said in the project documents cited by Business Daily.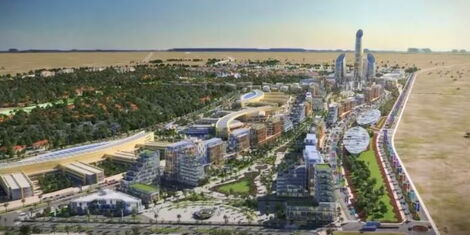 The Friendship City will have the status of a Special Economic Zone with a township and five separate functional parks within the property, the project documents further disclosed.
The project will also lead to an initial foreign direct investment into Kenya of about 200 billion shilling (2 billion U.S. dollars), with a potential of up to 7.5 billion dollars by the time the entire development is complete.
Investors will also enjoy tax breaks in line with Kenya's policy of special economic zones (SEZs).
"The major selling point of SEZs in Kenya is the tax shields offered within the confines of an SEZ. Particularly, from a tax perspective, SEZs are considered to be outside the customs territory of Kenya, thereby operating within a jurisdictional bubble that shields investors from taxes and similar regulatory hurdles that directly or indirectly impede trade," Bao said.
Kenya has, in recent years, been seeking partnerships with private firms to develop housing units as its middle class grows with its attendant housing needs.
Thousands of acres of agricultural land have so far been turned into satellite cities such as Konza, Tilisi, Tatu City and Northlands for people who require decent housing. Local media reports that Chinese companies have been the lead contractors in those developments across the country.
China describes itself as the friend of Africa as it strategically offers a helping hand in the infrastructural development of the continent while it positions itself as a global superpower.
The Asian country has won the hearts of many African leaders and continental bodies with its several generous projects that have raised eyebrows among the international community and cynics who claim China's interest in the continent is to overburden countries with debts to enable neo-colonisation.
Among others, China built the $200 million African Union headquarters in Addis Ababa, Ethiopia in 2012 at no cost to the continental body.
China recently offered $6 million to Ethiopia to launch its first satellite into space in September 2019. It will also provide training before the launch of the satellite which will be done from China.
Senegal opened the world's largest museum of black civilization on December 6 in the capital, Dakar, after 52 years of waiting due to lack of funding. China donated $34.6 million for the dream of the country's first president, Leopold Sedar Senghor, to come into fruition.

In recent years, China has made huge investments in Kenya, such as the new railway linking Kenya's capital, Nairobi, to the coast. At a recent China-Africa summit, Kenyan President Kenyatta expressed his appreciation to China for its "commitment in supporting Kenya's development goals."
Kenyans have, however, often raised concerns about China's footprint across the country. Many have blamed China for stealing local jobs, adding that Chinese investment brings racism and racial discrimination, and could saddle the country with uncontrollable debt.
Last year, Kenya announced that it will introduce Chinese as a subject in schools, amid complaints and criticisms across the country. Mixed feelings have also been expressed on the soon-to-be-constructed 'Friendship city.'
Here are some reactions:
We are doomed

— Joshua Odongo Onono (@joshuaoonono) March 22, 2019
I think they are building there headquarters

— Lawrence Irungu (@LawrenceIrung14) March 22, 2019
And that is how they will own kenya bit by bit… This China business is getting out of hand

— Paul Wall™ (@paulmgee) March 22, 2019
this is good news
thanks for info kenyans

— Isaiah (@Isaiah21452669) March 22, 2019
There will be questions as to whether terms for companies in SEZs disadvantage local firms not in SEZs viz fiscal incentives especially if they're selling to the local/EAC market.

— Anzetse Were (@Anzetse) March 21, 2019
What if the SEZ allowed local firms, producing for local markets, to move in?

— W. Gyude Moore (@gyude_moore) March 21, 2019
Can we get a formal confirmation from Government of Kenya and County Government of Machakos. I smell a scam coming up.

Chinese group to build Sh200bn Athi River city city plans https://t.co/77R5RKfYS7 via @BD_Africa

— Despicable_Me (@nyonyo_9) March 22, 2019