When Kimbo Slice suddenly passed on June 6, 2016 aged 42, he left his adoring fans and management in shock. Even his fellow mixed martial arts (MMA) combatants couldn't believe he was gone. It is a testament to Slice's fearsome presence in the ring, cage or octagon and his affable nature outside of it.
Born Kevin Ferguson in the Bahamas, a young Slice would come to America and be raised in the Miami area graduating high school. From there, Slice took a series of odd jobs including working as a strip club bouncer and bodyguard, as well as, limousine driver for a pornography production company.
In 2003, a friend posted a video of a street brawl that Slice engaged in. The video went viral, making him gain viral internet fame for his raw punching power and distinctive intimidating appearance at a time when the phenomenon was still relatively new. Slice was now a street fighter and a dominant force in Miami street fights. His brawls were posted to the video-sharing Web site YouTube gaining such a large following that in 2007 he joined organized mixed martial arts and became one of the sport's most-popular stars.
A year before, the Rolling Stone magazine in a 2006 article on the phenomenon of online videos of street fights, declared him "the undisputed online king of the underground bare-knuckle world."
He made his MMA debut in a 2007 match against former professional heavyweight boxer Ray Mercer and won. He became a main-event fighter for EliteXC and defeated his opponent in 2008 in the first MMA event to appear on prime-time network TV. Slice's appeal made it the largest audience of any televised EliteXC event.
Slice also appeared in 2009 on the reality TV show The Ultimate Fighter, the 10th season of which was built around him.
In MMA, Slice went only 5-2 and never won a championship belt but he became one of MMA's best-known figures, attracting large television audiences and crowds to the growing sport because of his unique balancing act of being brutal to opponents and yet making time for fans, taking photos with them while signing autographs. Even outside the domes, stories abound of how he humanely treated those who came into contact with him.
Slice also had a pro boxing career between stints in the cage, going 7-0 with six knockouts from 2011-13.
Many believe he came to the MMA late, noting had he been in about five years earlier he would have been absolutely dominant and won titles but Slice was happy for the opportunity to provide for his family and pick lessons in the MMA as the days wore on.
"The guys who are holding the titles, heavyweight and light heavyweight, these guys are awesome," Slice told the AP in a 2010 interview before his second UFC fight adding "I'm really just having happy days in the midst — being among them, fighting on the undercards, just contributing to the UFC and the sport. That's really what I want to do. I'm not looking ahead to winning a title or anything like that. I'm just enjoying each fight as it comes."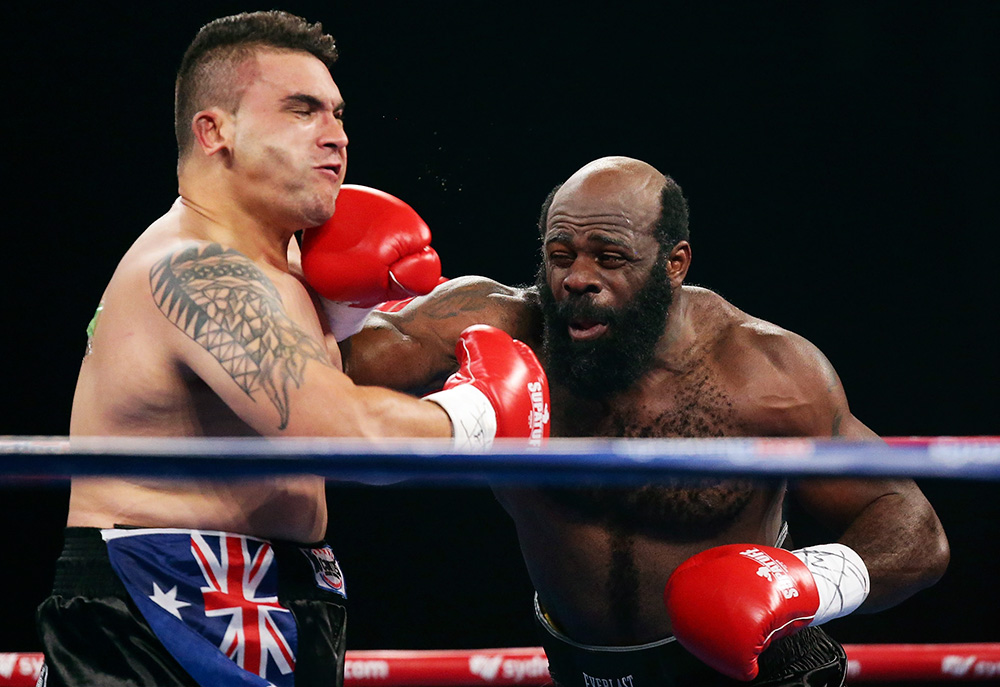 Slice with a gold teeth, full beard and bald head fought two Ultimate Fighting Championship (UFC) bouts but in 2010 was dropped by UFC. Slice then spent three years as an undefeated professional boxer. In 2015, however, he returned to MMA with the organization Bellator. Although he won his first two bouts, the second victory was voided after he tested positive for steroid use.
On June 5, 2016, Slice was admitted to a hospital near his home in Coral Springs, Florida. He died of heart failure a short time later. An autopsy also revealed a mass on his liver.
"He carried himself as a true professional during his time in our organization," the UFC's statement read. Slice left behind six children.