The story of Risikat Azeez, a young Nigerian woman abandoned by her husband because she and their two kids have blue eyes has taken the internet by storm. The woman who lives in the Nigerian state of Kwara was reportedly dumped by her husband, AbdulWasiu Omo-Dada.
In an interview with The PUNCH, 30-year-old Azeez said her husband started acting differently when she gave birth to the two kids with the same set of eyeballs. "He totally changed and he would shut me up and walk out on me whenever I tried to start a conversation with him".
She sees clearly with her eyes, despite the colour.
Narrating her ordeal of living with blue eyes, a rare phenomenon in Nigeria and Africa, the mother of two, said, "I was born with these eyes and I also gave birth to my children with the same pair of eyes. Since I was born, I have never had any challenges with my eyes. I have never been to the hospital due to any discomfort. I thank God".
"No one had this set of eyes before me in my family; both from my mother and father's side. I'm the first to have this kind of eyes. And when I started bearing children, they also have it and I did not regret that I have this set of eyes with my children," she said.
"When my sister was born, people thought she had eye problems but upon medical examination, the opticians said there was no problem with her eyes; they said she has foreign eyes," her sister, Balikis Azeez, who has a black eye colour said.
Azeez recalls being taken to the hospital as a young girl for medical examination and coming back home with a lot of gifts because the doctors liked her eyes. The doctors saw nothing wrong with them.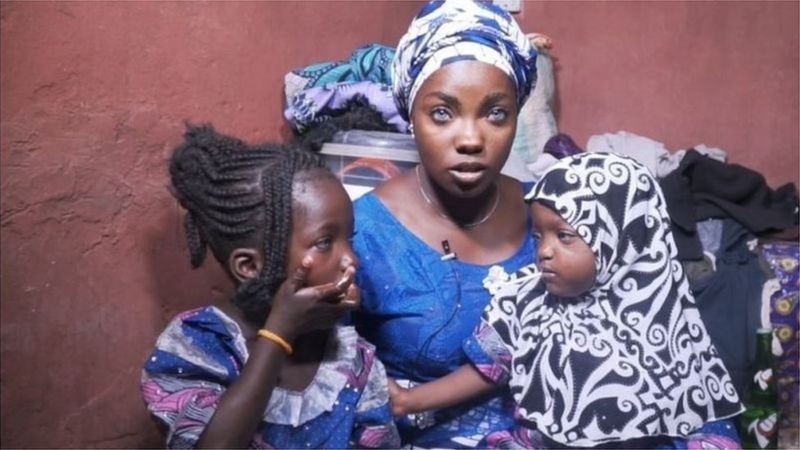 "His parents even told him, 'Will you keep on giving birth to children with this kind of eyes?' He changed to the extent that he would leave the house for a whole week before coming back home. There was no food and no provision that I had to go to my parents' place to feed. My parents later asked me to leave his house. Since I left till now, he has not shown up to ask why I left or ask after me" she noted.
Her first daughter who is about five years has never been to school, she said. Although she did not get an education herself, the poor mom of two beautiful blue-eyed girls wishes that her girl will have an education one day.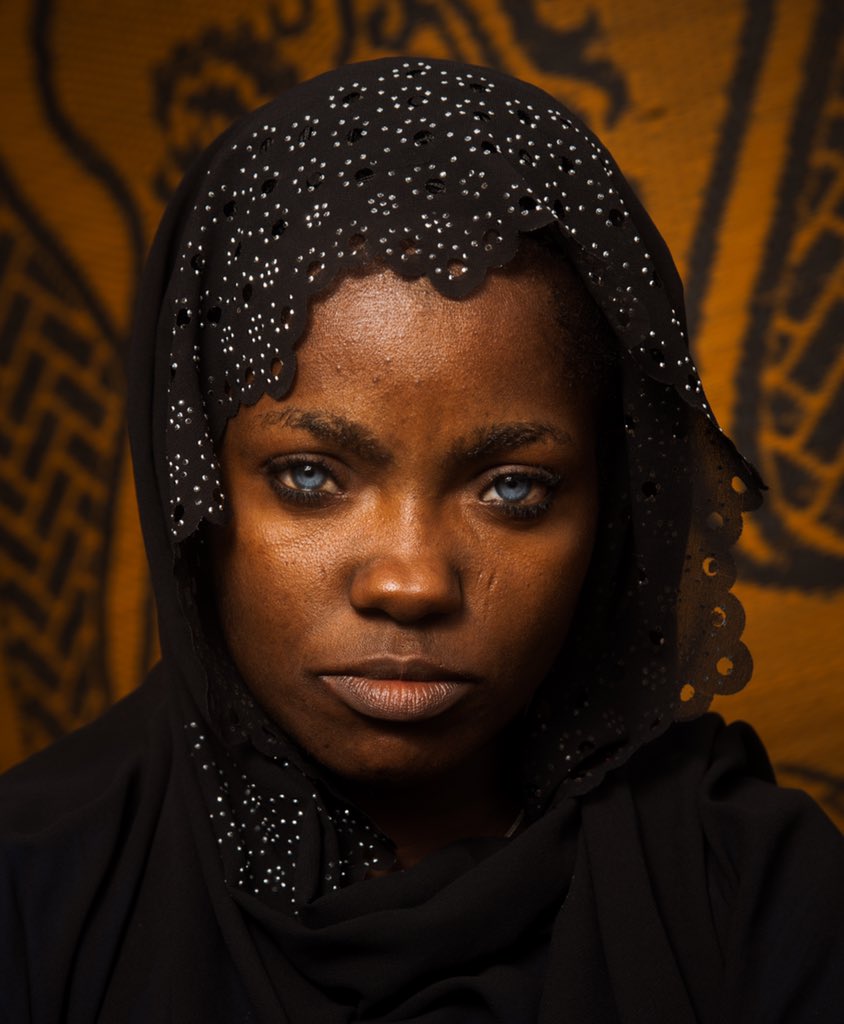 Azeez's story has caught the attention of many with some promising to help including the wife of Kwara State Governor, Olufolake Abdulrazaq who offered to mediate between Risikat and Abdulwasiu.
However, her husband – Omo-Dada – has denied separating from his wife because of her eyes.