Founding father of the United States, Thomas Jefferson was the third president of America from 1801 to 1809.
Before becoming president, he was the second vice president of the United States from 1797 to 1801. Jefferson was also a lawyer, architect, philosopher and a slave owner.
History records that he owned 607 enslaved people and a traveling exhibit at the Black History Museum and Cultural Center of Virginia looked at that aspect of his life in 2012.
Themed "Paradox of Liberty: Slavery at Jefferson's Monticello," Mary Lauderdale, visitor services manager for the museum noted that Room 607 holds a wealth of information. The room bears the names of the 607 men, women and children whom Jefferson owned throughout his lifetime.
The author of the Declaration of Independence has his statue positioned before the wall, staring at the names.
"I stand here and think, 'Wow,' " Lauderdale said. "I feel like the way that he's placed, he's conflicted. And that's what this exhibition is about," reported roanoke.com.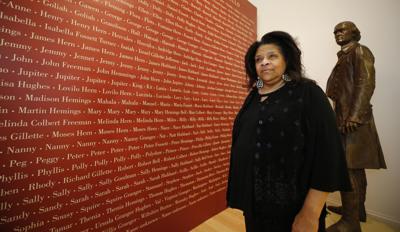 "Jefferson was extremely accomplished, but his life wouldn't have been what it was, the Declaration of Independence wouldn't have been what it was, without the enslaved people who made his life possible," said Gayle Jessup White, Monticello's community engagement officer. "For years, the very names of the people he enslaved were lost, buried, ignored or marginalized."
"That's the paradox of it. Jefferson wrote that all men are created equal. But he owned scores of people. It's very contradictory," White added.
The traveling exhibit, which was created by Monticello for the Smithsonian's National Museum of African American History & Culture, has been touring since 2012 and been seen by more than 1.5 million people.
The exhibit tells the stories of six enslaved families who helped build and maintain Monticello, including a portrait of Sally Hemings. She was the lady with African ancestry whom Jefferson a widower bore six children with of whom four survived.
"The exhibit also explores the lives of the Gillette family, the Granger family, the Herns and the Hubbards. Some were skilled woodworkers or made nails, while others cooked meals for Jefferson in the house. Their stories — their hopes and wishes, their marriages and children — are told in the exhibit."
When Jefferson died in 1826, he was deeply in debt. His executors were forced to sell the land, the house, and the 130 men, women and children he owned as slaves. Hemings and two of her children plus four others were spared.