The murder of Dr. Martin Luther King Jr., who was seen as America's last hope for racial harmony, is highly remembered as one of the most tragic events in history.
His assassination sparked days of rebellion all over the nation and left several American cities in smoking ruins.
Yet, the murder of the woman who gave birth to this iconic leader whose works would change America over time has remained largely forgotten.
In fact, not many people are aware that King's mother, Alberta King, was also shot and killed as her son.
The sad event occurred on June 30, 1974, about six years after her son was killed.
It was a Sunday, and Mrs King and her family were at their Ebenezer Baptist Church in Atlanta, Ga., which was headed by her husband, Rev. Martin Luther King Sr.
King Sr. was not at church that day. Mrs. King was reportedly elated that she would be playing a new organ the church had just received.
In front of about 500 congregants, the 69-year-old began playing the organ for the Lord's Prayer while the congregation bowed their heads in prayer. That was when the attack began.
A young man later identified as Marcus Wayne Chenault jumped from a pew and yelled: "I'm taking over here!…I'm tired of all this!"
He then drew two pistols and "for the next 90 seconds fired wildly and continuously, hitting Mrs. King, another elderly woman parishioner, and a 69-year-old church deacon, Mr Edward Boykin," The Guardian reported.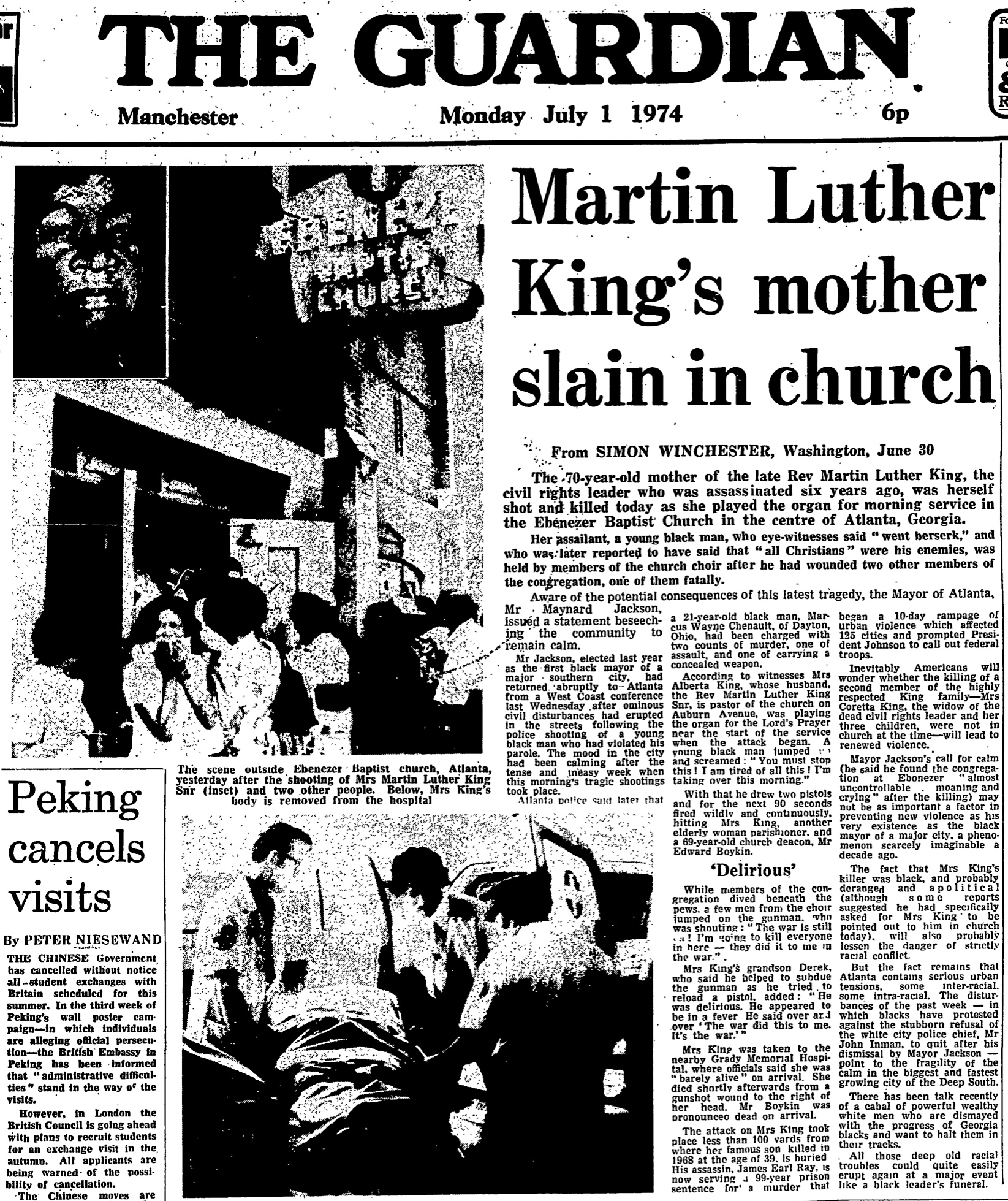 Mrs. King and Boykin died from the gunshot wounds but the other member survived.
Chenault, a then 23-year-old Ohio State dropout, was wrestled to the ground by bystanders while attempting to reload, yelling constantly about "the war."
"He was delirious. He appeared to be in a fever. He said over and over, 'The war did this to me. It's the war,'" Mrs. King's grandson, Derek, said at the time.
According to the New York Times, Chenault told the police that his mission was to kill King Sr., but he shot Mrs. King because she was close to him.
Chenault "believed he had been ordained by god to commit this terrorist act, as he believed African-American Christian leaders were misleading Black America," reports the Medium.
Mrs King's shocking assassination took place less than 100 yards from where her son, MLK, was buried.
Meanwhile, Chenault was diagnosed as mentally ill. His lawyer pleaded insanity, nevertheless, he was charged with murder and sentenced to death.
But the Kings, being strongly against the death penalty, pushed to have his death sentence exchanged for a life in prison.
On August 22, 1995, Chenault died at age 44 after suffering a stroke in prison.
Mrs King, described as a very soft-spoken woman, was said to be the pillar of the famous King family. She is mostly remembered for raising the most famous civil rights leader in history than her own activism.
Her son, Martin Luther King, Jr., described her as one who never left his side throughout his civil rights campaign.
"…behind the scene, setting forth those motherly cares, the lack of which leaves a missing link in life," King wrote in one of his essays.
Born on January 15, 1929, King was a preacher who used the tactics of nonviolence and civil disobedience to fight for equality and justice.
He was an interesting person besides his known roles in social activism which led to his death on April 4, 1968, in Memphis, at the age of 39.
Posthumously, King continued to make waves and currently, all the states in the U.S. observe January 15 as the Martin Luther King Jr. Day.