Zimbabwe's female motocross champion Tanya Muzinda, who broke gender barriers at the age of 12 to become the country's youngest motocross champion is giving back to people in her community.
Last month, she paid tuition fees for 45 students to attend school in Harare, Zimbabwe's capital, hoping to pay for at least 500 more by the end of 2020.
Muzinda uses her motocross prize money and donations to fund children from poorer families, especially girls who are often kept home from school.
"Most of the children I paid for are girls because when parents don't have enough money to send their kids to school, they'd prefer to send the boy child," she said.
Muzinda also assists in fundraising for an orphanage and organizes Christmas parties for children.
Meanwhile, her father, Tawanda Muzinda, who has always encouraged her in her chosen career says his daughter's chosen field is an expensive sport and that poses some financial challenges.
Motorbikes and gear could cost between $900 to $5000 and according to him, Muzinda often misses championships because of lack of funds to travel outside the country to participate.
"As you know Motocross is quite an expensive sport so at times we are not able to secure funds to buy bikes and fail to travel for races," he told CNN.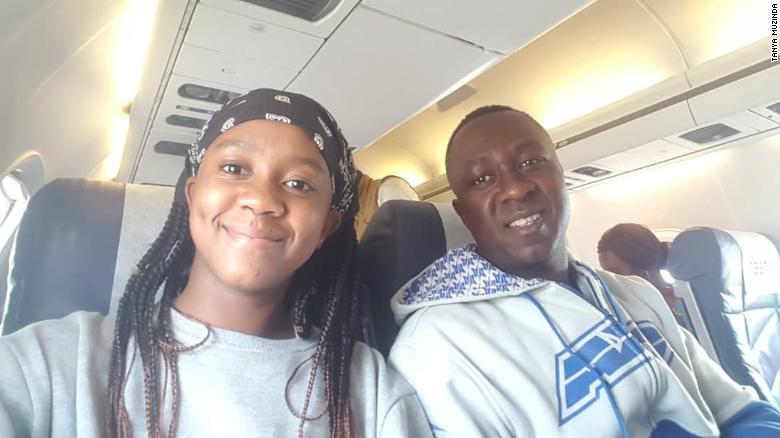 For a young African girl who is breaking the barrier in a largely male-dominated sport which is deemed quite expensive and a sport for the wealthy, Muzinda is set to challenge the status quo. According to her, she is challenged to work harder so as to ensure that many girls in her community go to school.
"Motocross is done by wealthy people. So for me, coming from Africa, most people see that as impossible and makes it easier for me to be made fun of. I have had to overcome this challenge by working hard," Muzinda said.
The now 15-year-old Muzinda, who got inspiration from her father – a former biker – says she started riding when she was only five years old.
At just 12, she was already an accomplished motocross rider and the first ever female motocross champion in Zimbabwe, who was also made Sportswoman of the Year by Zimbabwe International Women's Awards in Birmingham, England.
Hailing from Zimbabwe's most populous city, Harare, Muzinda was named Junior Sportswoman of the year in South Africa by the Africa Union Sports Council Region Five Annual Sports Awards in 2018.
She came in third place in her first race overseas at the 2017 HL Racing British Master Kids Championships at the Motoland track in England and she made a record for being the first female rider to win a round since its inception.
She is also an honorary ambassador of the European Union to Zimbabwe for Youth, Gender, Sports and Development.
The young genius became the second Zimbabwean to attend Queen Elizabeth's birthday celebrations after UK-based 16-year-old music sensation Donel Mangena.
Muzinda, who wants to become the first women's motocross world champion from Africa has a message for her colleagues.
"To the girls out there who will be reading this, I would like to tell them [not to] be discouraged by people who will tell you that you are too weak to do this and not strong enough, or you are too girlish. If I can do this, then you too will succeed."
"Motocross in Africa, most girls don't really do it," said Tanya. "I want to show people you can't spend the rest of your life being scared. I think I will inspire girls from all over the world."
Check out 15-year-old Tanya Muzinda's mind blowing two stroke Motocross racing: