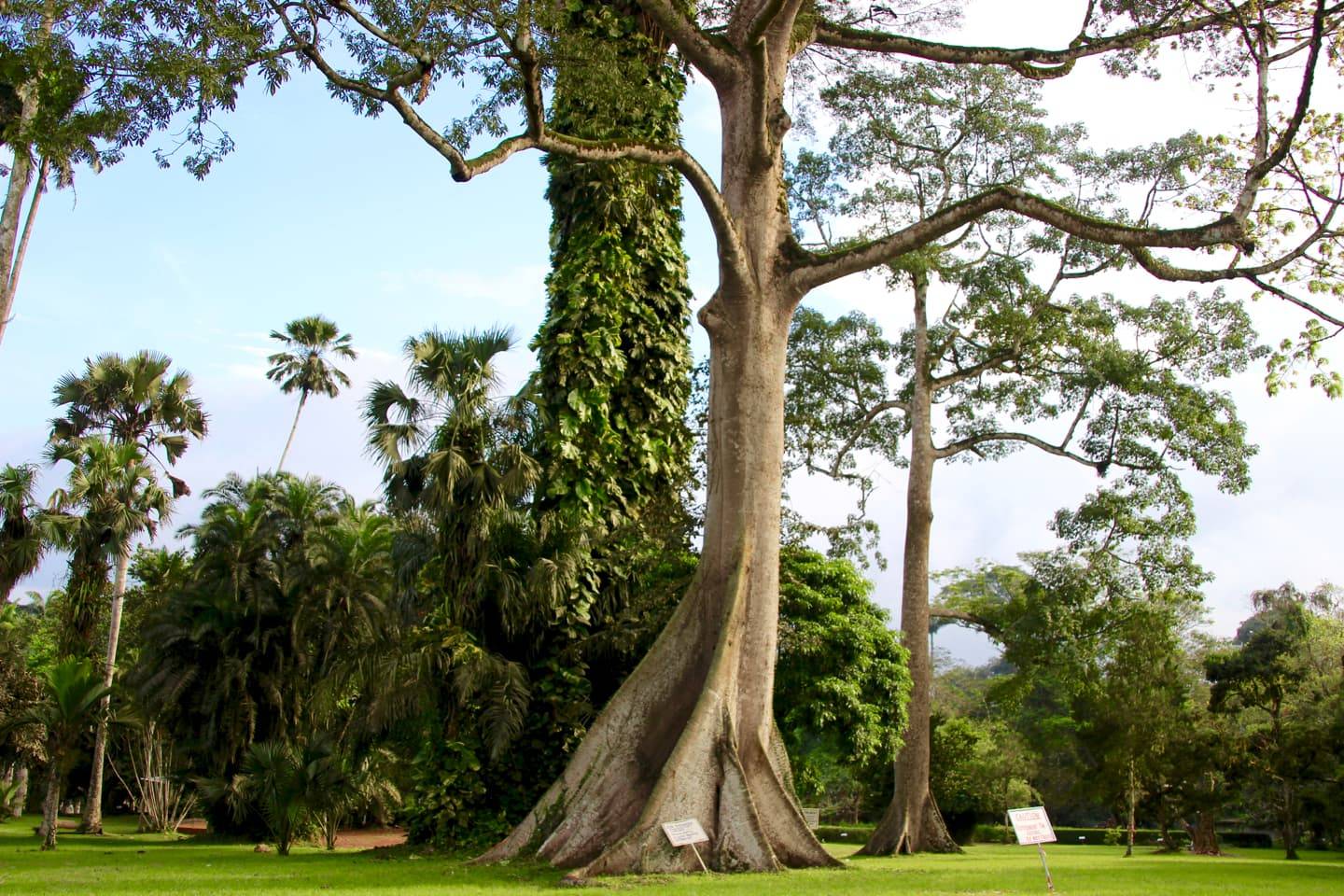 Aburi Botanical Gardens
Aburi Botanical Gardens is in Aburi in Ghana's Eastern Region. The garden occupies an area of 64.8 hectares. It was opened in March, 1890 and was founded by Governor William Brandford-Griffith and Dr. John Farrell Easmon, a Sierra Leonean medical doctor. The gardens played an important role in encouraging cocoa production in South Ghana, by supplying cheap cocoa seedlings and information about scientific farming methods. After Hevea brasiliensis was sent to Aburi from Kew in 1893, the gardens also encouraged rubber production in Ghana.
"Aburi is located on the Akwapim-Togo Range of Ghana. It's just three quarters of an hour drive from Accra, the capital of Ghana. The cool mountainous weather of Aburi makes it a destination for people who love the cool side of life. Located in this cool tranquil environment is the Aburi Botanical Gardens. The garden covers a total land area of about one hundred and sixty (160) acres. However it is only three acres that have been developed and the remaining serving as a botanical reserve."
Aburi as a beautiful botanical garden is among the 1,800 of such kinds in the world with the primary purpose of preserving and conserving what is left of the earth's rare plants species.
This garden offers edifying, aesthetic and spiritual experience for all groups of people.
The royal palm trees (roystonea regia) beautifully lined on both sides of the road leading to the car park welcomes visitors. The silk cotton tree (ceiba pentrandra) said to be the only survivor of the original forest that once covered the Aburi Hills is a keen attraction.
For lovers of nature the following special species of ornamental plant collection are available in the Gardens: Araucaria spp., Bambusa nana, Brownea grandiceps, Calophyllum mophyllum, Cedrela spp., Delonix regia, Dillenia indica, Elaeocarpus searratus, Enterolobium cyclocarpum, Ficus leprieuri, Garcinia xanthochymus, Murraya exotica and Naulea latifolia. Bird and butterfly lovers are not left out of the experience.
Other features that should attract you are the Bush House, the Rock Garden, the Pergola or Lovers' lane, the retired helicopter, the ficus tree and the horticulture school.