Bryan Stevenson qualifies to be part of the 'a few good men' tag. Stevenson has made it his life's work to battle the cases of the condemned on America's death row.
In his campaign to bring justice to the innocent, he has secured freedom for dozens of former inmates on death row.
His selfless deeds have also been captured on film to immortalize him with Michael B. Jordan and Jamie Foxx featuring.
"Just Mercy," the new film about crusading attorney Stevenson (played by Michael B. Jordan), focuses on Walter McMillian (Jamie Foxx), a wrongfully convicted death-row inmate from Monroeville, Alabama. McMillian was nearly put to death for a crime he did not commit.
"Just Mercy", executive produced by Jordan is based on Stevenson's 2014 memoir of the same name.
As a young lawyer, Stevenson founded the non-profit Equal Justice Initiative and McMillian, who had been sentenced to die in 1988 for the murder of an 18-year-old white woman on dubious evidence was one of the earliest cases he handled.
McMillian's fate was almost sealed as after a day-and-a-half trial, the jury ignored multiple black witnesses who testified that McMillian was at a fish fry at the time of the crime. He was held on death row even before his trial started.
"It's the only case I have ever worked on where my client spent months on death row, before ever having been convicted," said Stevenson. As attorney he was intimidated and threatened during the case.
"I had police officers pull their weapons out, point the gun at my head, and say, 'Move and I'll blow your brains out,' " Stevenson recalled. "Sadly, it's a scene that's familiar to a lot of people in this country."
McMillian's case eventually drew national attention and was the subject of a 1992 "60 Minutes" expose' that showed how flimsy the case was against the convicted man awaiting death by electrocution.
"Perception is everything. To be able to put the facts out there for the world to see brought the pressure of society and helped wrongs get righted," Jordan stated. "That '60 Minutes' piece helped Walter McMillian get off death row."
In 1993, Alabama's Court of Criminal Appeals heard his case again. After turning down four previous appeals, the court ruled that McMillian had been wrongfully convicted. McMillian was freed after six years on death row and remained close with Stevenson until his death in 2013.
As a church person, Stevenson said he heard testimonies from former prison inmates of their hardships and being falsely jailed. It explains why he's drawn to people broken by injustice, trauma, and bad decisions.
The 60-year-old lawyer grew up in a poor, rural, black community in Delaware.
"I wrote about the McMillian case because I don't think people appreciate the burden, the weight, the challenge, the suffering that's created when we take an innocent person, accuse them of something they didn't do, and then they convict them and we put them on death row," Stevenson said. "And I think the film does a great job of exposing people to the burdens placed on families. We don't just put innocent people in jail. We put their families, we put their communities, and that comes through in the film."
McMillian was a husband and father of three known to friends and family as "Johnny D." He had a pulpwood business before he was falsely accused of the murder of Ronda Morrison in 1986. Morrison, a college student, was shot in the back three times and found dead at Monroe Cleaners, where she worked. It was a crime that shocked Monroeville.
On his take about the movie, Stevenson submitted "When Hollywood gets these stories sometimes things get compromised and integrity is lost, the truth is lost but the director, Destin Daniel Cretton, was very committed to doing this the right way. And when Michael B. Jordan signed on we spent a lot of time talking. We were all aligned in the idea that we wanted to get this right, that we wanted to be truthful about the essential features of what happened. And I'm really pleased with the film."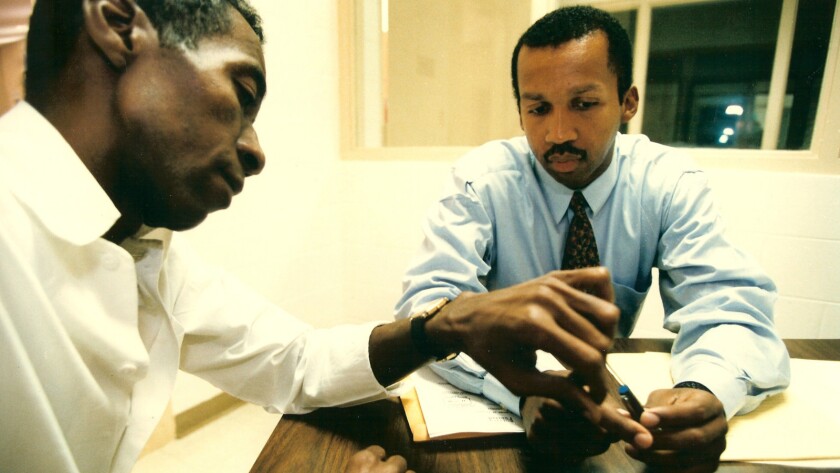 The book "Just Mercy," published in 2014, became a New York Times bestseller and won critical acclaim.
"In April 2018, EJI opened the National Memorial for Peace and Justice, a memorial to more than 4,000 African American victims of lynching, as well as the Legacy Museum, which traces America's history of slavery, racial terror, segregation, and mass incarceration. EJI has won major legal cases, too, including the case of Anthony Ray Hinton, who served 30 years on Alabama's death row and was released in 2015 after a ruling by the U.S. Supreme Court.
"For the first 20 years of our institutional life here at EJI we were pretty covert," Stevenson said, adding, "We didn't have a sign on the building. I wasn't particularly interested in being public about the work. We represented our clients. We fought for them. We did the work we did and we tried to stay out of the limelight."
McMillian died in 2013.