To have passion for something is good. It helps, however, when one has varied interests. For Magic Johnson born Earvin Johnson Jr. his interest in the business side of basketball has served him well.
Johnson played point guard for the Lakers for 13 seasons entering the league in 1979 NBA drafted by the Lakers. Johnson's career achievements include three NBA MVP Awards, nine NBA Finals appearances, 12 All-Star games, and 10 All-NBA First and Second Team nominations.
Despite his exploits on the court, he was keen to learn the business ropes so fell on legendary super-agent Michael Ovitz, co-founder-Creative Artists to teach him how to be a successful businessman.
Initially, Ovitz told him it was too much work handling athletes, adding he wasn't keen on entering the sports business. Being told 'no' stunned Johnson who submitted "it was the first time Magic didn't matter."
He wasn't deterred as he kept on persuading Ovitz on the need to help him acquire the skills to excel at business. When Ovitz informed him if he was serious about his quest, he needed to start consuming content from Bloomberg, The Financial Times and The Wall Street Journal.
Ovitz added he told Johnson the training would be like enrolling in a graduate school requiring commitment to go through this rigorous regime to which Johnson availed himself.
In 1988, with the NBA soaring in popularity, Johnson realized the league was making multimillions licensing players name on T-shirts while the players only got a small slice of the proceeds.
He wasted no time confronting commissioner at the time, David Stern who said the league owned all licensing.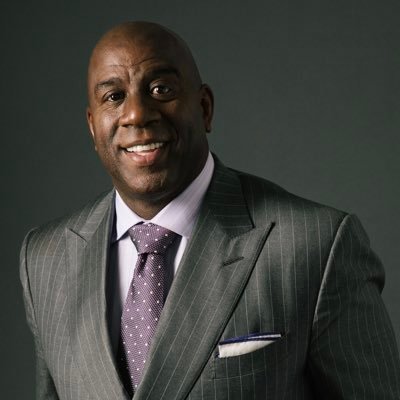 Johnson then threatened to sit out his games in protest, adding he would recruit Larry Bird his great rival to his cause to fight the pittance the players were getting.
Mr. Stern eventually relented paving way for Magic Johnson to become a licensee of the NBA. Magic became the first active NBA player to have his own licensing deal.
When the Lakers won another championship, Magic stated he sold 150,000 T-shirts in only four days enabling him to think big beyond basketball.
Johnson as a player was a beast. He was a member of the 1992 United States men's Olympic basketball team ("The Dream Team"), which won the Olympic gold medal in 1992.
He became a two-time inductee into the Basketball Hall of Fame – being enshrined in 2002 for his individual career, and again in 2010 as a member of the "Dream Team."
His public announcement of his HIV-positive status in 1991 helped dispel the stereotype.
He was named by Ebony magazine as one of America's most influential black businessmen in 2009. Johnson's net worth is $600 million.