"I am the world laughter master," Belachew Girma noted about his prowess of laughing for hours on end.
The Ethiopian holds the world record of 'longest laughter' after clocking three hours and six minutes of laughing incessantly.
Having set his first unofficial world record at the Impossibility World Challenger Games in 2002, Girma has since beaten his own best mark twice, with the current record standing since 2008.
The self-acclaimed world laughing master can laugh non-stop for hours and he thinks everyone should laugh more if they want to lead healthier and happier lives.
"Research proves that when we laugh our body improves the natural pain –killing endorphins, so I started practicing that in order to live a longer and healthier life.
"If we build laughter as a universal language to communicate, we can build a better world," Girma said.
Girma doesn't just use laughter to set outlandish records. For him, laughter is therapeutic. He has been using laughter as a form of therapy to help children and adults alike overcome various forms of illnesses.
Girma had endured the anguish of losing his first wife to AIDS as well as overcoming the loss of his business due to fire and flood accidents two years later.
As a result, Girma resorted to alcohol and a local drug 'khat' to try to numb the pain. He contemplated suicide at a point. "It was a difficult time for me when I felt lonely and socially isolated," he explained.
He said: "The Bible and a book about human psychology were the catalysts for me changing my life, giving up on my addictions, facing life with new courage and rebuilding my self-confidence."
At TEDx, Girma recalled how his newfound passion and life changed him and his HIV status from positive to negative. "Laughter saved my life," he noted. He is now happily married again and the proud father of five children.
The laughter master also gives free classes to orphaned children as a way to build their self-esteem.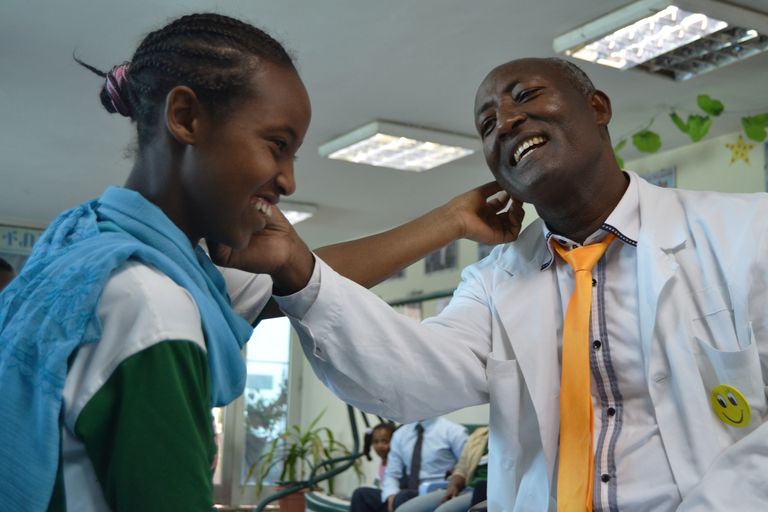 Today, a daily dosage of laughter is now an essential part of Girma's routine. He believes that laughter is not only psychologically valuable, but it is a therapy that reduces pain and prevents the development of illnesses.
Girma has been traveling the world to share his knowledge and experience with thousands of people attending his workshops and lectures.
He is currently a laughter therapist, an activist, and a motivational speaker contributing as a guest on various media publications.
In the video below, he shares how he has managed to change his life for the better through laughter.