Credonia Mwerinde's infamy is that she claimed to hear the voice of Mary – the mother of Jesus Christ – under whose guise she recruited converts and then murdered them through poisoning or blunt force.
Operating a bar for about 10 years wasn't enough as Mwerinde's bar went broke in 1989. Immediately, she converted to Roman Catholicism and claimed to have seen the Virgin Mary in a cave just outside Kanungu and enlisted the help of two respected local clerics to build her apocalyptic cult.
Mwerinde was charming, easy on the eyes and intelligent. She came across as someone who lived an austere life, fasting regularly, sleeping without a mattress and going in a trance every now and again ostensibly to receive "messages" from the Virgin Mary. It enhanced her image when she spent hours praying and writing.
It didn't matter as a bar owner she got intimate with patrons in exchange for cash or to put it more bluntly a prostitute. All that was in the past.
But if Mwerinde was only adventurous sexually, that wouldn't have been news, but the troubled damsel was also murderous and mentally deranged, a lethal combination which will claim at the least the lives of 924 cult followers although some reckon the figures could be as high as 3000.
For the first three years after her vision, Mwerinde lived in the household of Joseph Kibwetere, a pious Catholic who was headmaster of a respected private boarding school and one of the two clerics she convinced to join her cause in 1989. The other being Dominic Kataribaabo, an excommunicated priest.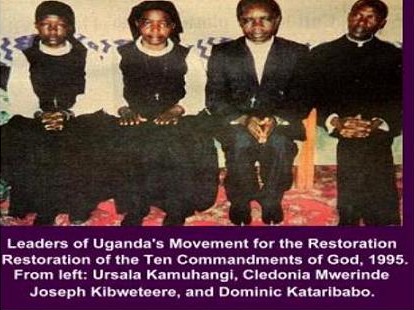 Critically, his conversion to Mwerinde's beliefs gave the movement instant respectability. Kibwetere had a fascination with visionaries and when Mwerinde told him not only that she had had a vision of the Virgin, but that Mary had told her a man named Joseph Kibwetere was going to help her restore the Ten Commandments, he was ready to do her bidding against the admonishing of his wife and relatives.
Kibwetere's family was not sold on Mwerinde's claims and threw her out of the house when Mwerinde allegedly set fire to his wife's wardrobe and beat her up. Kibwetere then moved into Mwerinde's compound in 1991 and became the nominal leader of the cult while Mwerinde was the power woman.
In her 20s, Mwerinde's also called "The Programmer," displayed a violent streak, a fascination with destruction by fire, and a lust for money. The signs were on the wall when she torched the household belongings of a local health official who had jilted her; the family sent her away for treatment and on her return she said she had been "mentally disturbed," according to Nalongo Rukanyangira, a childhood friend her age.
She also seduced a motorist who was passing through, killed him while he slept and kept the money, according to a letter written by a close family friend.
Curiously enough, all three brothers of hers died off, one by one, until she was the sole owner of her father's land that eventually became the cult's headquarters.
She formed the Movement for the Restoration of the Ten Commandments of God, a sect that splintered from the Roman Catholic Church in Uganda which preached repentance before the end of the world in the year 2000.
And to ensure that her prophecy about the destruction of the world in year 2000 was manifest, Mwerinde now branded by some as the worst mass religious murderer in the world is said to have organized the death of at least 924 followers in the cult in a fire and mass killing that engulfed the secluded mountain church at Kanungu, Uganda beating Jim Jones who also led 912 followers to their deaths in Guyana in 1978.
The woman born in 1952 in Uganda predicted that the world would end with the advent of the new millennium so called for a return to life, according to the Ten Commandments, claiming the Virgin Mary had revealed sinister prophecies of famines and wars, of rivers turning to blood and of food turning to poison.
The cult's ranks swelled living in five compounds across Uganda with estimates of its peak membership of 4,000 people. To join, people were expected to sell off their possessions and turn over the considerable sums of money, say many relatives of those who perished at Kanungu.
Trouble however started brewing when Kibwetere, Mwerinde and other sect leaders despite predicting that the world would end last Dec. 31, 2000, their prophesy didn't materialize. Members are then believed to have started demanding the return of possessions they had surrendered to join the sect. The cult included defrocked former Catholic clergy and nuns with followers drawn from south and central Uganda and from neighboring Rwanda.
Mwerinde apparently played off fear of the Devil to persuade her closest aides to commit mass murder, according to investigators. Every object that came from the outside-money, clothes, food, medicine had to be exorcised with prayer claimed several former cult members who submit "she said the Devil was everywhere." Even the cult's children were terrified of the Devil. Mwerinde may have said the Virgin told her the killings were needed to rid the community of evil.
Early Monday morning on March 17, 2000, she is said to have locked her followers in a chapel, which faced Rugyeyo Mountain, all doors and windows were secured so that nobody could escape and then the building was torched after poisoning some through a meal.
"The remains of 530 people, mostly their bones and in some cases only their ashes lay massed at one end of the chapel. Virtually no one could be positively identified, and by Monday night, they had all been buried together in a grave. The fire was just the beginning; police discovered hundreds of bodies of the cult's members in subsequent days.
"Some of the victims appeared to have been stabbed or were strangled. Hundreds were children. Press reports put the police estimates of the overall death toll at 924, surpassing the 914 dead in Jamestown, Guyana, in the November 1978 mass suicide by members of the Peoples Temple. The body count was confirmed in April 2000," according to AP.
"Officials discovered the bodies of six hefty men partly dissolved in sulfuric acid, the executioners, police theorized, who had carried out the massacres on Credonia Mwerinde orders. Five men had been poisoned to death and one killed by a blow to the head.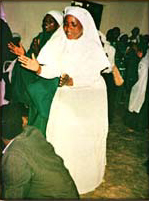 "Most disturbing is that, were it not for the smell of rotting flesh, the murder of the last 600 cult members would have been dismissed as suicide, no investigation would have been launched and no mass graves would have been uncovered."
Mwerinde together with Joseph Kibwetere are believed to have disappeared after the incident. The Ugandan government has declared Sunday, April 2 a national interdenominational prayer service day in memory of the hundreds of people who perished in the Kanungu mass murder.
While religious activity has its place in communities for offering members a sense of belonging and an umbrella under which they seek to nourish their spirits and seek to attain paradise, this needless loss of lives at the hands of misguided religious leaders must be checked by state regulation and authorities.