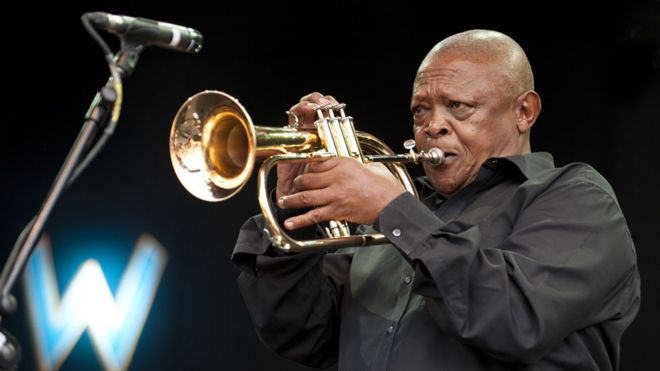 Hugh Masekela
The "Father of South African Jazz" and Africa's musical luminary, Hugh Masekela has left a big hole in Africa's heart after his passing on Tuesday, January 23, 2018, in Johannesburg at the age of 78.
He lost his battle with prostate cancer which was discovered in 2008 and spread to other parts of his body. Despite the disease, the world-renowned flugelhornist, trumpeter, bandleader, composer, singer and political activist continued to perform until his death.
After decades of struggle against apartheid, he was one of the few musicians who represented the continent and whose music came to represent the sound of resistance to racist oppression by the government.
The songs include, "Stimela (Coal Train)" (1974) AlanBreck. "Been Such a Long Time Gone" (1974) Batch Music Library. "Vasco da Gama (Sailor Man)", "Colonial Man", "Cecil Rhodes" (1976) Raymond Beck, "Soweto Blues" (1977)