Authorities in Libya have said that two Russians who were arrested recently were involved in attempts to interfere in Libya's upcoming election.
The Foundation for National Values Protection, a Russian NGO, said on Friday that the two men arrested – Maxim Shugalei and Alexander Prokofiev – were its staff members and they were only carrying out opinion polls.
But authorities in Tripoli said laptops and memory sticks found in their possession showed that the men were working for Russia's troll farm that "specialises in influencing elections that are to be held in several African states".
A letter from the state prosecutor of the internationally-backed Tripoli government to a Libyan security chief cited by Bloomberg named the troll farm as Fabrika Trollei, Russian for "troll factory" – a network of media sites and political outfits connected to Yevgeny Prigozhin, a Kremlin-linked Russian businessman based in St Petersburg.
A close ally of the Russian president, Vladimir Putin, Prigozhin, according to earlier reports, is leading the mission to increase Russian influence on the African continent. One aim is to "strong-arm" the U.S. and the former colonial powers, the UK and France, out of the region. Another is to see off "pro-western" uprisings, documents cited by The Guardian last month said.
The letter from the Tripoli government added that the men were involved in "securing a meeting" with Saif al-Islam al-Qaddafi, the fugitive son of the ousted Libyan leader, Muammar Gaddafi.
Representatives of Saif, a potential presidential candidate who receives massive support of some officials in Moscow, had also been in contact with Prigozhin.
For several years, the United Nations and western countries have been making attempts to hold elections in Libya to help resolve the political tensions between the internationally recognized government in Tripoli and rival leaders in Benghazi.
The United Nations-backed Government of National Accord based in Tripoli and led by Prime Minister Fayez al-Sarraj said in March that Libya would hold presidential and parliamentary elections this year.
But these efforts were ruined after Khalifa Haftar, the leader of the Libyan National Army (LNA) forces ruling eastern Libya from Benghazi launched an offensive to take the capital in April.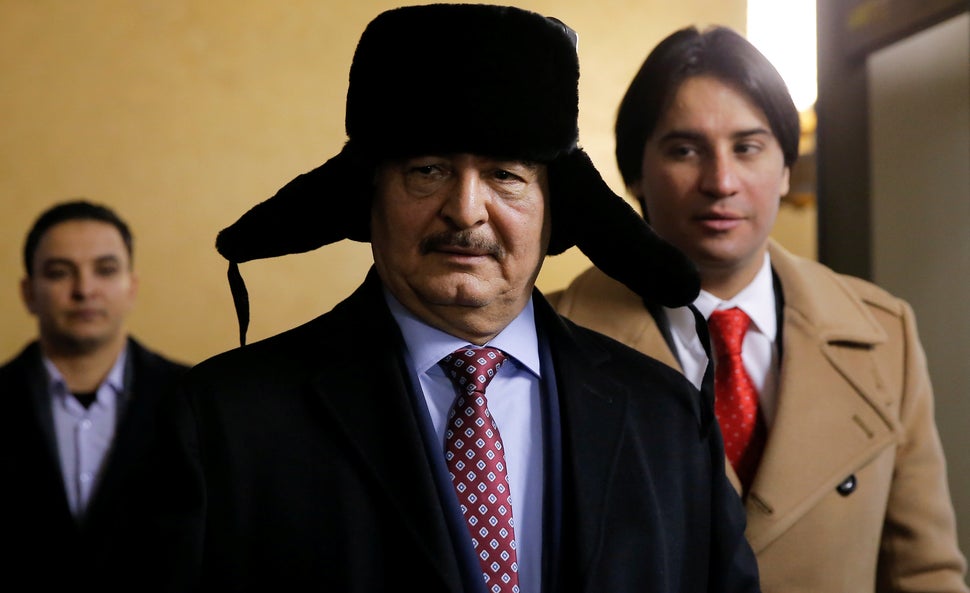 Haftar's LNA, which does not recognize the unity government, launched an attack on Tripoli after taking over the oil-rich south of Libya earlier this year before advancing through largely unpopulated desert regions toward the capital.
Haftar has received backing from countries like France, Egypt, the UAE, and, of course, Russia where he regularly visits. According to The National, the Kremlin has also printed millions of dollars' worth of dinars for Haftar's government.
Meanwhile, Kremlin spokesman Dmitri Peskov, on Monday, said that Russia was aware of the arrest of its citizens in Libya. "Our foreign office is working on this," Peskov told reporters.
The situation in Libya immediately followed the ousting of Gaddafi in 2011 after an international military intervention led by France, the United States and Britain.
Russian President Putin was reportedly against Nato's backing of opposition groups in Libya that resulted in the removal of Gaddafi. Russia's Deputy Foreign Minister Mikhail Bogdanov had earlier said that the ousted leader's son, Saif, "should be part of the overall political process" in Libya.
Gaddafi's son is currently in hiding since 2016 when he was released by Zinta militia who captured him during his father's ousting in 2011. He is, at the moment, wanted by The Hague-based International Criminal Court for crimes against humanity in connection with a violent crackdown on demonstrations against his father's rule.