Growing up, Jeanne d'Arc Girubuntu loved to play football and other sports and would only ride a single-speed bike she had to fetch water for her family and to do other household chores.
Her love for professional cycling later developed when she witnessed male cyclists in the Tour du Rwanda race through her hometown in 2009.
"They are free", Girubuntu thought as she envied the freedom the men had.
"I want to be like them."
Even though Rwanda boasts of having a large percentage of female lawmakers in parliament (64 per cent) and being one of the leading countries to have closed gender gaps between men and women, it is still a patriarchal society, especially in the rural areas, where women are often confined to the home.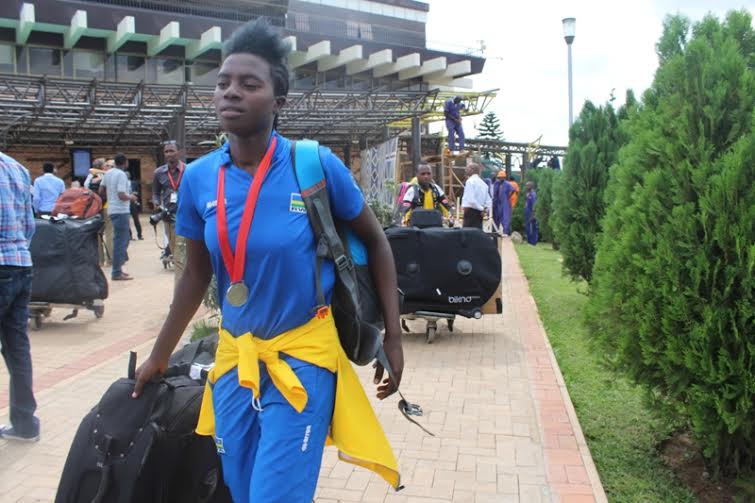 Women in the country who practice athletics often leave upon reaching adulthood because of reinforced gender norms. So when, at age 17,
Girubuntu decided to start training, there were no women's teams to join, forcing her to train on her own.
After having triumphed in some races, she was invited to join Team Africa Rising, a non-profit organization that founded the Rwanda national cycling team, reports the blog of Bill Gates.
She has since become a national champion, after having competed in races in Egypt, Morocco, U.S., and Switzerland. At age 20, she became the first black African woman to ride in a World Championship race.
Her road to success has, however, not been without challenges. She recently pointed out how her interest in cycling was initially not properly received by people in her community.
"In the beginning, some people in the community told me I had to stop," she said. "Now these same people are cheering for me and telling me to keep riding!"
That's not all; she would love to train with other women, but this has not been possible because there are no women in the national team. When she goes for international competitions, she is the only woman cycling for Rwanda.
"During the 2015 road world championships in Richmond, in the U.S., I was proud to be the only black woman competing. But cycling is a team sport. I'd like to have other girls by my side, to help and encourage me. Without them, I can't improve," she was quoted by World Crunch.
The 23-year-old can beat the men she trains with as she is undoubtedly talented, but without experience in competitions, it can still be a weakness, said Kimberly Coats, the marketing director of Team Rwanda.
Meanwhile, out of all the riders on Rwanda's national team, Girubuntu sets her bicycle seat the highest.
"Her long femurs are perfectly suited to cycling because they allow her to be extra efficient at pedalling. She also has a high red-blood-cell count, making for fast injury recovery," reports the ESPN.
In spite of the prejudice and other difficulties, Girubuntu's passion remains cycling. She said she wants to cycle to change the way the world looks at Rwanda and for people to realise how far the Land of a Thousand Hills has come since the 1994 genocide.
As of 2016, she was mentoring young girls and had hopes of making women's cycling more accepted in her country.
"I want to show all the women in Africa — the poor, black women — that we too can race bikes, be successful, and make money," she said.
"We do not need to follow the culture of getting married young and having children and working the fields."
Check her out in the video below: