For many people, the disturbing history of the slave trade brings to mind the horrifying experiences enslaved Africans had to go through while working on plantations in the Americas and other parts of the world.
Africans were, for centuries, captured and chained down, forced onto ships and taken into new lands against their will. It is estimated that 12.5 million people were transported from Africa to the Americas, with each slave ship carrying up to 600 individuals.
Thousands died before getting to their new homes due to sicknesses, the awful experiences on the ships and shipwrecks. According to the National Geographic, of the estimated 500 to 1,000 ships that may have wrecked, only five have been found. Out of the five, only two, including the Clotilda, have been properly documented.
Thanks to Diving with a Purpose (DWP), a group of black maritime archaeologists and divers, the stories of these wooden ships underwater are being retrieved and told.
DWP is made up of both adults and young people from 16 to 23 years of age, who come from different parts of the world, including from Mozambique, Costa Rica, Peru, and more. In the group are teachers, artists, engineers, students, civil servants, among others – basically, people who are interested in scuba diving but for a purpose, that is, to discover the shipwrecks of various slave ships and document the history of their ancestors.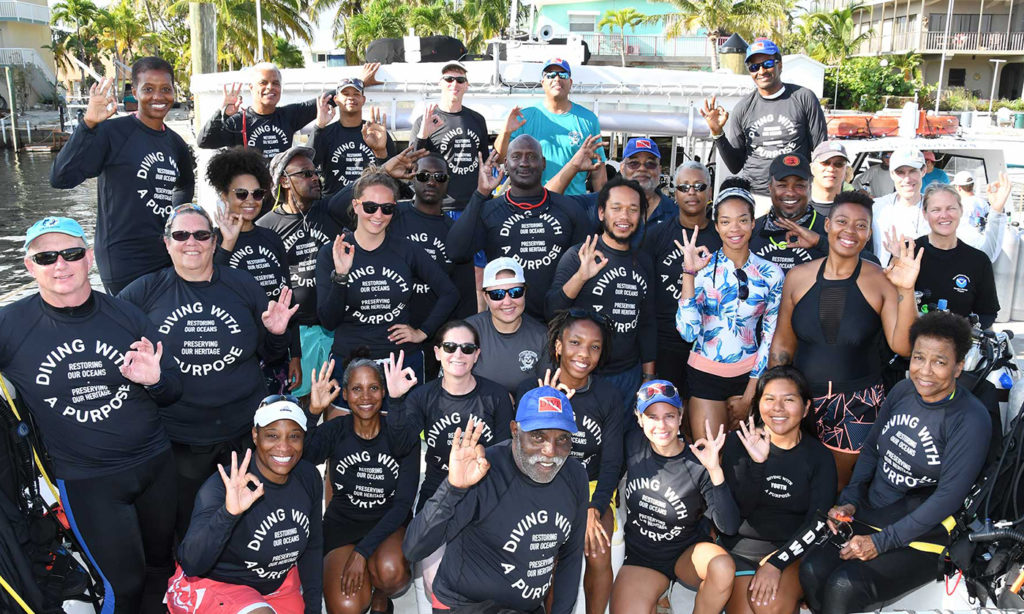 Co-founded by Kenneth Stewart, a regional representative of the National Association of Black Scuba Divers (NABS), and Biscayne maritime archeologist Brenda Lanzendorf, the group came into being following the search for the vessel, the Guerrero.
Carrying 561 kidnapped Africans, the Spanish pirate ship reportedly crashed in the seas of Biscayne National Park off the coast of Florida. Stewart, alongside members of the National Association of Black Scuba Divers, participated in a 2004 documentary about the Guerrero.
It was through the documentary that Stewart met Biscayne maritime archeologist Lanzendorf. Featured in the documentary, Lanzendorf was not only interested in finding the Guerrero but was also looking to identify some 40 wrecks underwater within the Biscayne National Park.
Lanzendorf was then the only diver, so she asked Stewart for help. This eventually led to the creation of DWP, which has so far "participated in 18 missions around the world to find submerged artifacts relevant to Africans in the Americas," according to the National Geographic.
The slave ship the group most recently helped to document is the São José Paquete d'Africa, a ship found in Cape Town, South Africa a few years ago.
In 15 years since DWP was founded, it has trained more than 300 adult and youth divers. Divers first go through a weeklong training before their discoveries can begin. "In field school, all DWP divers learn to measure the wreck surface, sketch underwater, retrieve artifacts, and draw them to scale. Then they transfer all information to a master site map which stands as the legal document for site monitoring," writes the National Geographic.
29-year-old Ayana Flewellen, a terrestrial archaeologist who works with DWP, believes that "To be a person of African descendants working on the materiality of the Transatlantic Slave Trade – be it on land or at sea – is a healing process. It allows me to connect with my ancestors and bring their lives to the surface to be reckoned with, praised and honored."
For Stewart, DWP is helping to bring out details of slavery that many schools have overlooked over the years.
"There is a saying, 'Those who don't know their history are doomed to repeat it.'" "I tell [young people] that they have a voice and if they use it, history can never repeat itself," he said.
Members of DWP work as partners of the Slave Wrecks Project (SWP), a collaboration of organizations hosted by the Smithsonian's National Museum of African American History and Culture.
These organizations include the George Washington University, African Centre for Heritage Studies and IZIKO Museums of South Africa and the National Park Service (Submerged Resources Center and Southeast Archaeological Center).
Divers do work on their own too, looking for treasures including underwater crash sites of WWII Tuskegee Airmen test planes.