Imagine drinking a whole bottle of raw lemon juice and what you taste in your mouth is that of lemonades instead.
Sounds like a far fetched phenomenon but it isn't. Miracle Berry, a plant found in Africa can make everything taste sweet after its consumption.
A list released by scientists at the  UK's Royal Botanic Gardens highlights 10 of the most extraordinary 'newly-described' plants in 2019, according to CNN.
"Synsepalum chimanimani" or miracle berry is one of the plants unveiled by the researchers and can be found in Mozambique and Zimbabwe. Its fruits contain a compound known as miraculin. Miraculin blocks the taste buds and makes every sour food, yes, every sour food taste sweet.
The berries do not contain sugar, they are tangy and when the fleshy part is consumed, the miraculin attaches itself to the tongue's taste buds thereby making sour foods taste sweet.
"At neutral pH, miraculin binds and blocks the receptors, but at low pH (resulting from ingestion of sour foods) miraculin binds proteins and becomes able to activate the sweet receptors, resulting in the perception of sweet taste."
The species discovered by the UK scientists is endangered by agriculture and deforestation as compared to about 40 logged species of the plant.
The "Synsepalum chimanimani" isn't the only species threatened with extinction, of the 102 plants discovered by the researchers and the eight species of newly discovered species, many of them are endangered by the activities of humans, the Gardens said in a statement earlier this week.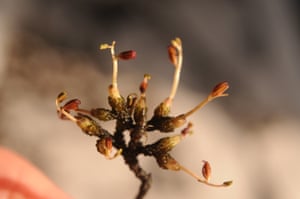 Another endangered plant is the "Inversodicraea koukoutamba," an orchid perceived to be one of the most endangered species to be discovered this year.
It is a rubbery shrub found in only one waterfall in Guinea. When Guinea builds its hydroelectric dam in 2020, the orchid will be extinct.
Tim Utteridge, head of identification and naming at the Royal Botanic Gardens, told CNN that "the loss of the plant could possibly have a knock on effect on human populations, but knowing what it is means we can at least do something to try and keep it alive."
Every part of the ecosystem is important but more often, cases of endangered animals overshadow that of endangered plants.
"You never know which part of the ecosystem is key to it running," said Utteridge, emphasizing that plants are "part of the bigger jigsaw."
He added that plants are the foundations of life on Earth and "describing species is an important step in conservation efforts and allows scientists to list properties, genes and chemical defences" for each plant even the tiniest of them.