On Friday, Nigeria's Department of State Security (DSS), the country's intelligence agency, rearrested Omoyele Sowore, the publisher of a US-based online news platform only hours after a court had granted him bail.
Sowore, who is also an American, owns Sahara Reporters, a publication that focuses on Nigerian politics with a particular focus on corruption.
He was arrested in dramatic fashion, as his legal team and few supporters tried to shield him from DSS agents in the same court that had pronounced him conditionally free just under a day before.
The journalist and activist had already been detained for over 120 days after he was earlier arrested and charged with treason for calling for mass protests against the government of President Muhammadu Buhari.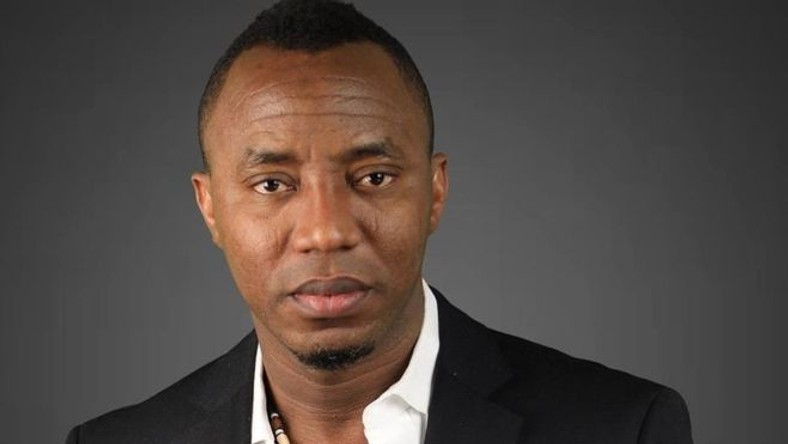 Sowore was also accused of cyberstalking the president and money laundering. But the man who also contested the presidency in February 2019 has denied all the charges.
So far, calls have come from within and outside of the country asking for the release of Sowore. US senator from New Jersey, Bob Menendez took to a podium on Friday to put pressure on the Nigerian government.
Friday's incident comes weeks after Amnesty International had declared Sowore a prisoner of conscience.
But the whole episode, starting from Sowore's first arrest in August, bears an ugly reminiscence of the darker days in the history of Africa's most populous country.
Nigeria's journalists have worked in one of the most dangerous spaces over the last four decades. The culmination of this treacherous but needful adventure of pens was the infamous martyrdom of writer and activist Ken Saro-Wiwa in 1995.
But the yesteryears of intermittent military interventions and what they mean for the media is a period many are well-equipped to discuss but not many more than current President Buhari himself.
His office has denied that Sowore's arrests are politically motivated.
But when he was Nigeria's military dictator between 1983 and 1985, then Major Gen. Buhari oversaw the ruthless implementation of Decree No. 4. The rule was essentially a media-gagging decree.
Buhari criminalised "any message, rumor, report or statement" about a government or public officer which could be deemed as an attempt to ridicule or bring said officer into disrepute.
Particularly telling was the fact that the decree was promulgated around the time when civilians wondered what Buhari had to do with the mysterious disappearance of oil revenue of up to 2.8 billion Naira (around $8 million in current terms) when he was a minister.
Under Decree No. 4, Buhari had the right to shut down any newspaper whose publication he found foul of the law. A journalist could be imprisoned for as long as two years for such publications.
What transpired was exactly what the military government had perhaps hoped – a few to serve as deterrents for the many to know what to write about. Under Buhari's military, Nigeria legitimately captured the hopes of a military leader looking to be largely unaccountable to the people.
These days, Buhari refers to himself as "a converted democrat", taking responsibility for the iniquities of the past and promising a future for freedom-loving Nigerians.
Yet, there are unavoidable patterns that have led some to conclude that the tiger's stripes have not faded.
In March, Jones Abiri, the editor and publisher of the Weekly Source newspaper, was arrested by armed men from the DSS. He was freed only in August after a sustained campaign against his detention.
Abiri's arrest even came before the raiding of the offices of the Abuja-based Daily Trust newspaper in January by state security officers
In 2018, the supervisory body on TV and radio, Nigerian Broadcasting Commission (NBC), shut down a TV channel and radio stations belonging to Raymond Dokpesi, a member of the opposition People's Democratic Party (PDP).
Dokpesi had to file a suit at a federal high court to have his platforms back on air only 24 hours later.
In this line of happenings, Sowore's does not seem like a coincidence.
And for a country ranked 120th among 180 on the 2019 World Press Freedom Index, Nigeria might have to wake up to the persons and structures that are hindering the public good of the press.