Harnessing the power of social media, Belcalis Marlenis Almánzar, professionally known as Cardi B, became an internet celebrity after several of her posts and videos went viral on Vine and Instagram.
Having released her 'Bodak Yellow' tune to global acclaim as well as her 'I Like It' which is heavily digested in African states including Nigeria and Ghana, Chief Creative Director of Livespot360, Dare Art Alade, reckoned it was time the Grammy award-winning rapper met her West African fans.
Cardi B granted an interview on Lagos State-based Cool FM where she gave insights into her plans for the future, touching on her family dynamics and pleasant reception she's received from her Nigeria fans. She was in session for a meet and greet under the banner 'Convos with Cardi' at Eko Hotel ahead of her show where a lot of networking happened.
And then on December 7 at Eko Atlantic City also in Lagos, the in-demand rapper headlined the first annual Livespot X Festival alongside Teni, Tiwa Savage, Burna Boy and Olamide. She twerked, rapped and generally had a good time.
Then there was the visit to a Lagos strip club where the American rapper, songwriter, actress and television personality spared no expense in spraying the strippers with cash (Naira-the Nigerian currency) as the exotic dancers twerked and gave her a worthy show aware as a former exotic dancer herself, they had to put in a top notch performance.
The over 55.2 million followers on Cardi's Instagram page were updated on her activities, catching glimpses of their raunchy videos as it went down in the strip club after the Livespot X Festival. The club scenes capped off a superbly organized series of events on Cardi B's maiden visit to the African continent and Nigeria in particular.
But while Livespot360's Alade earns commendation for the Nigeria show, same cannot be said for the Ghana edition.
We gather while organizers had informed Ghanaian notables in the film and music space about a 'meet and greet' with Cardi B at her hotel – the Kempinski Hotel Gold Coast City Accra at 1pm, she actually landed in the country an hour later.
Having had a busy schedule in Nigeria a day prior, she needed to relax and shake off the jet lag. But this was either poorly communicated by the organizers to the Ghanaian entertainers or no communication was relayed, leaving the stars stranded for well over six hours.
The only thing i learnt from all the wahala is that I've been eating khebabs the wrong way! Pop it open like it's fanta pic.twitter.com/Ddhj5Vfi5u

— Ameyaw Debrah #ameyawtv (@ameyaw112) December 9, 2019
When she eventually moved from her suit, Cardi B headed for the pool side and munched on some prawns or rather khebab.
By this time, some of the Ghanaian stars had started venting their frustrations on social media, pointing out the disrespect shown them by both Cardi B and the Livespot X guys.
Queen Afia Schwarzenegger gets angry at Cardi B and her Organizers. #CardiBinGhana #CardiBinLagos #Cardibinaccra #CardiBinNigeria #CardiB #BardiB #YearOfReturn #YearOfReturn2019 pic.twitter.com/oC0T6dCAnA

— Updates on Cardi in ?? (@Schardotv) December 8, 2019
Attorney, TV show host and fashion notable Sandra Ankobia, actress and radio lady Afia Schwarzenegger alias Valentina Nana Agyeiwaa, business owner and model Hajia 4real alias Mona Montrage all expressed their disappointment on being invited to meet the Manhattan native only to be disregarded.
The development played out on social media leading Cardi B to trend in Ghana on Sunday Dec. 8 to Monday the following day. Initially a good number of Ghanaians had reckoned the stars were there on their own volition, but when it emerged they were invited, the organizers were called out for their poor handling of the situation.
???Ghana version of Merlin ??? #YearOfKebab #Cardibinghana #CardiBInAccra pic.twitter.com/qM65SHrwoK

— ??White Iverson (@officiallordy) December 8, 2019
Cardi after seeing the backlash online submitted she didn't seek to disrespect the Ghanaian stars, but had an upset tummy so took a nap. She would later render an apology noting the Ghanaian stars who made time to see her were not "cheap". However, she stated the organizers failed to inform her about an engagement with the Ghanaian entertainers.
I Give Up????#yearofkhebab #cardibinGhana pic.twitter.com/6k3LZN8ESY

— MMEBUSEM (@mmebusem_) December 8, 2019
When she finally availed herself for the 'meet and greet', the greater number of stars had left. Emerging actress Rosemond Brown alias Akuapem Poloo's patience paid off.
I'm guessing they have not seen this yet. In less than 24hrs ooo #GhanaVsNaija #CardiBInAccra #cardibinGhana pic.twitter.com/x26kUolrWh

— Gyimah (@KwameGyimah1) December 9, 2019
She twerked with her and presented her with her honey product. Musician Becca hosted the American rapper. Despite the earlier mishap, some displayed the typical Ghanaian hospitality when Kwaku Bediako, the CEO of Chocolate Clothes GH, presented a sewn blouse and a jacket made with the 'fugu' fabric to the American. Vannesa Gyan – daughter of the great and late keyboardist Kiki Gyan as well as TV show host AJ Sarpong also presented the queen with clothing from Charlotte Prive, a Ghanaian Ready-To-Wear clothing brand. An elated Cardi B expressed gratitude for their warn gesture.
On behalf of one of my favorite Ghanaian designers, Charlotte Prive,
I gifted @iamcardib a dress from their latest collection. ? pic.twitter.com/pRO4rLQMRi

— #SincerelyVee (@Vanessa_Gyan) December 9, 2019
On the show proper at the Accra Sports Stadium where Cardi B was set to perform alongside Ghanaian musicians Shatta Wale, Sarkodie, Samini and Becca, attendance was poor.
We gather Ghanaian heavyweights Sarkodie and Shatta Wale billed to perform on the night did not mount the stage with Sarkodie pointing out it was no fault of his. Others like Becca, Eno Barony, Medikal, Kofi Mole, and Miss Forson, however, performed.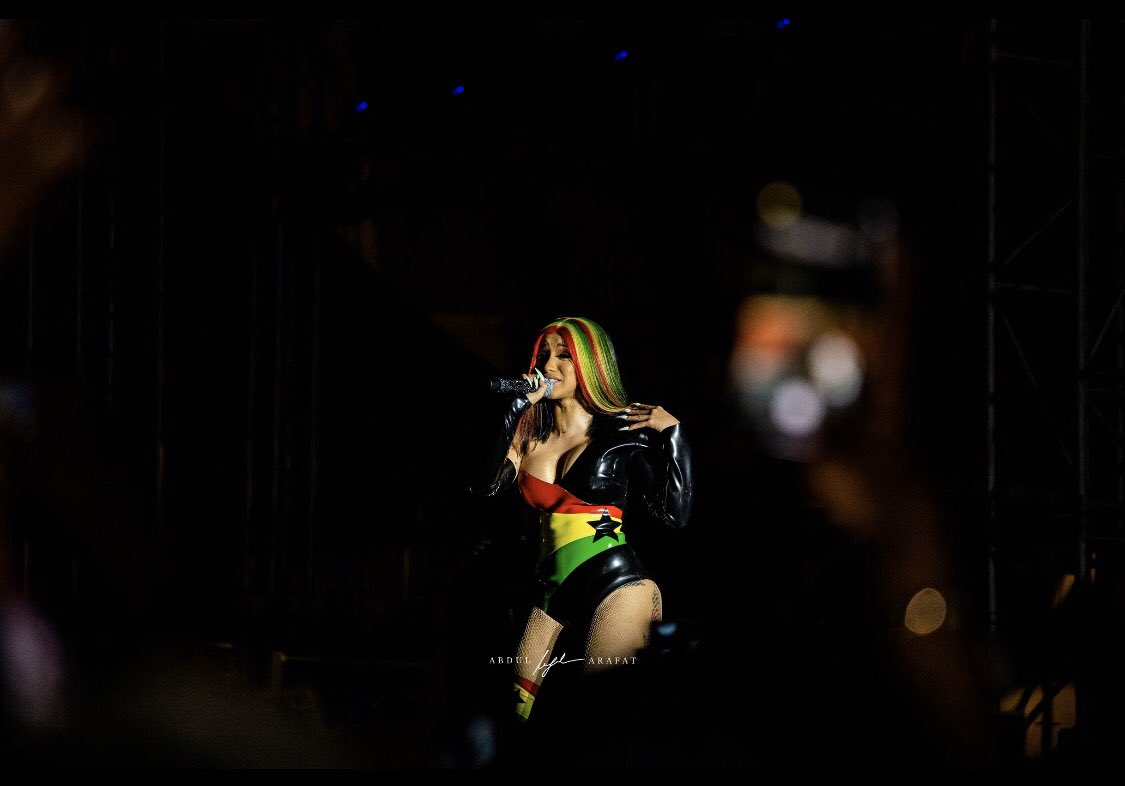 Fans were disappointed with how the show was coordinated. Technical challenges, as well as, poor lighting conspired to rob Accra of an awesome experience. And when Cardi B mounted the stage, she explained to the crowd that her delayed performance was as a result of technical challenges. Even journalists had to resign themselves to a poor showing, packed their equipment and headed home as organizers failed to offer an explanation to the poor showing.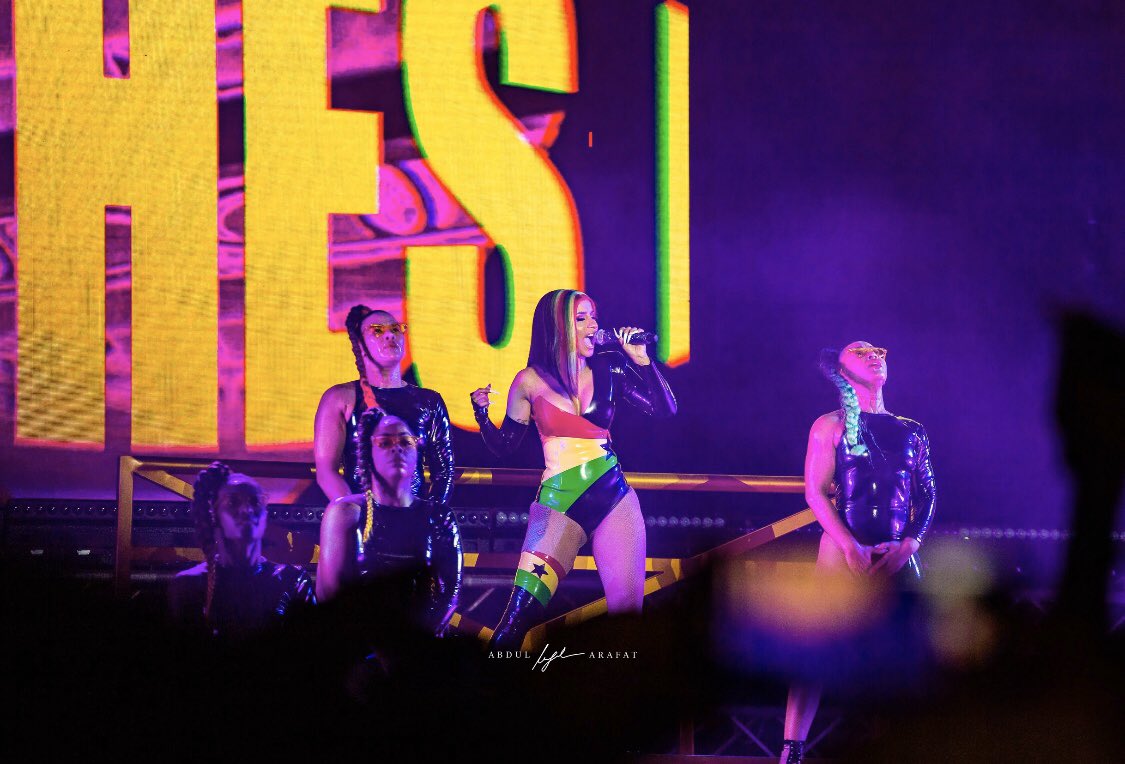 For starters, the Livespot X Festival organisers did not survey the Ghanaian scene well to appropriately price the tickets. Although tickets were eventually sold for GHc50 ($8.82), emphasis was placed on the GHc800 ($141.09) early on stoking apathy. They had also failed to start the media campaign for the concert early on leaving things too late. It does appear their concentration was focused on the Lagos show which cost them the Accra edition.
Embittered, the fans rained vituperative words on the organizers with some calling for a refund of their ticket monies.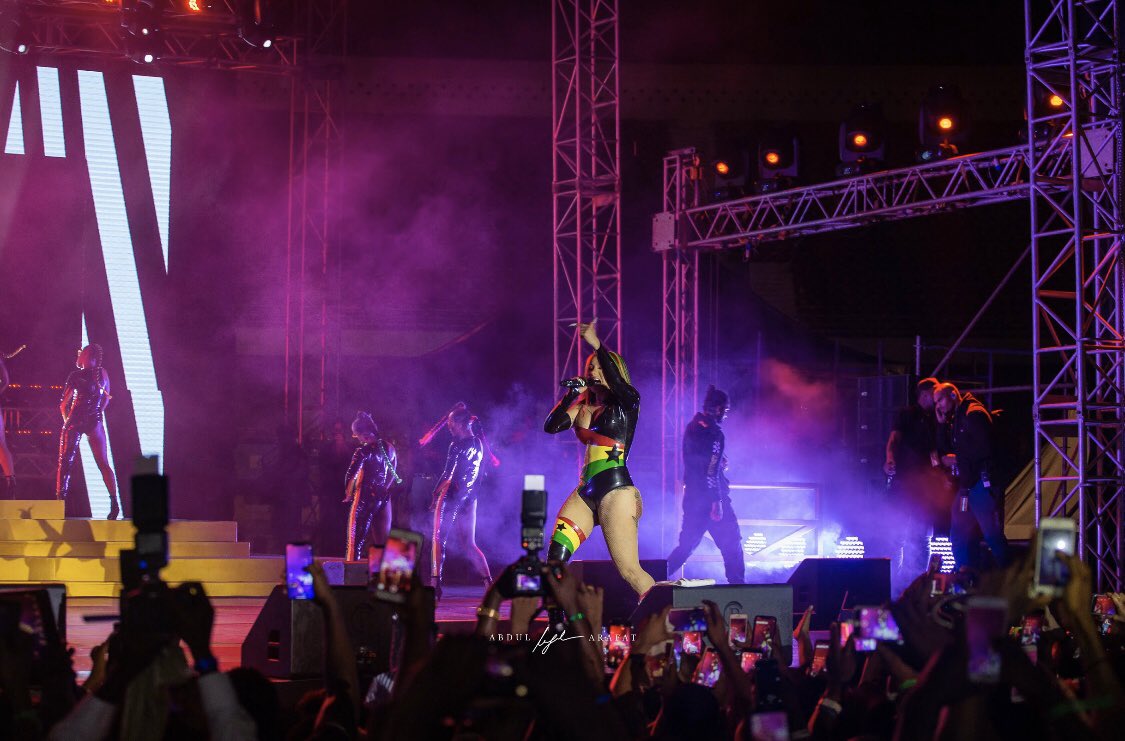 In looking back on Cardi's first trip to Africa, it must be said that she highlighted the positives in Nigeria. She was respectful and candid in the Cool FM interview where she revealed she was looking to the future with her husband such that they could enroll their wards into college and set them up in business with their own funds upon completion.
Her strip club videos were widely viewed on her IG page showing a side of the city not often seen. It highlighted the wild nightlife away from the scam, poverty and squalor stories.
In all @KwesiArthur_ took the W with no stress.. GroundUp to the Top!! pic.twitter.com/QtSp1it1OX

— Content Nyame (@kwadwosheldon) December 9, 2019
In Ghana, Cardi B did well by acknowledging the exquisiteness of the presidential suit she was given. Given that this is a Year of Return for diaspora folks, it will hopefully convince those on the fence to taste the tourism offerings in the country. She did also appear to enjoy the prawns or khebab she was munching on at the hotel.
Then there was the Kente bikini she adorned of which she looked radiant in. While her performance in Nigeria was energetic, her Accra show was relatively subdued and as has been pointed the technical hitches didn't help – a development to be laid at the door step of the organizers.
king Sark – Obidi arrives at Kempinsky Hotel to see Cardi B ???
#CardiBinGhana #CardiBInAccra #Sark #sarkodie #BardiinGhana #bardigang #Yearofreturn #YearOfReturn2019 pic.twitter.com/t8tHhZcJXS

— Updates on Cardi in ?? (@Schardotv) December 8, 2019
It was needless to have secured the Accra Sports Stadium for the show. The Accra International Conference Centre or the Fantasy Dome at the Trade Fair Centre would have been ideal venues giving a more intimate feel.
Nonetheless, Cardi B ought to have been more sensitive to the situation where Ghanaian entertainers had waited on her for over six hours to interact. That she only saw the need to react after being lambasted online was unfortunate. There's talk Cardi B was paid $1 million to perform in Nigeria and $800,000 to perform in Ghana, if it holds true that's some good money made in a few days for the rapper.
She does appear to be a warm fellow and as Ghanaians are quick to forgive, it is hoped her future visit to Africa's 'gateway' would be more fruitful.
#Exclusive how @iamcardib walk on to the Stage. #CardiBinGhana #CardiBinAccra pic.twitter.com/km7o3PYBFv

— 4SYTE TV (@official4SYTETV) December 9, 2019