"I am always obsessed with identifying the gap in our day-to-day lives," says 29-year-old computer programmer Samrawit Fikru who has created Hybrid Design, a company in Ethiopia behind the most popular taxi app in the country, RIDE.
Hybrid Design Plc. is a software and applications developing company which Fikru started with a capital of less than US$ 2,000 and over 90 percent of her staff are women.
Fikru was once a developer with a software developing company where she experienced transport difficulties which ultimately informed her idea of RIDE.
"I used to constantly find myself at the office late at night and challenged by transport hurdle while heading to my home," she recounts.
"I used to feel unsafe while taking a taxi…the driver also asks you to pay more than two times the price they charge in a day."
The young female tech entrepreneur through her company created RIDE, a transport and booking platform in Ethiopia that is phone-based just like Uber.
The service is reported to have brought a significant change to the traditional taxi business in Addis Ababa, the capital of Ethiopia.
RIDE started as an SMS-focused request in 2014. It relaunched in 2017 and developed into offering varied options, from web apps to a call center.
Its aim is to lead the country's ride-hailing market, especially since Ethiopia is phasing out the traditional city cabs in the country to introduce more technologically advanced ones.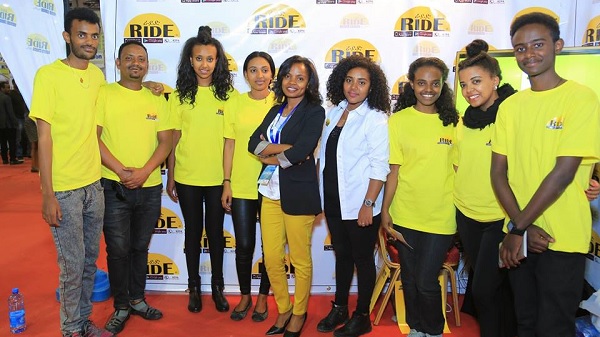 At the moment, there are over 50,000 downloads of the RIDE application on Google Play Store. "There are twelve taxi associations and over a thousand cars working with us," Fikru recently said.
The tech guru recently met with Twitter CEO Jack Dorsey over lunch with entrepreneurs during the latter's visit to Ethiopia this month.
Dorsey hailed her for employing more women and even tagged Elon Musk, saying "she'd love to introduce Tesla to Ethiopia!"
This is @Samrif, CEO of @rideEthiopia. Over 90% of her employees are women. @elonmusk: she'd love to introduce Tesla to Ethiopia! pic.twitter.com/Jec0Wbxnll

— jack ??? (@jack) November 26, 2019
To get a RIDE, users only have to dial 8294 (or TAXI on a keypad) or download the RIDE app from anywhere within Addis Ababa to use the service.
Get to know more about Fikru in this video: