Under the painful and dark regime of former Chadian president and dictator Hissène Habré, Rose Lokissim was arrested, detained, tortured and finally executed in 1986 for what is now famously described as a death for her country and people of which she will forever be celebrated for.
Born and bred in a rather remote and small village in Chad, Rose grew up in a polygamous home where her father had several wives and children.
Not a lot of details exist about her early years, education and life before becoming a soldier, however, in the 2014 documentary by Isabel Coixet, a few family members describe her as a calm and peace-loving young girl who was also able to take charge of matters when the need be.
An uncle explains that Rose was the only family member who was able to control her father during a bad fight with one of his wives in 1967. Rose, who was born in 1955, was only 12 years old at the time. She was also always ready to work and never saw gender as a barrier.
Rose became one of the first elite female soldiers possibly after joining the army in 1978 or later whe she served diligently, exhibiting courage and resilience. At the time, one was allowed into the army at the age of 20.
After U.S. and France supported dictator Hissène Habré to become the fifth president of Chad in 1982, the country went into a state of turmoil as
Habré took matters into his hands, seeing to the arrest, torture and imprisonment of anyone who dared to speak against his ruling.
Having had enough of Habré, Rose joined the opposition in 1984 and immediately began to speak against dictator Habré with the hopes of gaining international attention to help remove him from office.
On September 14, 1984, Rose and several others were arrested by Habré's secret police, the Documentation and Security Directorate known as the DDS.
A surviving victim explained that the arrest process was a very painful one. The police would come and force them out of their homes, put wires on their breasts, shock them with electricity until they were weak or fainted and dragged them into the prisons, the unidentified victim said.
Rose was taken to the underground prison, which was known as the La Piscine prison of Hissène Habré. Formerly a swimming pool that belonged to a French colonialist, Habré managed to turn it into a prison by building small prison cells with a window each.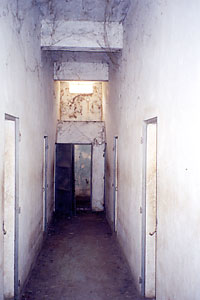 Rose was later taken to the notorious Les Locaux prison where she was immediately taken to Cell C known among the prisoners as the Cell of Death as several prisoners died there.
Because she served as a threat to Habré and his police, she was taken to the men's cell and forced to be in a small cell with 60 other men.
During her time in prison, she often encouraged the men to endure and be brave to survive their time in prison so that they could make it out alive and fight against Habré.
Rose was moved to the female cell early 1985 where she made several friends and became the binding strength in the prisons. She was later moved back to the male cell shortly before her execution.
The prisoners were often visited by other officers who would send messages to their families to enable them to know that they were alive.
During the visit of Officer Bichara Chaibo, who was the director of the DDS, the women pleaded that he gave them soap to wash and bath. Chaibo brought them 15 boxes of washing powder, Omo, which they used.
Rose requested that the boxes be kept in good condition and given to her. It was on these boxes that she spent her time writing in detail experiences while in prison. She kept details of everyone in the prison including that of deaths, burials, torture and officials who came to see the prisoners.
She also wrote about how the prisoners were tortured, often tied and shocked, beaten, sexually abused, refused food, among others.
For over a year, Rose kept on with her documentation despite being warned about the dangers she would put herself and the other women through if her documents were found.
She successfully smuggled information of prisoners to their families especially when they died, giving information about how and when they died.
Although due for release in 1986, information on her documents reached Habré and his policemen. They immediately seized her documents and dragged her out of the cell on May 15, 1986.
Rose was made to confess and she was declared a threat to the security of the state even in prison. This resulted in the decision of her execution that very day.
Police documents found on her case at the abandoned DDS office stated that "During two years of detention, the subject [Rose] has never changed her attitude. On the contrary, she boasts about it. Given that she is irredeemable and still poses a threat to the security of the state even in prison."
After enduring the torture of being beaten and strangled, Rose was weakened by the five police officers who were assigned to execute that. It is said that she fought a good fight until she was strangled and hanged to death and shot even after dying. Her body was then dragged to the Plain of the Dead where she was buried in a mass burial.
Fifteen years after her death, it was revealed through the retrieved documents from the DDS office that Rose's last words were 'If I die, it will be for my country and family. History will talk about me and I will be thanked for my services to the Chadian nation.'