At the time of the incident, Elvita Adams wasn't the first person to jump from the Empire State Building.
Over 30 people had made suicide attempts from the 102‐story building on West 34th Street, New York and all had succeeded. The first occurred in 1931 when a man who had lost his job jumped from the 58th floor while the building was yet to be completed.
Then there was the infamous Evelyn McHale jump whose body landed on a limousine in 1947.
With these people jumping to their deaths from the top floors of the famous New York City skyscraper, Adams perhaps felt that choosing the same building with a roof height of 1,250 feet was going to produce the same result. But something else happened.
On that evening of December 2, 1979, 29-year-old Adams from the Bronx arrived at the skyscraper in Manhattan to end it all.
She had lost her job and was living off welfare checks which were not sufficient to pay her rent and take care of her 10-year-old son. Facing eviction and not knowing what to do, a depressed Adams decided to take her own life by jumping from the 86th‐floor of the building.
Adams first climbed over the fence that surrounded the observational platform on the 86th floor and jumped. She expected death by falling to the street below, however, she landed on a three‐foot ledge on the 85th floor.
Strong wind gusts had saved her. The winds were so powerful that they blew Adams' body back, landing her on a two-and-a-half-foot ledge on the 85th floor.
A security guard who heard her moaning arrived at the floor's window and pulled her in. She was subsequently admitted to Bellevue Hospital with a fractured pelvis.
She was also placed under psychiatric observation.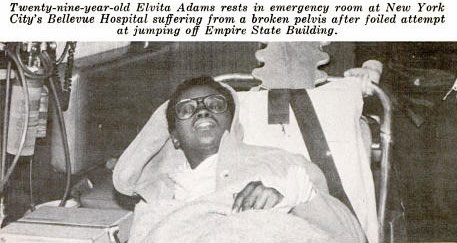 At the hospital, Adams said she had journeyed from Bronx to Manhattan to look at the city lights.
"They were so pretty, I wanted to reach out and touch them," she said. After the fall, the young woman said all she remembered was the pain.
"…I was in so much pain that I wasn't afraid."
"I'm not sure if the wind pushed me back, or pushed me off."
Four guards usually patrol the 86th‐floor observation deck of the building, which is surrounded by an eight‐foot, iron spiked fence, said The New York Times.
The police said they did not see Adams jump and considered the incident an attempted suicide.
To date, it is not yet known what happened to Adams after being saved from the fall.