Necessity is said to be the mother of invention – an English proverb heavily coming into play in these daunting times, as the world sprawls to contain the novel coronavirus. One such necessity is the inadequacy of ventilators.
With surging confirmed coronavirus cases – 627 at the time of writing this article, Nigeria is said to have not more than 500 ventilators across its 36 states and federal capital enclave, making it scary for Africa's most populous country.
This inadequacy has led to the discovery of a genius inventor in Usman Dalhatu, a level 200 mechanical engineering student at the Ahmadu Bello University in Northern Nigeria.
In partnership with other Nigerian innovators, Dalhatu, 20, built a local ventilator, which he has now transformed into a portable exceptional ultra-modern E-vent automatic ventilator. Dalhatu named the equipment RESPIRE-19.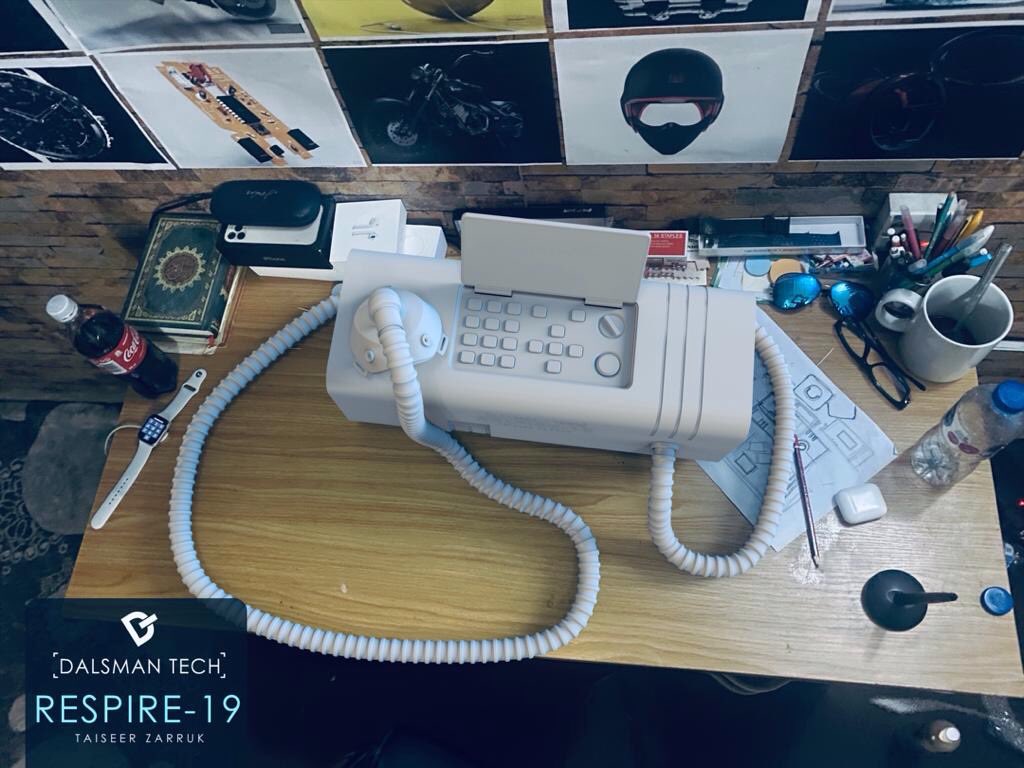 A ventilator is a piece of medical equipment that aids in artificial respiration when a patient's lung fails to do it naturally as in the case of people affected with the coronavirus.
According to estimates, about 6% of persons who have contracted coronavirus will require intensive care and about 1 in 4 of them may need a ventilator to help them breathe, WebMD reported as the picture is changing quickly with infection rate surging rapidly around the globe.
Local media reported last Thursday the young innovator and his partners; Dr. Yunusa Muhammad Garba of the Human Anatomy Department, Gombe State University and Aliyu Hassan, a graduate of Mechatronics Engineering presented the RESPIRE-19 to the governor of Nigerian State of Gombe, Muhammad Inuwa Yahaya.
Yahaya commended the trio saying: "We are indeed proud of you," The Punch reported. "If we can go back to the rudiments, pursue and improve on what we have, we can be like Japan and China who utilized their local talents to achieve greatness. We have the brains and intellectual resources to become a reference point like other developed nations."
Speaking to the Ahmad Bello University news portal, Dalhatu expressed the desire to become a renowned mechanical engineer after his studies, creating inventions to make life easy for people.
"I have equally manufactured an electric cooking stove. I have several projects I am presently working on. But I am appealing to the government to patronize my products, and also assist me in any other relevant way," he stated.
Our very own @UsmanDalhatu5 that went viral for producing a ventilator, has transformed his emergency ventilator idea into a portable E-vent automatic ventilator. He's just a 200-level Mechanical Engineering student#Abusites #NaturallyAhead pic.twitter.com/qXElRJV2vS

— ABU™ Campus Connect (@ABU_Campus) April 16, 2020
Head of Bio-fuel Engines and Emission Research Group, Dr. Kaisan Muhammad Usman, said the materials used in building the ventilator were locally sourced.
"This is an invention that will greatly assist Federal Government's fight against COVID-19," he was quoted as saying.
Dalhatu joins the likes of technicians – Williams Gyang and Nura Jibril – who have taken it upon themselves to repair faulty ventilators across the country for free to ensure easy access to the device in Nigeria during this pandemic.
Gyang and Jibril had already repaired two faulty ventilators belonging to the Jos University Teaching Hospital in Nigeria's Plateau State.