Ethiopian born Betelhem Dessie is a tech genius, who is already coding in the country's first Artificial Intelligence lab.
At age 19, Dessie is making waves in the tech space mainly dominated by grown ups and men. She is the founder and CEO of iCog- Anyone Can Code. She owns four patented projects individually and an additional three in collaboration.
According to CNN, Dessie is the youngest pioneer in Ethiopia's fast emerging tech scene, sometimes referred to as 'Sheba Valley'.
At 20, Dessie is managing a number of nationwide programs run by robotics lab iCog including the Addis Ababa based Artificial Intelligence (AI) lab that was involved in developing the world's famous Sophia the robot.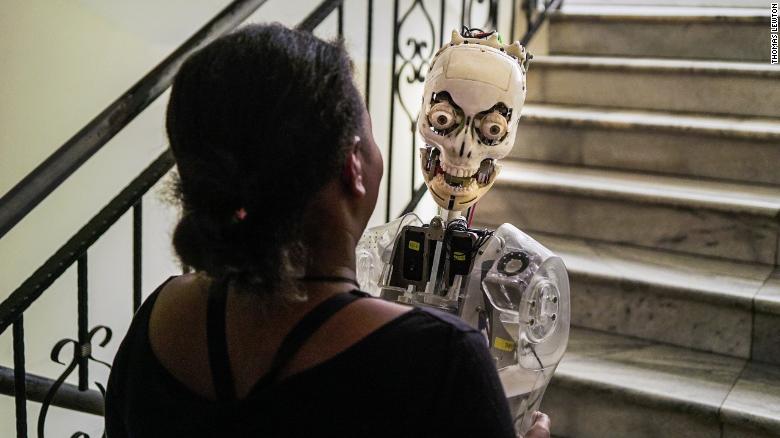 She has developed an app for the Ethiopian government to map rivers used for irrigation.
Dessie's desire for technology was largely nurtured during her younger days in Harar, eastern Ethiopia when she was nine years old. In a quest to raise money to celebrate her birthday, Dessie started learning about computers by using her father's computer at his electronic shop in their home city and started editing videos and sending music to customers' cell phones.
From doing that, she garnered about 90 dollars to celebrate her 9th birthday. Today at age 20, Dessie has four software programs copyrighted solely to her name.
By the age of 10, she had bettered her skills in video-editing, computer maintenance, and installing cellphone software. At that young age, Dessie started coding in HTML by herself and she taught basic computer skills to her classmates from school.
After moving from Harar to Addis Ababa with her parents, Dessie got employed as a developer for the government at the age of 12 by the Ethiopian Information Network Security Agency (INSA) and she worked from 2011 to 2012.
Dessie leads a program on iCog called "Solve IT", a program that enables young people to find technological solutions to community based problems.
According to her, girls have the most contributions even though they are a minority among the students attending "Solve IT".
"The boys imagine more, they want to do something that's big and inspired, the girls they really want to help their community from the core," she said in an interview.
Reportedly, the solutions offered by the girls she teaches are commendable, one of such is an SMS app that informs farmers about local weather conditions.
Dessie has another project called "Anyone Can Code". It is aimed at teaching young Africans the basics of artificial intelligence, robotics, blockchain and other emerging technologies.
The young genius has yet another project called "The Sophia School Bus". With the help of Sophia, the robot, the bus will go around Ethiopia equipped with laptops and other electronic materials such as 3D printers to create more awareness on these technologies – using Sophia as a brand.
Dessie hopes to inspire the next generation of coders in Ethiopia and Africa more broadly – particularly girls. She hopes to see more women in the tech industry so that they can serve as role models to younger girls. "Unless you really are in the industry, there is no one to look up to in technology," she said.
And for her she believes that women are in the best position to identify their own problems and find a solution to them. "Who can solve the problem of a female if she cannot tell you the problem, and find her own solution?" says Dessie.
Dessie has become an inspiration to Ethiopia's next generation of innovators and entrepreneurs. Over the last three years, in addition to patenting several software programs, she has travelled the country teaching students how to code and conducting innovation workshops. So far, she has reached more than 20,000 young people.
She was recently named one of the young African innovators to watch in 2019 by Quartz Africa and she's said to have taught 20,000 children how to code.
Learn more about her in this video: