You will mostly find them clad in a colourful robe, wearing a fez or turban as head covering. They may look like Muslims, but in reality, they belong to the Moorish Science Temple of America, founded almost a century ago around principles of love, truth, peace, freedom and justice.
It is said that at a time when many black Americans still held fresh memories of their enslaved past while searching for identity, this religious organization, founded by Noble Drew Ali, gave them hope through historical education, messages of racial pride and spiritual uplift.
Real name Timothy Drew, Ali would later teach that all blacks were of Moorish origins, but had their Muslim identity taken away from them through slavery and racial segregation.
In other words, he believed that Islam was the religion of African Americans before they were enslaved and that they should return to it. Encouraging the use of the term "Moor" rather than "black" in self-identification, Ali rejected identities created by white Americans, such as "negro," "coloured," and "black," claiming that his people originated in Morocco, according to a report by The New York Public Library.
The religious leader, who claimed to be the prophet Muhammad reincarnated, described all people of colour as Asiatics, and to African Americans specifically as Moorish Americans, descendants of the Moors of North Africa.
"Underlying his claims were two principles. The first was that by identifying with their North African ancestors, as well as, with Muslims throughout the world, his followers would have pride in an ancestry to which they had been denied," The New York Public Library report said.
Despite urging Americans of all races to reject hate, confrontations, and embrace love, the religious movement has, over the years, come under frequent investigations by law enforcement agencies who accuse them of being radical and engaging in subversive activities – claims members have denied.
Such was the case in 1913 when Ali founded the first temple of his movement, the Canaanite Temple, in Newark, New Jersey. Facing police persecution due to what has been termed his racial messages, Ali was compelled to move westwards, setting up temples along the way, before finally settling in Chicago and establishing a ninth temple that would become a success.
Born in 1886 in North Carolina, Ali, according to legend, received a message from Allah that he must go on a mission. Sources say he travelled to Egypt and Morocco, where he studied African history and the Islamic religion before being sent by the Moroccan King to spread Islam among African Americans.
Ali would get exposed to Asian philosophy and this would serve the basis of his doctrines and his first temple in Newark. Over the next 12 years, he would establish other temples in Pittsburg, Detroit, and Chicago.
According to Religion News Service, Ali "set about creating a new identity for black Americans based on ethnicity, not race. Those who joined his religion were called Moorish-Americans, or Moors, a word historically used to describe Africans and their descendants."
According to folklore, Ali was exposed to a lost section of the Islamic holy book known as the "Circle Seven Koran", which would influence the temple's own Quran. In 1927, he published The Holy Koran of the Moorish Science Temple, a book which combined the Quran, the Bible, Marcus Garvey's and Ali's own ideologies, writes The New York Public Library.
"Followers treated Friday as their Holy day, worshipped three times daily, greeted fellow members by saying "Peace" or "Islam," and changed their last name by adding the Arabic article El- or -Bey to demonstrate their ethnic identity. A strict moral code forbidding intoxicants, tobacco, hair straighteners, cosmetics, meat, eggs, and other things was prescribed for members," The New York Public Library adds.
By 1925, the Moorish Science Temple's membership had swelled to nearly 30,000 members. By 1928, those numbers had tripled, said the Pan African Alliance. There were temples in Harlem, Philadelphia, and several southern cities and most members of the movement were newly urbanized migrants who were seeking fresh starts after fleeing the South.
As the movement expanded, it brought forth Moorish schools, youth groups, newspapers, and grocery stores. With this growth, Ali called on other leading members to help in administering the organization, but this decision would eventually lead to his downfall.
Varying accounts state that a power struggle ensued between Ali and his Lieutenant Sheikh Claude Greene, leading to Greene's murder. Ali was not around at the time of his death, however, he was accused of the murder and arrested when he returned to town.
Then the unfortunate happened; while on bail awaiting trial, Ali died at age 43 at his home in Chicago on July 20, 1929. Circumstances surrounding his death are not known, although documents later showed that he died of "tuberculosis broncho-pneumonia".
Most of his members would have none of that, claiming that their leader died due to mistreatment during police questioning. Others believe Temple members vying for Ali's position were behind his killing.
Following his death, the internal strife continued, and the Moorish Science Temple of America split into several factions. Several Temple members who claimed to carry on the spiritual lineage of Ali founded similar organisations. W.D. Fard Muhammad, who was a Minister in the Chicago Temple went on to found the Nation of Islam.
Today, the Moorish Science Temple of America is a religious non-profit Corporation that has temples and membership in about 15 U.S. states and throughout the world, the Pan African Alliance report said.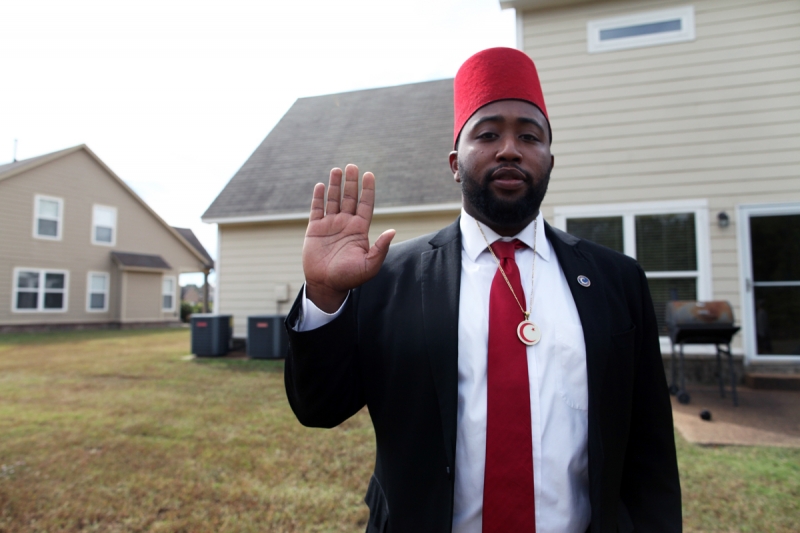 Some of the Temple leaders operate in jails while in the early 21st century the Moorish Science Temple of America, Inc., operated a prison ministry and a theological seminary, the University of the Moorish Science Temple of America.
The various temples, however, use slightly different principles while the movement lacks a central record system. In effect, the Moorish Science Temple of America may not be as it was in the 1920s, but its influence on black consciousness can never be ignored, observers say.