Born in Central-Western Jabavu, Soweto on January 27, 1957, Teboho MacDonald "Tsietsi" Mashinini died in Conakry, Guinea in 1990 aged 33.
Tsietsi Mashinini's shot to fame as a student leader during the 1976 Soweto Uprising. The Apartheid government imposed 'Afrikaans' as a compulsory teaching language in native African schools. Students were against it and were ready to rebel. In Mashinini, the head of the debate team and president of the Methodist Wesley Guild at Morris Isaacson High School, they found an able leader who led 20,000 students.
Showing clarity of thought in an interview later, Mashinini stated while the Afrikaans language imposition is cited as the cause of the demonstration, the tension between the police and Blacks had been brewing and any grievance could have led to the confrontation.
Legendary Tsietsi Mashinini, Student Leader of the 1976 Soweto Uprising. SA's most wanted, he fled to London.

Apartheid govt imposed Afrikaans as a compulsory teaching language in native African schools. Irate, he led 20000 students that hit the streets, with hundreds killed. pic.twitter.com/JlKCqW5uS2

— Facts About Africa (@OnlyAfricaFacts) November 12, 2019
He noted he planned and executed the demonstration with other students, intending it to be a peaceful protest until the police turned it into a "bloody confrontation."
He cited Zulu elements as being used as instigators by the apartheid police, noting a meeting was held between the Zulu elements and the police chiefs who provided them with guns.
On claims he was a communist, he rejected the tag submitting, "if you do anything against the racist regime, you are a communist."
In 10 days of the South Western Townships 'Soweto' uprising, 174 Blacks and two Whites lost their lives while 1,222 Blacks and six Whites sustained injuries. 1,298 people were arrested for offences ranging from attending illegal meetings, arson to terrorism and furthering the aims of banned organizations.
After June 16, 1976, Mashinini was identified as the leader of the uprising by the South African government, and with mounting harassment by the police, he fled South Africa and went into exile in September 1976. He churned out series of press releases condemning the murder of the demonstrators. The police offered a R500 ($34) reward for his capture.
He headed first to London and then to various African countries, including Liberia where he was briefly married to Miss Liberia 1977, Welma Campbell.
Mashinini later visited the United Kingdom and the United States, where he addressed the United Nations on the brutalities of the apartheid regime.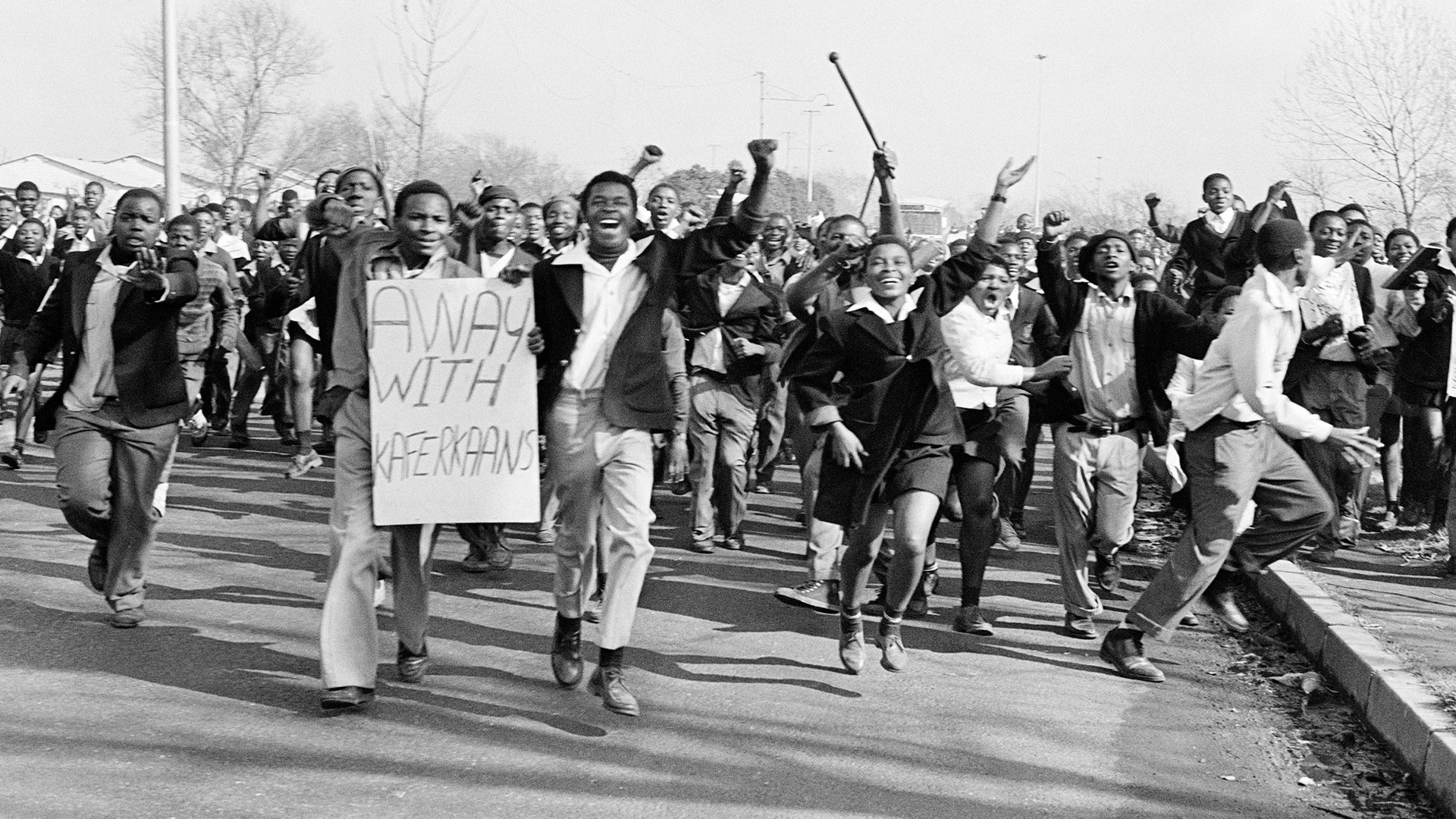 He lived in exile for 14 years dying in Guinea. Mashinini died under mysterious circumstances in 1990. He was hospitalised for multiple injuries, apparently the result of an attack. He died a few days later. His body was repatriated to South Africa on 4 August 1990. His body was terribly disfigured: his left eye had fallen out into his coffin; his left ear was bleeding and he had deep bruises on his face, including a large scar on his forehead.
At his funeral service, held at the Amphitheatre Stadium in Jabulani, Soweto, former Azanian People's Organisation President Prof. Itumeleng Mosala said: "The students of 1976 took the struggle from the classroom to the streets; the students of today take the struggle from the streets into the classroom." Leaders of the June 16 uprising spoke in praise of Mashinini, saying he had made an indelible mark in shaping the history of the country. He was interred in Avalon Cemetery. His grave bears the epitaph "Black Power."