The Green Grotto Caves isn't exactly the first thing that comes to mind at the mention of Jamaica but it is definitely a place worth visiting if you love a literal walk down history lane.
Located along the North Coast, the Caves stretch on 25.9 hectors of the Island in between resorts that were built to accommodate tourists visiting to see the caves.
One of the reasons why the caves have gained so much popularity is because it is a natural cave that stretches in the underground with a lakee 45 ft below and holds so much history as far back as the 13th century.
Today, the cave is preserved by the Jamaican government which took full control over it in 1999. Parts of it is covered in Green Algae hence its name the Green Grotto Caves and serves as a great attraction for archaeologists, historians and every history lover hoping to make a connection with the past.
The caves were first inhabited by the indigenous Caribs known as the Arawak Indians who lived in the caves until the discovery of the Caribbean and the settlement of the Spanish and British who got rid of the Arawaks.
At a point in time, the caves also served as a hideout for the Spanish during the battle between them and the British over the islands.
Spanish soldiers and settlers are noted to have hidden in the caves and ultimately rescued by ships until the British discovered them there.
During the slave trade, slaves used the caves as an escape point to other parts of Jamaica. Several Maroons also lived in the caves until they were attacked or had to move.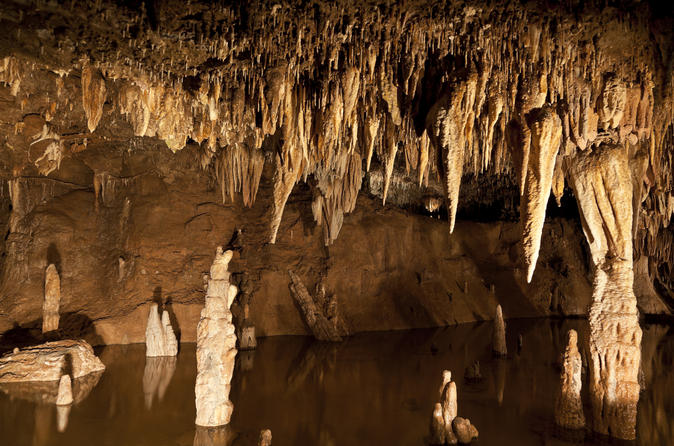 The caves also served as a hideout for pirates at a point as well as smuggling unit for Cuban arm smugglers during both World War I and II. The Jamaican government during the Second World War also used the caves as a storeroom for rum.
In the late 80s, the caves were purchased by a wealthy British who turned parts of it into a disco, popular among foreign travellers. Parts of the cave have stone seats and cemented grounds as well as stairs.
In 1999, the government closed down the disco and took full control of the caves turning it into an attractive tourist destination.
A visit to the Green Grotto Caves offers an exciting 1-hour tour with resorts ready to welcome visitors who want to spend some time on the island.It is also home to over 10 million bats of 9 different species.
The cave is most popular for featuring in the 1973 James Bond movie Live and Let Die where an action scene took place.