Two young black women have been using social media to help build a supporter base across the UK amid protests on the streets of the capital over the killing of unarmed black man, George Floyd.
Aima, 18 and Tash, 21, have posted a series of social media messages accusing Britain of being a racist country, adding that "police brutality" will kill black people before coronavirus does.
Protests took place in London, Manchester, Cardiff and Nottingham on Saturday and Sunday over Floyd who died at the hands of a white police officer in Minneapolis. His death has sparked protests across the U.S., with at least 1,600 people arrested in 22 cities as some demonstrations turned violent.
In London, Black Lives Matter protesters who gathered at areas like the Trafalgar Square and outside the U.S. Embassy are not only showing solidarity with demonstrators in the U.S but are also angry that the use of the stop-and-search tactic during the coronavirus lockdown has been deliberately aimed areas with large black, Asian and minority ethnic (BAME) populations.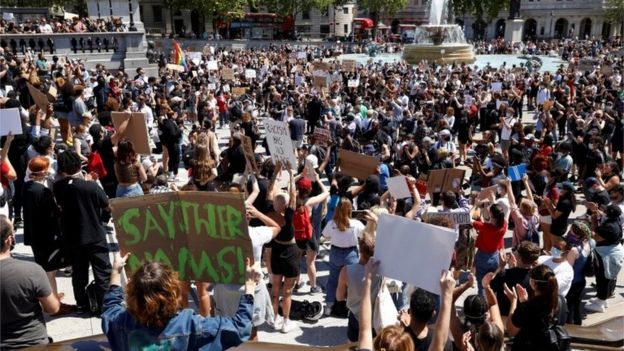 During last weekend's demonstrations, protesters held up placards saying "racism has no place" while the rallying cry was that "the UK is not innocent."
Aima, who organized a protest in London on Sunday, said: "I started the #LDNBLM hashtag and it blew off. I didn't expect that to happen. What inspired me was how much pain I've suffered while in the UK. I moved here from Nigeria when I was 10 and as soon as I came here I experienced a lot of discrimination from the police and from people around me. People need to understand in the UK, we're suffering too."
In a video of her addressing the crowd at Sunday's demonstration, Aima, who has refused to give her last name, says: "The reason that I'm out here is that I'm scared for all my brothers and sisters. I want us all to spread the message that our lives bloody matter, black lives matter. And I'm tired of all the abuse and harassment and brutality from the police."
The 18-year-old, who has a passion for photography and content creating, posted a Twitter video after Sunday's demonstration: "You guys are saying that the corona pandemic will kill us, but police brutality will kill us first. I'm already risking my life on a daily basis. Corona's not going to kill me before the police kill me," she says in the video cited by the Daily Mail.
21-year-old Tash, a student from London, has also hit hard at people criticizing protestors for not practicing social distancing.
"The UK is so racist it's blaming activism on something the government has failed to protect us from since March," she wrote on Twitter.
In another post, she wrote: "When I was growing up, it was all my wh*te friends shoplifting and that… we learned violence from you."
Aima and Tasha, who are not affiliated with any organizations but are getting so much support from British demonstrators, have been described as "the amazing sisters of this protest."
"Aima and Tash have done an incredible job. They are only young, but they've kicked off this whole movement and really tapped into people's anger," a source close to the protesters was quoted by the Daily Mail.
"They've made it clear that they just want peaceful protest and that everybody needs to maintain social distance. That's not quite happened because people get very passionate at these demonstrations, but you can't blame the two of them for that. They are both amazing women," the source added.
The protests in the UK have been largely peaceful, though 23 arrests were made during the London demonstrations on Sunday. "The arrests were for a variety of offenses including breaching the Covid-19 legislation, assault on an emergency worker, possession of an offensive weapon and breach of the peace. The ages of those arrested ranged from 17 to 30 years," the police told the Guardian.
Aima and Tasha have organized another demonstration outside the U.S. Embassy for this weekend and are also involved in other protests being held in cities this week.
In the U.S., President Donald Trump has threatened to deploy the military to any state which does not take aggressive action against rioting as protests over Floyd's death heighten.
Floyd died at the hospital last week after white police officer Derek Chauvin knelt on his neck for several minutes as the 46-year-old yelled: "I can't breathe."
Reports said the officers responded to a call from a grocery store that claimed Floyd had used a forged cheque. His death, however, is just one example of the ongoing systemic racism in America where black people find themselves being killed during encounters with white police officers.