Famous for The Steve Harvey Show, American comedian and actor, Steve Harvey, is in Ghana on vacation and for the 'Year of Return.'
The comedian, alongside his family, will visit some selected tourist sites including castles where slaves were kept. This will expose him to Ghanaian and African history and culture.
The Year of Return is an initiative by the government of Ghana aimed at marking 400 years since the first black slaves landed in Jamestown, Virginia.
It was launched last year in Washington, D.C., by Ghana's President Nana Akufo-Addo, for Africans in the diaspora to visit the West African country as part of the commemoration 400th year since the first African slaves landed in Virginia.
This initiative has seen an array of celebrities across the globe make their way into Ghana to explore, learn and appreciate their roots, as well as, unite with Africans on the continent.
Steve Harvey and his family were welcomed to Ghana by the Minister of Tourism, Babara Oteng Gyasi and the Year of Return committee who met them at the W.E.B DuBois Center in Accra.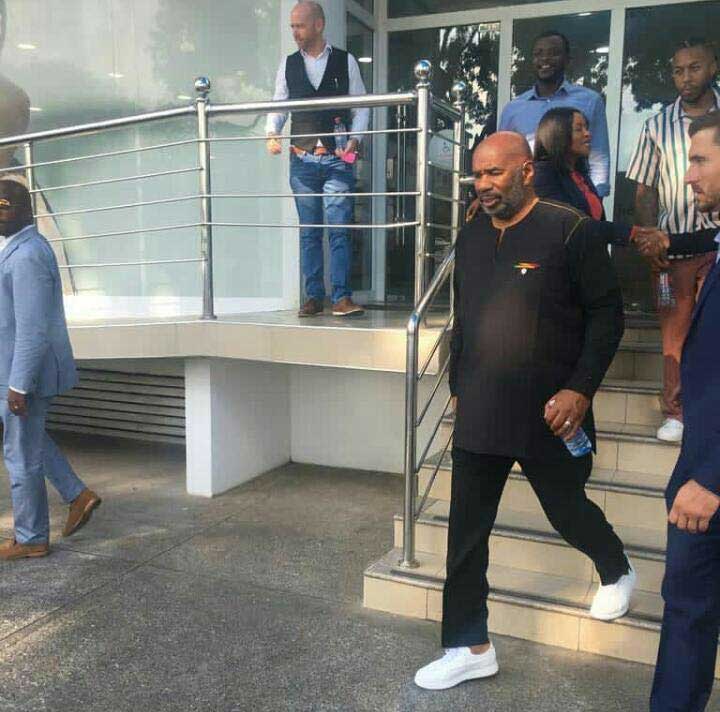 Steve Harvey is not the only American celebrity to come to Ghana in recent months. In December last year, actor Boris Kodjoe and some of his Hollywood friends and family including; Nicole Ari Parker, Diggy Simmons, Micheal Jai White, Anthony Anderson (of Blackish), Rosario Dawson, Jidenna, Cynthia Bailey, Bozoma Saint John spent a significant part of their month in Ghana.
The group explored the castles, markets, traditions and culture.
Another Hollywood actor who came to Ghana was Samuel L. Jackson who had earlier traced his roots to Gabon. His adventures in the country included a documentary shoot and visits to local markets in Accra and fish markets in Cape Coast.
Earlier this month, the committee in honour of the celebration organised a music festival which saw black musicians from the diaspora perform in Ghana. On the bill were sensational artiste Deborah Cox, Ernie Smith, Irvin Mayfield and reggae band Third World.