One of the daughters of Nigerian president, Muhammadu Buhari, has received intense criticism from Nigerians on social media for using a presidential fleet to attend to a private business.
They contend only the President, First Lady, Vice-President, Senate President, Speaker, Chief Justice of Nigeria, former presidents and those on a presidential delegation have clearance to use a presidential jet .
Hanan Buhari's use of a Presidential aircraft for a private engagement is a public example of how Buhari has pocketed all Govt institutions for the exclusive use of he and his families. https://t.co/gIeENMKt2S

— De Oracle (@FrankPaschal_) January 11, 2020
The president's daughter, Hanan Buhari, who is a photography graduate from Ravensbourne University, London, is reported to have been in Bauchi last Thursday to photograph a durbar by Rilwanu Adamu, Emir of Bauchi.
As a special guest of honor, the durbar was specially organized to enable her to take photographs of the traditional durbar, Bauchi architecture and other cultural sites in the state, according to punchng.com.
As a professional photographer, Miss Buhari is expected to document her experiences in pictorial form in her gallery.
The presidency has not been spared for availing the jet for her private use at the expense of taxpayers.
The All Progressives Congress of which President Buhari belongs had pledged running an efficient government eschewing wastage but its promise to sell some jets because of the high cost of maintenance has largely not been fulfilled.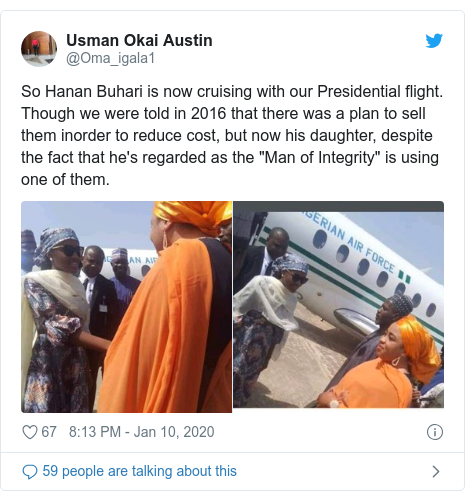 As much as N8.5 billion ($23 million) has been earmarked in the 2020 national budget as maintenance cost for the presidential jets.
Meanwhile, Senior Special Assistant to the President on Media and Publicity, Garba Shehu, says the president informed the National Security Adviser of his daughter's trip to Bauchi.
"It's true that a member of the First Family was flown to Bauchi on a mission duly authorized. It wasn't an impromptu or improper trip because it followed normal procedure. The Presidency informed the National Security Adviser of the mission who in turn informed the Commander of the Presidential Air Fleet.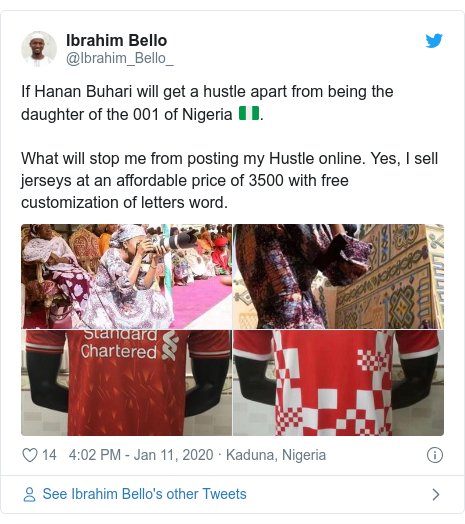 "The normal practice in existence for a long time is that the Presidential Air fleet is available to the President and the first family and four others. These four are the Vice President, the Senate President the Speaker and any other person(s) authorized by the President," Mr. Shehu noted.
Critics point to abuse of office and excesses leading to high expenditure.