In the small town of Elkader in Iowa with just about 1,200 people are Scandinavians and Germans, many of whom attend Catholic and Lutheran churches, a profile of the town in 2013 pointed out. Notwithstanding these demographics, Elkader is named after an Islamic hero. In fact, it's the only U.S. town named after an Arab Jihadist — a 19th century Algerian Muslim, Abd el-Kader.
The Algerian prince (amir or emir in Arabic) or resistance leader fought against the French colonial invasion of Algeria from the 1830s until his surrender in 1847. Uniting tribes in North Africa, he also helped save a Christian minority in Syria from tribal violence and massacre, an act which earned him praises from many including Abraham Lincoln. It is documented that Lincoln sent el-Kader a gift — a pair of fancy Colt pistols.
It was from the 1860s that el-Kader attracted the world but before he became an international hero, the people of Iowa had already named their new town after him.
In 1845, the town's first settler, Timothy Davis, who had read of el-Kader's fight against the French for Algerian independence, named the site of his then-new flour mill and settlement for the 19th-century jihadist.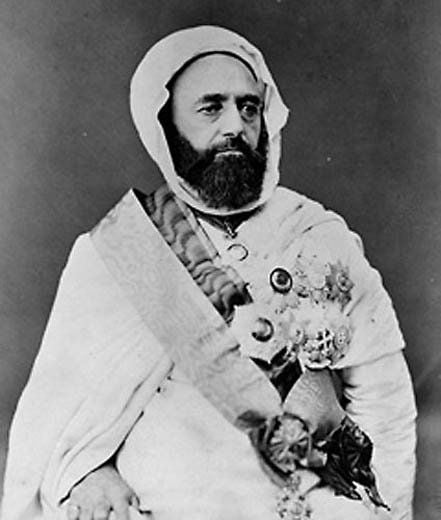 Since 2008 when the Algerian government came to the aid of the town after floods did over $8 million in damage, Elkader has been reviving his legacy, thanks to projects initiated by the nonprofit, Abdelkader Education Project (AEP).
Kathy Garms, executive director and co-founder of the Elkader-based AEP, said in 2017 that the story of Sufi scholar and guerrilla leader el-Kader "inspires civility, tolerance and understanding" and offers "models of ethical leadership, moral courage and humanitarian conduct." Garms said the AEP works to "shape the minds, hearts, values of the next generation," largely through its Abdelkader Global Leadership Prize essay competition.
Students compete for scholarships in the Abdelkader Global Leadership Prize while exploring the legacy of the Algerian freedom fighter. In 2017, despite rising floodwaters on the Cedar River, students and their families showed up in their numbers for the awards ceremony and even met diplomat John W. Kiser, who is co-founder of AEP and the man behind the biography, Commander of the Faithful: The Life and Times of Emir Abd el-Kader.
"The students' stereotypes about Muslims and Arabs have been challenged, and their minds opened to the diversity of the Muslim world," Kiser said after the meeting in 2017. That year, the AEP indicated that apart from an essay contest for students, it would like to expand its programs and create additional tools to reach a wider audience of police, military and businesses to promote better intercultural understanding.
Brian Bruening, who is co-owner of an Algerian restaurant in Elkader, had years before highlighted the need for open-mindedness and understanding between the United States and Islam.
"When a lot of people come in here the cultural reference they have is with mullahs in Afghanistan, or al-Qaeda, Bin Laden and those kinds of things," Bruening told The World in 2012. "So we always have to make that extra effort … all Arabs are not Bin Laden. Actually the Emir was the opposite. He was a Sufi, he was a peacemaker."
Miller, who was recognized as one of seven winning essayists in the 2016 Abdelkader Global Leadership Prize couldn't agree more. "Abd el-Kader's legacy deserves to be remembered along with Nelson Mandela, Gandhi and Dr. Martin Luther King Jr.'s because they were all pursuing the same dream: to reach peace," Miller said.
Today, tiny Elkader is a sister city to Mascara, in northwestern Algeria, where el-Kader was born in 1808. And Bruening's restaurant is not the only beauty attracting many to the town; Elkader is known for its sandstone bridge over the Turkey River, believed to be the largest stone arch bridge west of the Mississippi River.
Also hosting America's oldest grocery store west of the Mississippi and the iconic Turkey River Mall, many local buildings in Elkader are made from locally quarried sandstone. Most importantly, el-Kader's name lives on in this petite Midwestern town that was on everyone's lips following its stance on progressive issues like gay rights and desegregation.