Supporters of WikiLeaks founder, Julian Assange, are demanding his release after his arrest last Thursday at Ecuador's embassy in London. Assange's almost seven-year stay at the embassy came to an end last week when the police entered the building and arrested him after Ecuador withdrew his asylum.
The WikiLeaks founder sought refuge at the embassy after being accused of sexual assault in Sweden in 2010 – allegations that have since been dropped.
He had been staying at the embassy since 2012 until his recent arrest on allegations of skipping bail, and on a U.S. extradition warrant related to a huge leak of highly sensitive government information on his website.
The 47-year-old Australian had refused to leave the embassy over fears that he will be ultimately extradited to the U.S. where he will be put on trial for releasing secret U.S. documents.
"If he is extradited to the US, he could be jailed for espionage for up to 45 years. Some U.S. politicians have in the past even called for him to be assassinated. His extradition, if it happens, will also weaken the right of journalists to investigate and expose war crimes," said a statement by the Irish Anti-War movement.
Assange and his web organization have, over the years, been famed for exposing some of the ills and atrocities of the powerful and mighty in society and, in the process, redefining journalism practice.
But WikiLeaks wouldn't have had this exposure without Kenya, where Assange once lived. It is Kenya that gave the WikiLeaks founder "the scoop that transformed him from an unknown hacker to one of the most talked about people on the planet," said a report on the Daily Nation.
He was even awarded in the process, but at the time of his arrest last week in London, the same individual, who was hailed for his exposé in Kenya in the late 2000s had become an enemy to the West.
In 2007, a year after establishing WikiLeaks with a group of people across the web, Assange travelled to Kenya for a one-week World Social Forum which was seen as a "parody" of the World Economic Forum organized in Davos, Switzerland.
Over 80,000 people, who thronged to the forum that year, touched on world policies they felt were not of benefit to the poor in society. Assange was among the participants at the forum and would spend four days in a "WSF tent with his three friends, giving talks, handing out flyers and making connections."
This was contained in the book WikiLeaks: Inside Julian Assange's War on Secrecy, written by British journalists David Leigh and Luke Harding in 2011.
Excited about the response he received, Assange spent the next two years in the East African country and made connections with so many activists.
"While in Kenya, Assange met courageous individuals, banned opposition groups, corruption investigators, trade unions, a fearless press and clergy. These brave people seemed the real deal to him. He contrasted them with fellow westerners who just loved cameras and throwing parties with foundation money," the book said.
After almost a year in Kenya, the computer hacker came across a report on massive corruption during President Daniel Arap Moi's administration. The report, which was by the international risk consultancy Kroll, gave details of how Kenya's second President Moi and his associates siphoned off billions of dollars to buy properties across the world.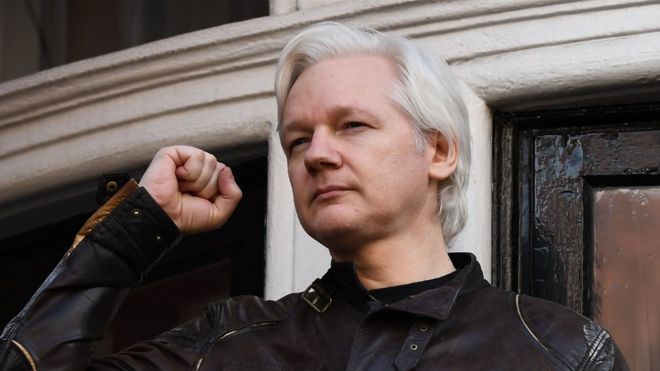 The report was submitted in 2004, but the government of Mwai Kibaki had refused to make it public then.
Assange acquired the report from Mwalimu Mati, an activist and a volunteer for WikiLeaks, who had then feared to publish the report on his own website because "the contents were so explosive."
"This report was the holy grail of Kenyan journalism," Mr Assange later said."I went there in 2007 and got hold of it."
Assange handed the leaked report to London's Guardian newspaper, who broke the story under the headline: "The missing Kenya billions". The money was traced to Britain, Switzerland, South Africa, the US, Namibia, Malawi and the tax havens of Cayman and Brunei, said the Daily Nation.
The story caused global uproar and brought WikiLeaks to the limelight. Assange, who had then become a global sensation, would later claim that the leaked report affected the result of the 2007 election in Kenya.
That disputed election led to political violence and the two opposition leaders – Kibaki and Raila Odinga – were made to share power. The following year, WikiLeaks got hold of another scoop – the Kenyan National Commission on Human Rights had a report on extrajudicial killings and disappearances.
Titled The Cry of Blood, the report detailed names of the people who had been killed, those who had disappeared, as well as, other chilling details that could implicate authorities. But when the report was submitted to the government, it failed to act on it.
Assange got hold of the report through his Kenyan contacts and made it public. Four people who were associated with investigating the killings were murdered, including rights activists Oscar Kingara and John Paul Oulu.
Out of these two leaks about Kenya, Assange earned the prestigious New Media Award by Amnesty International. With that reputation, he went on to leak classified information via U.S. diplomatic cables, including secrets of American embassies across the world.
Seen as the "gold standard for releasing secret information", Assange grew popular and his website earned the respect of many until 2010 when Swedish prosecutors issued a warrant of arrest against him for two alleged sexual offences.
The Trump administration also wants him extradited over the leaking of confidential information. U.S. prosecutors have since accused Assange of conspiring with former Army intelligence analyst, Chelsea Manning, to break into U.S. government systems to download secret material. WikiLeaks then published huge numbers of those documents, said the NPR.
Upon his arrest last week, his lawyers said the charges affected press freedom and their client could be in danger if he were extradited to the U.S.
U.S. President Donald Trump, who said "I love WikiLeaks" during a rally in October 2016, is now stating that he knows "nothing about WikiLeaks."
The website had, ahead of the 2016 U.S. election, released emails that U.S. authorities have said were hacked by Russia to harm Trump's election opponent Hillary Clinton. Trump had subsequently "applauded" WikiLeaks for its role in disseminating the information.
Assange had even believed that a Trump Presidency would benefit him, according to The New Yorker. However, that same Trump administration has now sought to redefine WikiLeaks as a "non-state hostile intelligence service" – an organization that did not belong within the ambit of journalism.
When asked if he still "loves" WikiLeaks as he said in 2016, Trump said:
"I know nothing about WikiLeaks. It's not my thing and I know there is something having to do with Julian Assange," he said.
"I've been seeing what's happened with Assange, and that will be a determination. I would imagine mostly by the attorney general, who is doing an excellent job. So he'll be making a determination. I know nothing really about him. That's not my deal in life," he told reporters Thursday while meeting with South Korean President Moon Jae-in.
"I don't really have an opinion," he said.