Ann Atwater had been an activist for some time before she became involved in school desegregation in 1971 and was asked to co-chair a special committee to address the issue in Durham.
At the time, the Supreme Court had ruled in the landmark 1954 Brown v. Board of Education case that schools had to be desegregated. Yet, some communities were resisting, especially those in the South.
Labor union AFL-CIO in Durham was given the grant to help solve the crisis. A 10-day public meeting called "Save Our Schools" was subsequently put in place.
Atwater was chosen as one of the leaders to chair the meeting. She was later told that she would be working with C.P. Ellis, a known racist leader within the Ku Klux Klan.
At that moment, neither of them wanted to work with each other. In fact, years earlier, the two had met, and it didn't go down well.
"We were at a meeting downtown together," Atwater said years later, "and he kept yelling 'nigger' this and 'nigger' that. I pulled out the knife that I kept in my hand bag and opened the blade. As soon as he got close to me, I was going to grab his head from behind and cut him from ear to ear. But my pastor was sitting there and saw me holding the knife. He grabbed my hand and said, 'Don't give them the satisfaction.'"
Essentially, Atwater did not want to work with a Klansman while Ellis was also not willing to work with a black person. But they got along over the course of 10 days that they both chaired the committee, after realizing they had similar life experiences.
The two grew up in poverty and were both passionate about the education of young people in their communities.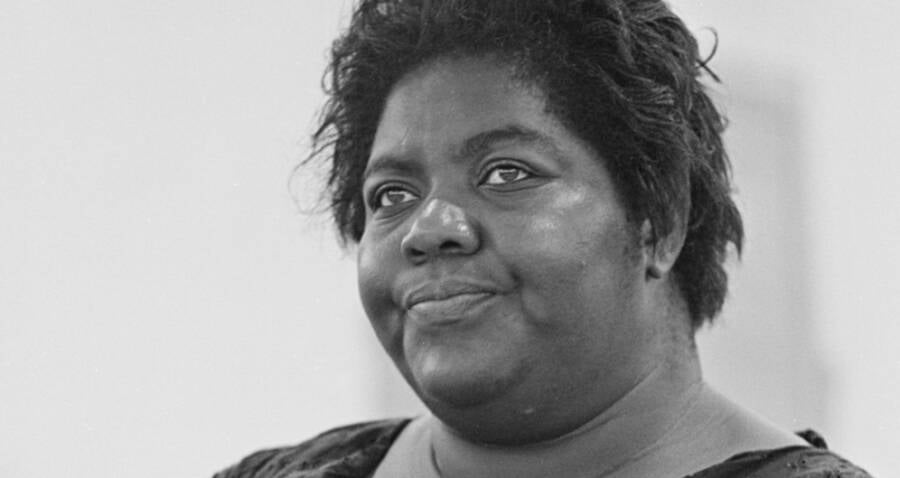 Atwater was born to sharecroppers on July 1, 1935, in Hillsboro, North Carolina. At age 14, she got pregnant and married the child's father, French Wilson, but their child died soon after birth.
After two years, they had a daughter. Wilson moved to Durham and asked Atwater and their daughter to join him. There, things weren't as Atwater had expected. The two and their daughter shared a single room with another man.
They later had another child, but things were tough and this affected their marriage. They divorced while Wilson got a job in Richmond, Virginia, leaving Atwater to fend for herself and the two children.
She first worked as a maid before seeking help from social services, which was not sufficient. Living in a dilapidated home with her children, she soon fell behind on rent. It was at this moment that she met Howard Fuller who would ultimately turn her fortunes around.
Fuller helped her fix her home, pay back her debt, and introduced her to Operation Breakthrough, an organization that worked against economic and racial inequality. In the mid-1960s when she joined, Fuller taught her all she needed to know about community organizing.
Along the way, Atwater served on many committees that worked towards alleviating poverty and erasing inequality. It was through the same Operation Breakthrough that Atwater was selected to chair the committee on social desegregation in 1971, alongside Ellis.
Ellis, a leading member of the Durham chapter of the Ku Klux Klan, was raised in Durham, North Carolina in a poor white family that believed that black people were the cause of their woes.
Ellis would grow to hate black people and even when he was called to work with Atwater, he was initially against the idea of integrating the schools in Durham.
"He didn't want [integration]," said Atwater of C.P. Ellis, "and I particularly didn't want it at the time, but then I knew we were going to have to be at one school and the children had to get the best education they could. I know if we weren't gonna look after our children, nobody else would. … He was upset and I was upset, and he was cussin' and callin' all black folks n**gers and I was callin' all white folks crackers, and I couldn't stand white folks anyway."
"It wasn't until way down in the meeting, about the last week of it, is when the children talked to us and got us together sayin' that they wanted to go to school with each other," said Atwater, "and then we looked at each other like fools. We'd been arguing about the wrong thing and hadn't been doing anything to make the school system be better.
"That's when me and him started gettin' together. … He decided that I wasn't as bad. He said, 'You ain't as bad as I thought you was,' and he started talkin' to me, and we started talkin' back [and forth]. We went in the office and cried because we [had been] doing things the wrong way just because one was black and one was white."
In the end, the two got along and worked towards integrating the schools. After their work together on the committee, Ellis quit the KKK and even tore up his KKK membership card in public, saying he will never go back to the Klan.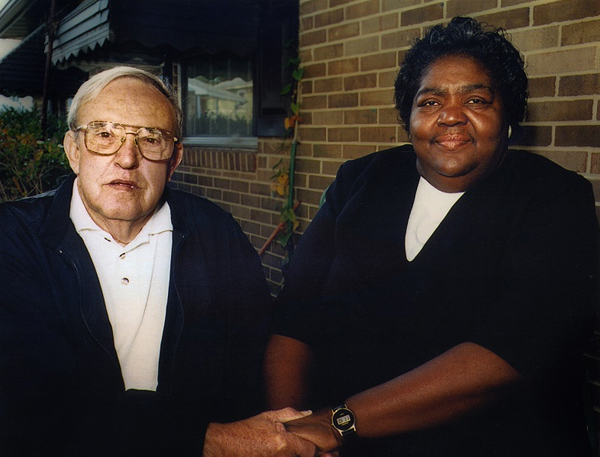 And even though some members of Atwater's community criticized her for working with a Klansman, she remained close with Ellis until his death in 2005.
Ellis' family asked her to give the eulogy. Atwater, whose story is told in the historical drama The Best of Enemies, continued her grassroots activism work in Durham before passing away in 2016.
Before her death, she touched on her passion to help other people in a video for School for Conversion. "God gave me number one the gift to reach out and touch, and when I feel that somebody called me for some help, God wants me to go on record as saying I tried."