"A city that is set on a hill", a verse in the gospel of Matthew says, "cannot be hidden." That was an ethical reference, but about 2,500 miles westwards from where Jesus presumably said those words, is literally a village on a mountaintop in Ethiopia.
Shonke, the 900-and-something-year-old settlement (according to the Islamic calendar) is in the Amhara region. It is situated on one of the highest points in a country with a significant number of high points.
The Oromiya Zone in which Shonke is located is close to 1,600 metres, about 5,200 feet, above sea level.
This means the people of Shonke live in an area farther in the skies than the world's tallest building, the Burj Khalifa in the UAE.
Theirs is an entirely Muslim community tracing their ancestry to Arabs who run away from wars in the Gulf region to hide in Abyssinia, Ethiopia's ancient name.
As refugees, these Arabs were protected at that time by the village's only two gates which were always guarded. The gates still stand to this day.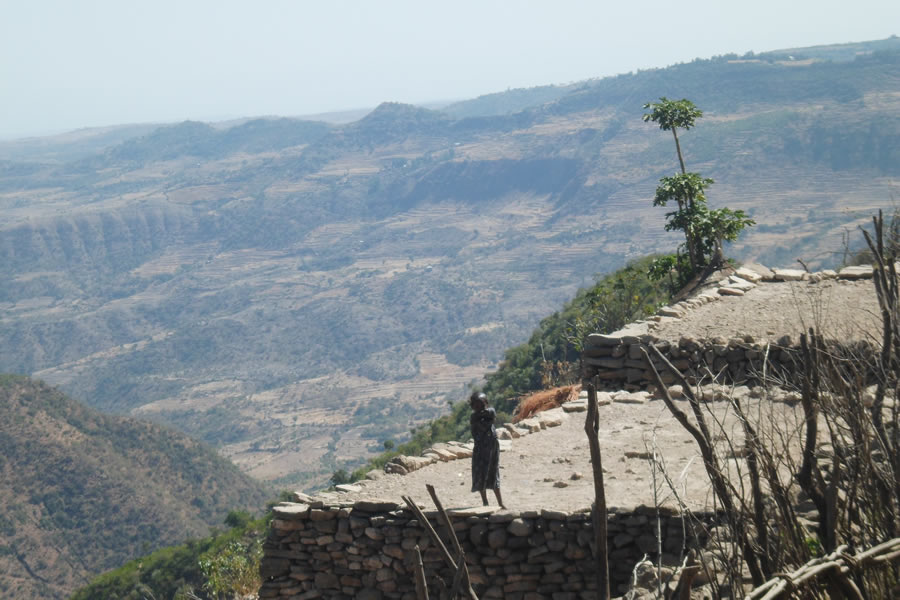 The people of Shonke are called the Agrobba, which translates into "The Arabs came in".
Shonke's Islamic culture is well-known. In the 19th century, it became an Islamic education and sufi-order center that was home to notable sufi saint-scholars.
One of them was Shaykh Jawhar bin Haydar bin Ali, a famous sufi mystic who is known as the Sheikh of Shonke.
The people are still proud of their heritage and current Shonke mosque sheikh, Hadji Mohammed, boasts that there is "no better place" than Shonke with original teachings from the Koran.
Mohammed told the BBC that there have been 20 generations since the first settlers. But in recent years, people have been migrating downhill to settle on the mountain farms.
"There used to be 500 households. Now, there are some 250 households remaining," said Mohammed.
Life in Shonke is not easy. The people are far removed from centres of popular attraction and it is particularly difficult climbing up and down the mountain.
Shonke's small community is made up of subsistence farmers who also keep livestock.
But Mohammed says the people prefer their homes made of rocks and "don't fancy those shining cities".
He wants the uniqueness of Shonke kept for the sake of generations to come. It was his home and has to be for his descendants.
Unsurprisingly, Shonke garners tourist interest from all over the world yearly. There are however no official numbers of mountain trekkers who visit the village at the mountaintop.