U.S. president Donald Trump is doing something great that has won the hearts of the people in Kenya and Nigeria.
Kenyans and Nigerians said they have great faith in the world's most powerful leader, according to Pew Research Center's latest poll. Pew is a non-partisan US-based opinion pollster.
In its latest report, it surveyed nearly 37,000 individuals across 33 countries from May to October 2019.
Per the results, 65% of Kenyans surveyed said they have a great deal of faith in the US leader, with the rating dipping slightly to 58% among Nigerians polled.
Confidence in Trump around the world in 2019
Political watchers will be surprised with the survey results, especially when Trump had reportedly described the countries on the continent as "shit-hole".
However, America has a good relationship Nigeria and Kenya. Nigerian leader Muhammadu Buhari in 2018 became the first sub-Saharan African leader invited to the White House. Kenya is also among the top recipients of US economic aid on the continent, according to the Washington-based Security Assistance Monitor.
Despite the two African countries' love for Trump, overall only 29% of the countries surveyed by Pew expressed confidence in him. Pew notes that this lack of confidence is in part due to opposition to the president's foreign policy.
Views of the US around the world in 2019
His policies on tariffs, climate, immigration and Iran are all largely unpopular globally. His negotiations with North Korea's Kim Jong-un garnered the most support, with a median 41% approval across the 33 countries polled.
When it comes to the image of the US generally, the country remains favourable in the eyes of the world, Pew said.
"Favourable opinion of the US declined dramatically when Trump took office and remains significantly lower than during the Obama era," Pew reported.
But in the last year, there have been some increases in favourable views of the US, which Pew noted "may be driven at least in part by increased favourability among supporters of right-wing populist groups in some nations".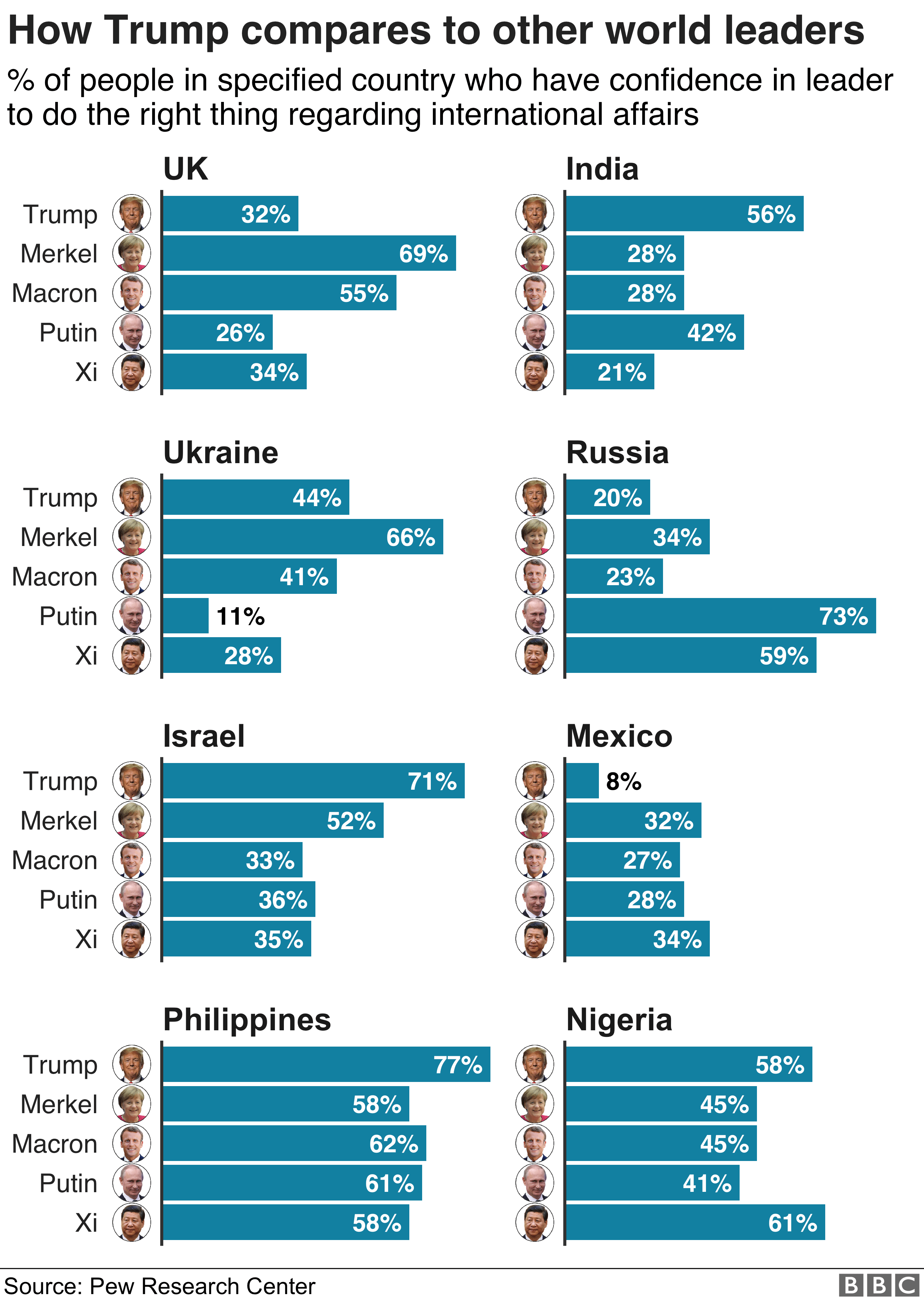 Israel topped the countries with the highest rating of the US in Pew's survey, with 83% of those polled viewing the US in a favourable light.
In Mexico, the Middle East and Northern Africa, views of the US are mostly negative. In Turkey, just one in five reported a favourable opinion of the US.