Alfred Brownell was, in 2016, compelled to flee Liberia and remain exiled in the United States after his campaign against one of the world's biggest palm oil producing companies yielded results.
The 53-year-old suffered years of harassment and intimidation while protecting Liberia's tropical forests from palm oil plantation developers.
After almost three years, the Liberian lawyer is planning to come back home after being awarded the Goldman Environmental Prize, the world's most prestigious honour for grassroots environmental activists.
Brownell was among six people who received the award on Monday at an elegant ceremony in San Francisco, U.S.
The other five recipients of the award were Bayara Agvaantseren of Mongolia, Alberto Curamil of Chile, Ana Colovic Lesoska of North Macedonia, Jacqueline Evans of Cook Islands and Linda Garcia of the United States of America, reports Front Page Africa.
The Goldman Environmental Prize has, since 1990, recognized the efforts of people from six different continents for "outstanding grassroots environmental achievements".
"Under threat of violence, environmental lawyer and activist Alfred Brownell stopped the clear-cutting of Liberia's tropical forests by palm oil plantation developers," the organisers announced Monday.
"His campaign protected 513,500 acres of primary forest that constitute one of the world's most important biodiversity hotspots, enabling indigenous communities to continue their stewardship of the forest."
The recipients of Goldman Prize have usually conducted their work at the expense of their lives and liberties, and Brownell's campaign was no different.
Following the end of Liberia's civil war in 2003, the government planned to bring in much-needed funds for growth and development through agricultural concessions as the country was aiming to revive its economy.
In 2010, the government leased 543,600 acres of land to Singapore-controlled Golden Veroleum Liberia (GVL) to cultivate palm oil in Sinoe County in Liberia's southwest, as part of moves to attract foreign direct investment into the country.
This was, however, met with protests from local people in the area who complained that GVL was destroying their farmlands, sacred sites and ancestral graves, local media reports said.
By then, Brownell had established Green Advocates, considered the country's first non-governmental organization dedicated to environmental law, and he decided to help.
"The traditional leaders came to my office to intervene, that their farmlands were being wiped out. We saw how bulldozers were clearing their farms, tree crops, and palm oil plantation," said Brownell.
To halt the clearing of the forest land, Brownell filed a complaint in October 2012 with the global oil palm watchdog, the Roundtable on Sustainable Palm Oil, to place a stop work order on the company. The move froze forest clearance, protecting 207,800 hectares (94%) of the leased land, said The Guardian.
Brownell became an enemy of the state as a result, and his staff and colleagues were threatened with imprisonment. He almost got killed in the process when his vehicle was stopped by some armed men while he was on his way to visit a palm oil plantation in June 2014.
"They threatened to cut off my head, to eat my heart and drink out of my skull. They began a war dance around the car. They were drinking and said they would cannibalise me," he told The Guardian. He was saved by the chief of the local village.
Two years later, he continued to be targeted, while his offices were burgled and his phone tapped.
Learning of a warrant for his arrest, Brownell, alongside his wife and two children, escaped in December 2016 to the United States, where he became a distinguished scholar in residence at Northeastern University.
However, he continued to fight for land rights and conservation of tropical forests in his home country.
"They made a mistake when they chased me out of Liberia, We have been able to fight this case more than before because I now operate without fear or terror," he was quoted by the CNN.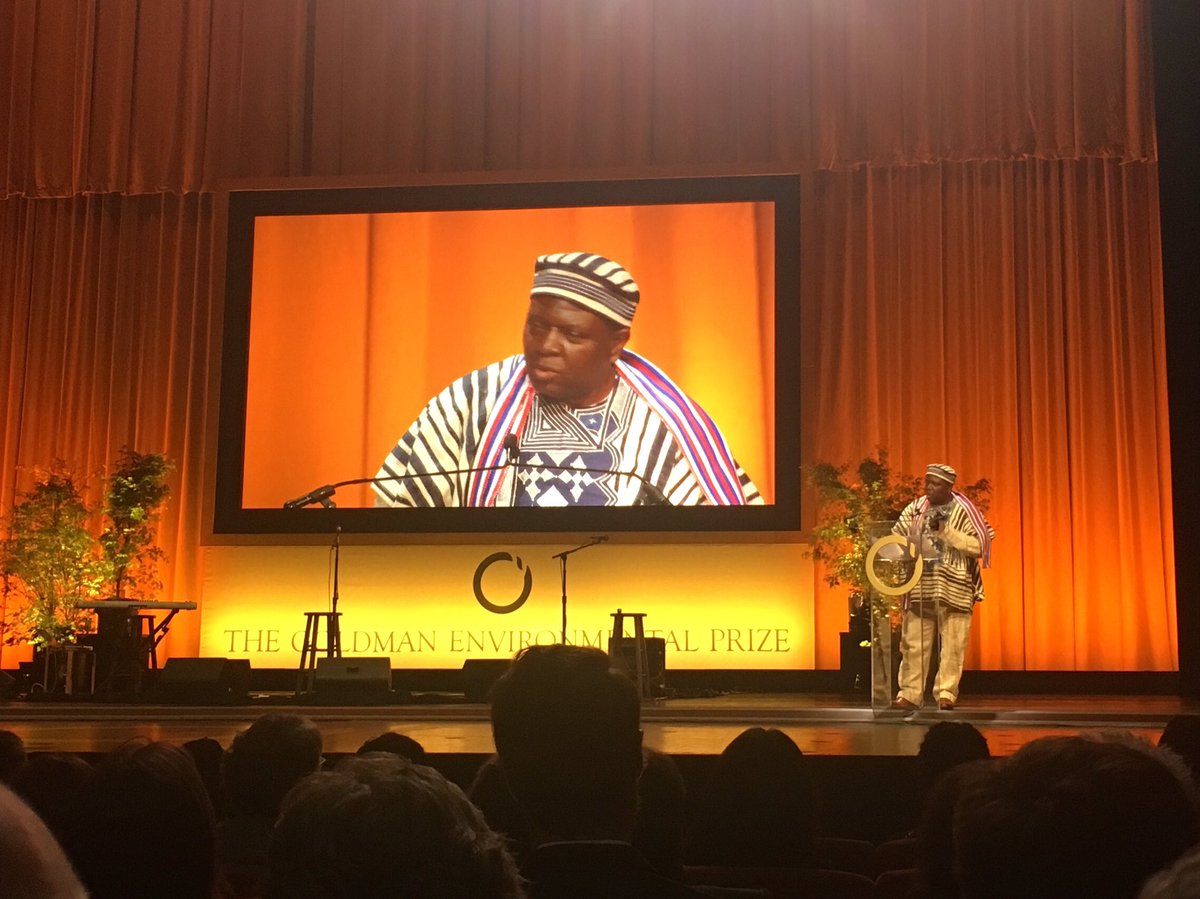 With his Goldman prize, Brownell is optimistic that he may now be able to return to his home country.
"I hope this award will help change the minds of people in Liberia so we find more allies to speak to the government and the company. We need to find a way to engage with them so I can go home," he said.
"It's not just a struggle to protect remote towns and villages, or just to protect their sacred sites, or just to protect their land and their crops, their way of life, their culture, their religion," Brownell said of his campaign.
"It's also about protecting these important forests in West Africa, which are producing oxygen and absorbing carbon and, in essence, making an enormous contribution in the mitigation of climate change."