Eden G. Egziabher is the first Eritrean-American female entrepreneur in New York City with a food truck serving Ethiopian and Eritrean delicacies.
Born in Ethiopia to parents of Eritrean descent, Egziabher and her family were expelled from her country of birth two decades ago when war broke out between the two neighboring countries.
"One minute everyone was living together," Egziabher recalled in a New York Times interview. "The next, families were ripped apart."
She fled to Kenya with her family. Her mother gained asylum in the United States, reuniting a year later in Charlotte, N.C.
In 2017, Egziabher started the Makina Café, "to bring my culture to Main Street," she told Times.
The menu includes injera bread, gomen, and tasty sambusas.
Egziabher was raised amidst a vibrant mix of Ethiopian, Eritrean and Italian cultures. It's no coincidence that "Makina" translates to "truck" in all three of these countries' languages, whose cultures combine to create the mosaic of flavors found on the mobile cafe's menu.
Tasty, healthy, nutritious and something quite unique, Makina Cafe serves up breakfast and lunch to New Yorkers that are tired of the same old take-out options. 
Starting wasn't easy. Speaking to Vice's Munchies, Egziabher said the other truckers weren't that welcoming for food trucks notorious for being very competitive and a male-dominated space, according to Black Enterprise.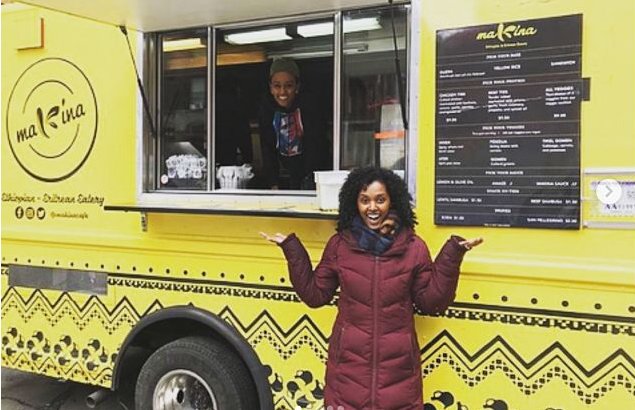 "When you show up and you are expected to fail, you are going to work harder," she told Vice's Munchies. "The other food truckers did not welcome us at all. When they see a woman behind [the truck] …they take it as a joke."
Egziabher reportedly travels to Queens and even as far as Washington D.C. (home to the largest Ethiopian community in the country) to buy the right ingredients to maintain the flavor of her dishes, including spices that aren't available at most grocery stores.
"It's very challenging the fact that I can't go to a regular grocery store [to get] the ingredients I want," she said.
"You really have to think outside the box to think about how you are going to make some of these items food truck friendly…It would make a lot of our jobs easier if we had someone to follow, but we didn't so we created our lane and a lot of it has been trial and error."